REACH Awards
Human and Social Development, Social Sciences, Engineering, Graduate Studies, Fine Arts, Science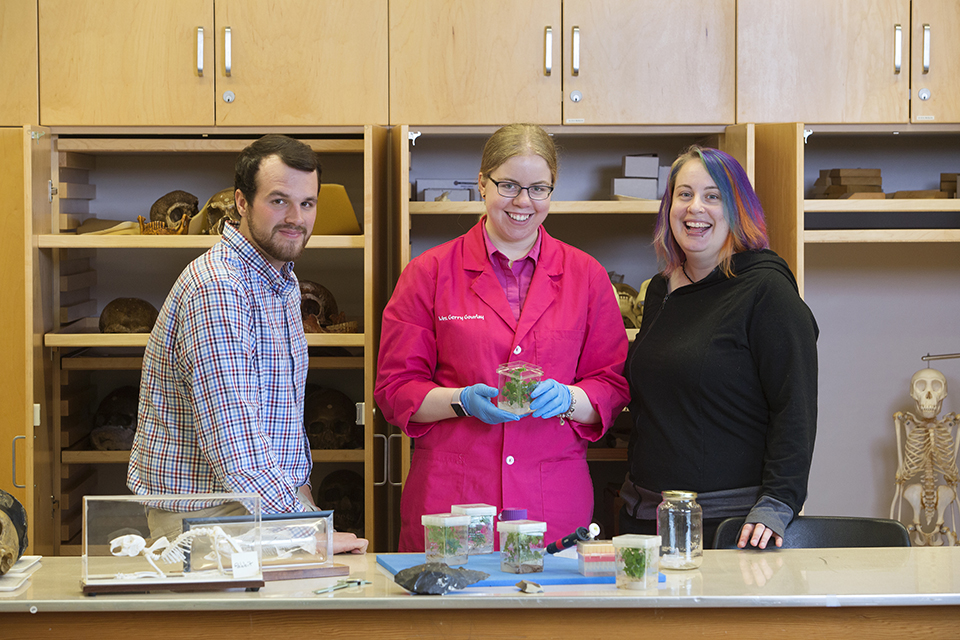 This May, an inaugural event—the REACH Awards—will combine the Teaching Excellence Awards with the Craigdarroch Research Awards into a single event that celebrates the extraordinary teachers and researchers who lead the way in dynamic learning and make a vital impact at UVic, in the classroom and beyond.
"The REACH Awards mark a new era of recognition for our university," says President Jamie Cassels. "By honouring research and teaching together, we acknowledge how they're inextricably linked for the betterment of our students, our university, our partners and collaborators, and society at large. I congratulate all of this year's recipients."
The awards will be presented at an evening ceremony on May 25 at the Royal British Columbia Museum.
---
Excellence in research awards
David H. Turpin Gold Medal for Career Achievement in Research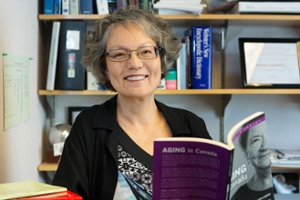 Neena Chappell, Professor Emeritus, Sociology/Institute on Aging and Lifelong Health
"I focus on healthy aging rather than on illness, and on independence and dignity." With these few words, Neena Chappell neatly captures the philosophy that has driven her trailblazing 35-year career in social gerontology and made her an international authority on aging. Her steadfast commitment to evidence-based change has profoundly influenced health care policy for the elderly in Canada and beyond, made community-engaged partnerships the norm in senior care research, and helped shape a national policy framework for active healthy aging. A tireless communicator, she continues to influence decision-makers and the public through her many publications (including 10 books), speaking engagements and media interviews.
Silver Medal for Excellence in Research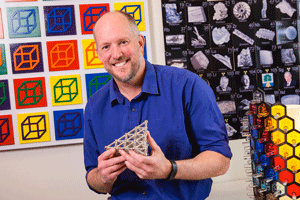 Scott McIndoe, Chemistry
Since arriving at UVic in 2003, Scott McIndoe has quickly established himself as a force within the chemistry department and in the global community of organometallic chemistry—the study of compounds and reactions that involve metal-carbon bonds. He's considered the world leader in the mass spectrometry of organometallic compounds and catalysts, having pioneered a technique that is rewriting textbooks and attracting significant interest from academic and industrial collaborators. Along the way, he's established a world-class research program, authored 90 publications, including three books, earned glowing reviews as a teacher and mentor, and helped rejuvenate the chemistry department's first-year course curriculum.
Award for Excellence in Knowledge Mobilization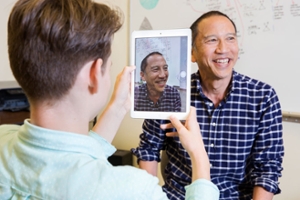 James Tanaka, Psychology
It's hard to imagine a better example of community engagement than the work of psychologist James Tanaka, an internationally recognized expert on the visual cues and thought processes our brains use to identify objects. His special focus is on face recognition by children on the autism spectrum. Through the UVic Centre for Autism Research, Technology and Education (CARTE), which he created, he and his team work with families, educators and community professionals to develop innovative, fun and low-cost technologies—computer games and apps—for improving face-recognition skills. This work is augmented with a range of hands-on outreach activities, successfully bridging research, education and community engagement.
Award for Excellence in Artistic Expression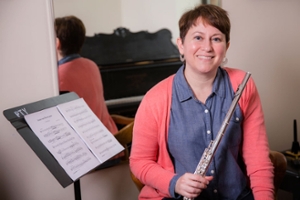 Suzanne Snizek, Music
During the dark days of Nazi Germany, many composers and performers of classical music were silenced due to their ideologies, the perceived aesthetic quality of their work, or their Jewish heritage. Many of these works are exceptional, but are rarely performed to this day. Music scholar and flutist Suzanne Snizek has dedicated much of her academic career to bringing this "suppressed music" back to life. Through audio recordings, publications, and performances and lectures around the world, she's bringing these forgotten treasures back into our musical and historical consciousness and reminding us what can happen when the rights to free speech and artistic expression are violated.
Award for Excellence in Research Partnerships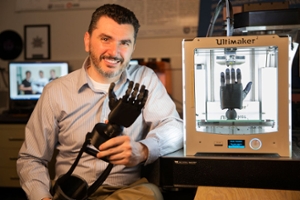 Nick Dechev, Mechanical Engineering & Arc Hub PNH, Cambodia
Combine research, ingenuity and entrepreneurial spirit with a strong societal need and you get the Victoria Hand Project, a remarkable initiative that has literally offered a helping hand (or arm) to amputees around the world. Conceived in 2013 by mechanical engineer Nick Dechev, the project—now a non-profit entity—works closely with international clinical partners such as Arc Hub PNH in Cambodia to design and deliver low-cost, 3D-printed prostheses. To date, the project has delivered 70 prostheses to amputees in five countries, 25 of them through Arc Hub. More expansion is planned as the project advances its broader mission to engage developing countries in the 3D printing revolution.
---
Excellence in teaching awards
Harry Hickman Alumni Award for Excellence in Teaching and Educational Leadership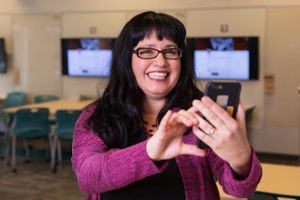 Janni Aragon, Technology Integrated Learning; Political Science
According to one former student, Janni Aragon is an outstanding educator because "she encourages her students to be thoughtful and creative, while demanding the very best out of them." Aragon's commitment to students is further exemplified by her willingness to keep in touch, mentoring them long after they've left her courses. She brings challenging issues—such as gender, race and cultural diversity—alive in her classrooms, while engaging students in innovative technologies such as Twitter, blogs, vlogs and much more. Her leadership as UVic's director of Technology Integrated Learning and of the Interdisciplinary Minor in Technology and Society has been instrumental to the success of these units.

Gilian Sherwin Alumni Award for Excellence in Teaching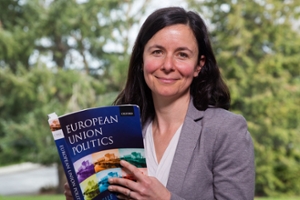 Valerie D'Erman, Political Science
Valerie D'Erman consistently creates engaging learning environments by using thoughtful strategies to lead students—step by step—to carefully crafted learning outcomes. Whether through inspirational lectures, text critiques, debates or group projects, her classes are so motivating that students seek them out year after year. High student demand also reflects her ability to link complex political science concepts to the everyday lives of students as citizens and consumers. She prepares students for far more than remembering and reproducing academic content, tirelessly supporting them to develop transferable skills and qualities—such as critical analysis, the ability to build good arguments, and open-mindedness—that will serve them well in future endeavours.

Award for Excellence in Undergraduate Research-Inspired Teaching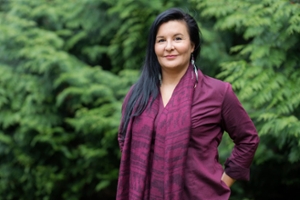 Sandrina de Finney, School of Child and Youth Care
As a First Nations scholar, Sandrina de Finney ignites student passion for research through an inexhaustible repertoire of innovative teaching strategies for discovery and inquiry-based learning. Her ability to enliven research among undergraduates is informed by her own internationally recognized research on Indigenous child welfare and foster care. De Finney's approach to teaching re-centres and honours Indigenous knowledge systems, and students characterize her as "accessible," "engaging" and "inspiring"—in sum, "amazing." She encourages students to address complex ethical and social problems for meaningful impact within their communities, prompting her nominators to describe her as "a consummate public scholar."
Award for Excellence in Teaching for Experiential Learning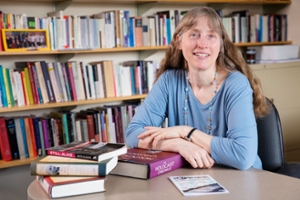 Helga Thorson, Germanic and Slavic Studies
Helga Thorson's development of the I-witness Holocaust Field School is an outstanding model for achieving excellence in experiential learning. Reaching beyond the classroom to connect students to Holocaust memorialization in Central Europe, the field school has been transformative for students and faculty alike. Her groundbreaking work has resulted in cross-unit collaborations within the university as well as community partnerships both locally and internationally, bridging disciplines, nations and generations as well. At the core of Thorson's work is a deep, determined commitment to social justice and "to making the world a better place." According to her nominators and supporters: "Helga deserves this award, and probably several more."

Award for Excellence in Graduate Student Supervision and Mentorship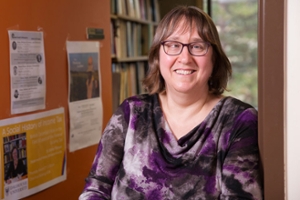 Lynne Marks, History
Lynne Marks' record of mentoring graduate students to completion exemplifies excellent graduate student supervision. Since the mid-'90s, 100 per cent of her doctoral students and the majority of her master's students have completed their degrees. Comments from her student nominators clearly illustrate how Marks achieves such a high success rate—through the brilliance she brings from her scholarship, the critical dialogue she encourages from students, her concern for their development, and her careful nurturing of their confidence. That guidance continues years after degree completion she gently nudges former students to contribute to conferences, publish papers and teach courses. As one student nicely sums it up: "She's a remarkable mentor!"
---
Andy Farquharson Teaching Excellence Awards for Graduate Students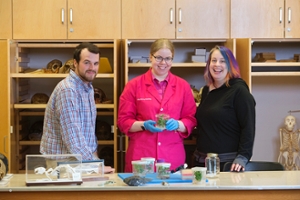 Geraldine Gourlay, Biology
"I've never had a teaching assistant more committed, more enthusiastic and more genuinely caring," sums up one of Geraldine Gourlay's students—a statement that encapsulates the infectious excitement she brings to her TA work. Gourlay has the ability to ignite learning in others due to her high expectations, respect for students and active mentorship. This is also evident through her work as a TA consultant in the biology department where she prepares and supports new TAs as they begin to learn about teaching.
John Murray, Anthropology
John Murray takes a proactive approach to learning and teaching. Realizing as a first-year master's student that he would be assigned teaching duties as a TA, Murray enrolled in the two-year Learning and Teaching in Higher Education Graduate Certificate. Comments from his students, such as: "John made me want to learn more," "John is an innovative instructor, bringing to life all aspects of the course," and "His use of video and drawing helped me better understand the material," illustrate why Murray is so deserving of this award.
Kimi Dominic, Sociology
Patient, honest, fair, professional and approachable are just a few of the adjectives students use to describe Kimi Dominic's excellent work as a teaching assistant. Kimi takes supporting her students learning seriously by providing ample guidance. For example, as a TA she developed online materials and interactive in-class instruction about how to successfully complete course assignments, provided continuous feedback to students, and maintained an open and respectful learning environment in and outside the classroom. As one student states: "Kimi is exceptional!"
---
Photos
In this story
Keywords: teaching, award, research, chemistry, sociology, psychology, music, engineering, political science, Indigenous, history, graduate research
People: Neena Chappell, Scott McIndoe, Jim Tanaka, Suzanne Snizek, Nick Dechev, Janni Aragon, Valerie D'Erman, Sandrina de Finney, Helga Thorson, Lynne Marks, Geraldine Gourlay, John Murray, Kimi Dominic