Queenswood legacy lives on in salvaged objects
- Melanie Groves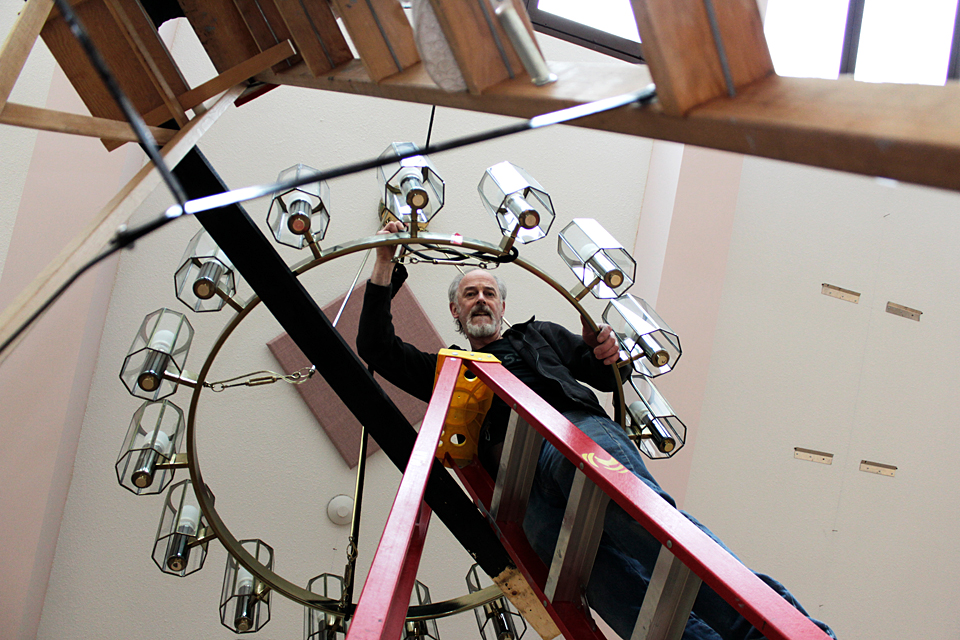 "We'll rig it for storage in the rafters until we have a use for it in a show. It's fantastic to get a fully wired light fixture like this," says Tim O'Gorman, technical director at the Phoenix Theatre, of a chandelier he "repurposed" from the former residence/care facility for the Sisters of St. Ann at Queenswood.
In preparation for building renovations at the site, several hundred items—fixtures, healthcare and commercial kitchen equipment, plumbing fixtures, millwork, appliances, even dishes and hot water tanks—have been salvaged for re-use by a variety of departments and off-campus organizations, including UVic Food Services, the University Club, Bamfield Marine Centre and Beacon Community Services.
"The best part of this story is how much value we were able to sustainably reallocate in a short period of time," says Stephen Wylie, UVic Purchasing's surplus asset coordinator, who managed the project, with Uwe Bartley and Darwin Fritz of UVic Properties.
Renovations at the Queenswood site, including seismic upgrading, began in March to pave the way for Ocean Networks Canada (ONC) to occupy the building in May 2018. The renovation work is supported by the federal government's Post-Secondary Institutions Strategic Investment Fund.
As part of the university's strategic long-term plan, UVic acquired the six-hectare property, at the corner of Arbutus and Queenswood roads, in 2010 from the Sisters of St. Ann to accommodate future expansion of academic programs and research.
Photos
In this story
Keywords: Queenswood, sustainability, recycling, renovation, Sisters of St. Ann, administrative