Prof. Jamie Cassels reappointed to second term as president and vice-chancellor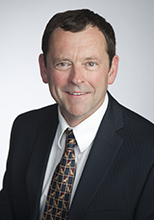 Prof. Jamie Cassels has been reappointed to a second five-year term as president and vice-chancellor of the University of Victoria, effective July 1, 2018.
The appointment was unanimously approved by the Board of Governors, following a unanimous recommendation from the Committee for the Appointment of the President.
"The Board of Governors is delighted to approve the appointment of Jamie Cassels to a second term as president and vice-chancellor," says Daphne Corbett, chair of the board.
"We have the greatest confidence and appreciation for the leadership that Prof. Cassels provides and we are very gratified that he has recognition and support from the university community to continue building on a compelling vision for our collective future."
"He is passionately committed to the university's mission of education, research, engagement and impact."
Cassels was appointed in 2012 to a five-year term as UVic's president and vice-chancellor from July 1, 2013 to June 30, 2018.
Consistent with the university's presidential appointment procedures, a broadly-based appointment committee was struck in January 2017. It updated the profile and criteria for the president's position and Cassels indicated he wished to be considered for reappointment. The committee undertook a multi-faceted review, considered all of the input received and unanimously recommended his reappointment. Download the committee's report.
"Jamie embodies the qualities, experience and enthusiasm needed to lead UVic as president," says Corbett. "The board and university community look forward to working with Jamie during the completion of his first and his second term. He embraces the opportunities and challenges ahead for us, supports the principles of equity and inclusion, and plays an active role in advancing truth and reconciliation with Indigenous people. The input received attested to the strong and respectful relationships he has developed within and beyond the university community."
Cassels looks forward to continuing to serve UVic and working with faculty, staff, students and the community over the coming years.
"I am honoured to be renewed as President of the University of Victoria for a second term and pleased to accept the responsibility that comes with this role," says Cassels. "Leading and serving the University of Victoria for the past four years has been a great privilege and pleasure. We can all share pride in what this university has achieved in its first 54 years and can be confident about our potential to accomplish great things in the future. I am proud of what we are accomplishing together."
UVic is well positioned to build on the excellence of its research and teaching, grow its reputation and to find more ways to work with and benefit its students and communities, locally, nationally and globally, says Cassels.
"I am optimistic about the prospects for UVic and am excited to lead the university through a new strategic planning process commencing this year. The planning process will allow us to discuss the opportunities and challenges facing UVic and our community, and to work together to develop strategic directions for the next five years," says Cassels.
During his first term, Cassels led UVic in building on its strengths and advancing priorities and plans including the formation of a new Indigenous plan; campus plan; international strategy; strategic research plan; development of a sexualized violence policy; and enhancement of student services and financial awards.
Cassels also serves as president of the Research Universities Council of BC and chairs the research committee of Universities Canada.
Cassels was appointed Queen's Counsel in 2004 and has held a number of senior academic and administrative posts since joining UVic in 1981, including dean of law and provost and vice-president academic. Read his full biography.
In this story
Keywords: president, executive, administrative
People: Jamie Cassels