Visual arts professor swims into past, creates the future
- John Threlfall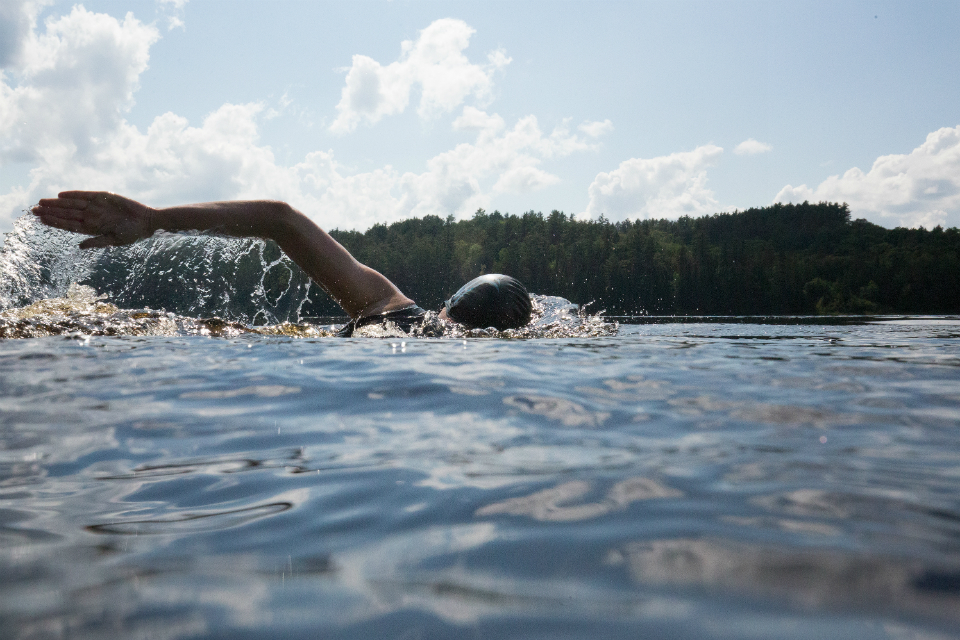 Despite unseasonably cold winds and unusually choppy waves, intermedia artist and UVic visual arts chair Paul Walde dove into the waters of Algonquin Park's Canoe Lake on July 8 and, after months of preparation, completed the first stage of The Tom Thomson Centennial Swim.
Two artists, one lake, 100 years apart
Occurring on the 100th anniversary of iconic Canadian landscape artist Tom Thomson's drowning in Canoe Lake, Walde was accompanied by an eight-person synchronized swim squad, a five-person brass band playing Walde's own 45-minute composition written for the occasion, a film crew and a flotilla of a dozen boats, including six canoes custom-painted in Thomson's signature green.
"The scariest part was when it was really choppy. I got lost and disoriented and blown off course," says Walde. Ironically—and unintentionally—Walde ended up in the part of the lake where Thomson's body was found and Walde almost had to call for help. But, by spotting the tall white totem pole erected beside the Thomson memorial cairn on the shoreline, he was able to reorient himself and complete his swim.
"Landscape painting is about beauty," Walde said in this Toronto Star article. "But the landscape is dangerous. It doesn't care if you live or die. That was the very limit of what I could do. For me, to be in the water where he died—that was powerful."
Read more about The Tom Thomson Centennial Swim in the UVic news release.
A poetic and immersive experience
With the site- and temporally-specific portion of the project now complete, Walde turns his attention to the equally labour-intensive next stage: viewing, editing and preparing the footage for exhibit.
"The gallery video will be very different from the swim itself," he explains, comparing it to his 2013 piece, Requiem for a Glacier. "It's not a concert video that simply documents the event, but will be a more poetic, immersive experience that ties together the various film and sound recordings. What will make it really unique is my perspective: what I'm seeing and hearing in the water, my sense of disorientation. I'm using Thomson to frame this activity, but at the same time I'm reframing him; it goes both ways."
Walde feels the timing was right for this project on a number of levels: not only the centenary of Thomson's death, but also his own age ("I'm 49, how much longer could I really wait to do this?") and recent advancements in technology.
"There were a lot of ideas I had for the piece that we just couldn't do 20 years ago: we wouldn't have been able to have a flying drone or put a camera on my bathing cap and shoot 4K video." As a result, the final exhibit will include surface, underwater body-cam and overhead footage, as well as recordings both underwater and of the accompanying band, and scenes of the locations featured in Thomson's paintings. 
Walde was accompanied on his July 8 swim by a number of other Canadian academic artists, including University of Ottawa visual arts chair Andrew Wright, Fanshawe College visual arts chair Gary Spearin, Ottawa artist Adrian Göllner and recent UVic visual arts alumni Brandon Poole and Laura Gildner. Also witnessing the performance was Christopher Regimbal, senior exhibitions coordinator for the National Gallery of Canada.
What's next for innovative visual arts prof
When it comes to choosing his art projects, Walde takes the long view. "My career is about following these kind of ideas. The ones you can't shake are the ones you end up doing—this one was gestating for 20 years."
When asked about future plans, Walde just laughs. "Once this one is complete, you mean? I'd like to do a forest fire piece. I've been thinking about that for a couple of years now."
Photos
In this story
Keywords: arts, visual arts, Tom Thomson, Group of Seven
People: Paul Walde