International student from Nigeria focuses on applied theatre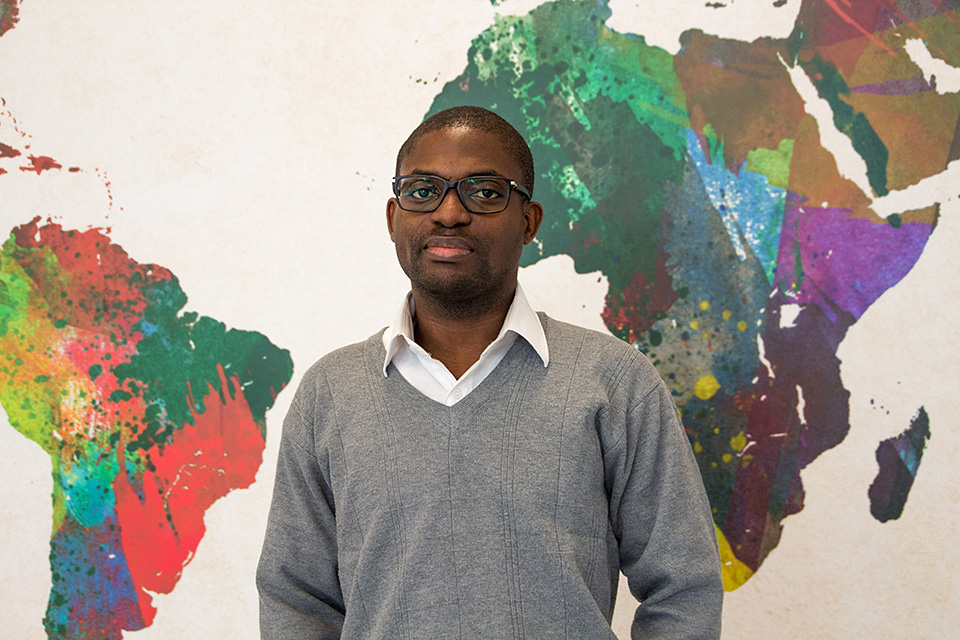 Taiwo O. Afolabi is a PhD student in applied theatre in the Faculty of Fine Arts who came to UVic and the west coast of Canada specifically to study with renowned theatre professor Warwick Dobson.
Afolabi, a graduate fellow with UVic's Centre for Global Studies and a Queen Elizabeth Scholar with UVic's Centre for Asia-Pacific Initiatives, arrived in Canada two years ago and had already travelled to China, Denmark, US and Iran before choosing to pursue doctoral studies at UVic.
His research focuses on artistic practices among internally displaced persons (IDPs) in IDP camps or communities to create awareness for the plight of displaced persons.
He talks about how a "lived experience"—through the audience's firsthand experience of those culturally specific activities and performances ranging from dance and music to drumming and magician acts—"has the capacity to make it personal, beyond theory."
And such empathy generates "a profound response. So much memory and knowledge resides in the body and in theatre we can bring it out. And sometimes people give solutions that don't work for a complex issue because we are distanced from it. With the 'lived experience' [of theatre], even if it's only for a second, you can come to that point. It can give you something that you won't forget."
Afolabi is participating in a Wednesday afternoon panel next week on migration and refugee performances.
It is part of the tenth annual international CARFMS conference taking place at UVic May 15 to 18 – for the first time on the west coast of Canada.
Find out more about CARFMS 2017 at UVic
Photos
In this story
Keywords: international, Africa, theatre, arts, funding, student life, community, Centre for Global Studies, Centre for Asia-Pacific Initiatives
People: Taiwo Afolabi