Innovation grants support UVic research observatories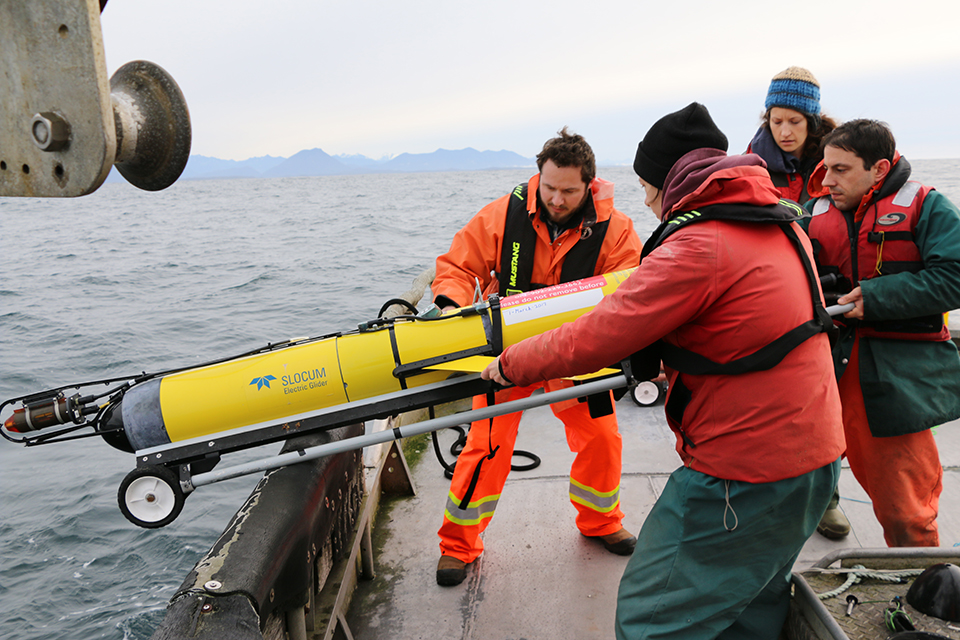 Two University of Victoria projects with the potential to change how the world interprets the forces of nature have taken a major step toward being realized with today's Canada Foundation for Innovation announcement of $6.3 million in funding support.
UVic Earth and Ocean Sciences professor Jody Klymak and West Coast Wave Initiative Director Brad Buckham, a UVic mechanical engineer, were awarded $3.8 million toward a $9.5 million project to build a robotic ocean-observing platform in BC coastal waters. The platform will one day provide invaluable data on weather, climate change, fish populations and clean-energy solutions such as wave energy through a better understanding of the dramatic changes occurring in the Northeast Pacific Ocean.
The world's oceans are becoming warmer, more acidic and are losing oxygen. Those factors drive unexpected changes in ocean currents, weather and marine eco-systems, says Klymak, who will work with scientists at Fisheries and Oceans Canada and the University of BC on the project.
The Canadian Pacific Robotic Ocean Observing Platform (C-PROOF) aims to produce the data to quantify and predict these ocean changes. It also plays a vital role in the growth of BC's marine-energy technology sector through wind and wave moorings capable of exacting and continuous measurement of wave energy.
Kate Moran, president and CEO of the UVic initiative Ocean Networks Canada (ONC), was awarded $2.4 million toward a $6.1 million project to build an observatory in the Northern Cascadia subduction zone that aims to provide critical information on seismic and tsunami risks in BC.
The Northern Cascadia Subduction Zone Observatory would be operated on ONC's offshore NEPTUNE observatory, a cabled ocean observatory off Canada's west coast that crosses the major fault zone between two converging tectonic plates. The proposed observatory seeks to equip scientists with the tools and data needed for comprehensive studies of the tectonic plates – massive portions of the Earth's crust – that meet in the Cascadia zone, and whose movements trigger earthquakes and tsunamis.
Even a few years of data from the observatory could provide critically important information on tectonic plate movements where it matters most - in the ocean where the plates collide. "This new marine geodesy technology is a breakthrough for advancing our knowledge of mega-thrust earthquakes," says Moran.
UVic researchers are also collaborators in four more CFI-funded projects led by other universities:
High-performance computing platform able to access massive volumes of administrative data collected by business and government and kept at the Canadian Research Data Centre Network. Led by McMaster University; UVic project leader Douglas Baer, Sociology. CFI grant: $2.7 million.
New national facility for seismic imaging of critically important structures in the Earth. Led by Dalhousie University; UVic project leader Stan Dosso, Earth and Ocean Sciences. CFI grant: $5.6 million.
Upgrades to the ATLAS Detector at the Large Hadron Collider (LHC), one of two detectors that record data from proton-proton collisions at the LHC. Led by the University of Toronto; UVic project leader Richard Keeler, Physics and Astronomy. CFI grant: $30 million.
Creation of a scientific instrument for Gemini Observatory providing follow-up for the James Webb Space Telescope when it launches in 2018, and supporting second-generation instruments for the Thirty Meter Telescope when it launches in 2024. Led by the University of Toronto; UVic project leader Kim Venn, Physics and Astronomy. CFI grant: $5 million.
-- 30 --
Photos
Media contacts
Jody Klymak (Earth and Ocean Sciences) at 250-472-5969 or jklymak@uvic.ca
Kate Moran (Ocean Networks Canada) at 250-472-5350 or kmoran@uvic.ca
Vimala Jeevanandam (Communications Officer, Faculty of Science) at 250-721-8745 or scieco@uvic.ca
Greig Bethel (ONC Media Relations) at 250-472-4743 or gbethel@uvic.ca
Paul Marck (University Communications + Marketing) at 250-721-6246 or pcmarck@uvic.ca
In this story
Keywords: Ocean Networks Canada, earth and ocean sciences, West Coast Wave Initiative, Canada Foundation for Innovation, clean energy, wave energy, earthquake, tsunamis, funding, research, oceans
People: Jody Klymak, Kate Moran, Brad Buckham