Ian H. Stewart: A UVic friend and benefactor remembered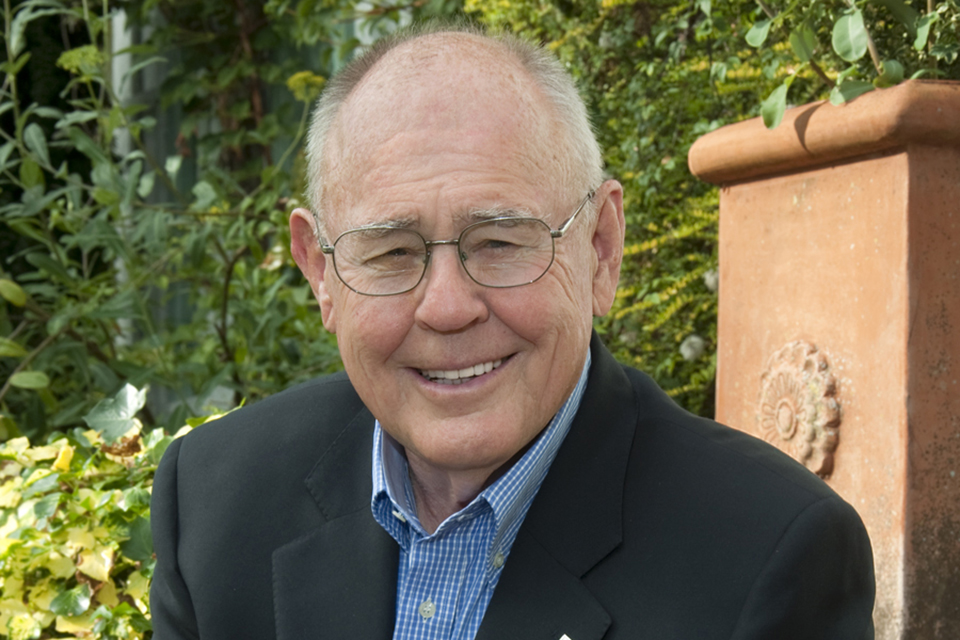 Ian Stewart, former chair of the University of Victoria Board of Governors, a close friend, benefactor and a keen supporter of UVic athletics, has died at the age of 84.
"Ian Stewart was one of those rare individuals," says UVic President Jamie Cassels. "A prodigious talent with an eclectic range of expertise, Ian helped guide the university through a time of momentous change and growth. In addition to Ian's incredible talents and generosity that greatly benefited UVic, he was a personal mentor to me and so many others. His exemplary leadership will be fondly remembered." 
A well-known and respected leader in the community, Stewart was actively involved in numerous charitable and philanthropic organizations. First appointed to the Board of Governors in 1976 and later as board chair, Stewart was pivotal in the formation of the Vikes athletics and recreation programs.
As board chair, Stewart was instrumental in the 1991 purchase by UVic of the SMUS Cultural and Athletic Centre (known locally as the Racquet Club) at the corner of Gordon Head Road and McKenzie Avenue to serve as a hub of campus recreation. The building was later named in Stewart's honour. In 2009, Stewart was awarded with the prestigious Legacy Award for Sport, recognizing his strong commitment and exemplary contributions to athletics.
Stewart also served as honorary chair for the capital campaign supporting UVic's new Centre for Athletics, Recreation and Special Abilities. The varsity weight room in that building is named in his honour.
"Ian was an incredible champion for inclusion, physical activity, sport and community," says Clint Hamilton, director of UVic Athletics and Recreation. "His influence and contribution to our Vikes program is immense and we'll forever be grateful for the generous and genuine way in which he delivered it. We'll miss him dearly."
Stewart's energetic leadership was sought for UVic's 1990-95 capital campaign, where he served as an important volunteer. Recognized for his commitment with an honorary doctor of laws in 1993, Stewart was awarded the title of Honorary Patron in 1996.
UVic established the Ian and Gillian Stewart Entrance Scholarship to recognize their many contributions to the university.  Stewart was engaged in the marine ocean science technology advisory group for the VENUS and NEPTUNE ocean observatory projects (now part of Ocean Networks Canada) and served as chair of Advanced Economic Research Systems (AERS), an UVic spinoff that operated out of the university until 2005.
Stewart was born in Hankow, China—the third generation of his family born there. He lived in Hong Kong and Shanghai before and after the Second World War prior to moving to BC permanently to attend school at Vancouver College. He studied law at UBC and was a star athlete, playing football on the UBC squad.
Moving to Victoria shortly after graduation and beginning legal practice, he was elected a Victoria alderman in 1966. In the early 1970s, he consulted in areas of corporate planning, development, reorganization, financial strategy, government programs and services, and negotiation. By 1978, Stewart was doing the legal work for Honda City, a fledgling auto dealership in which he had an investment. He later bought the company and was president and general manager for many years.
The UVic community extends its condolences to his family—his wife Gillian and two daughters, Alexandra and Susan.
Stewart's family has arranged for a Celebration of Life to be held at the University Club at 2 pm on July 31.
Photos
In this story
Keywords: in memoriam, philanthropy, legacy, administrative, flag
People: Ian Stewart