Federal funds support UVic's ocean and climate hub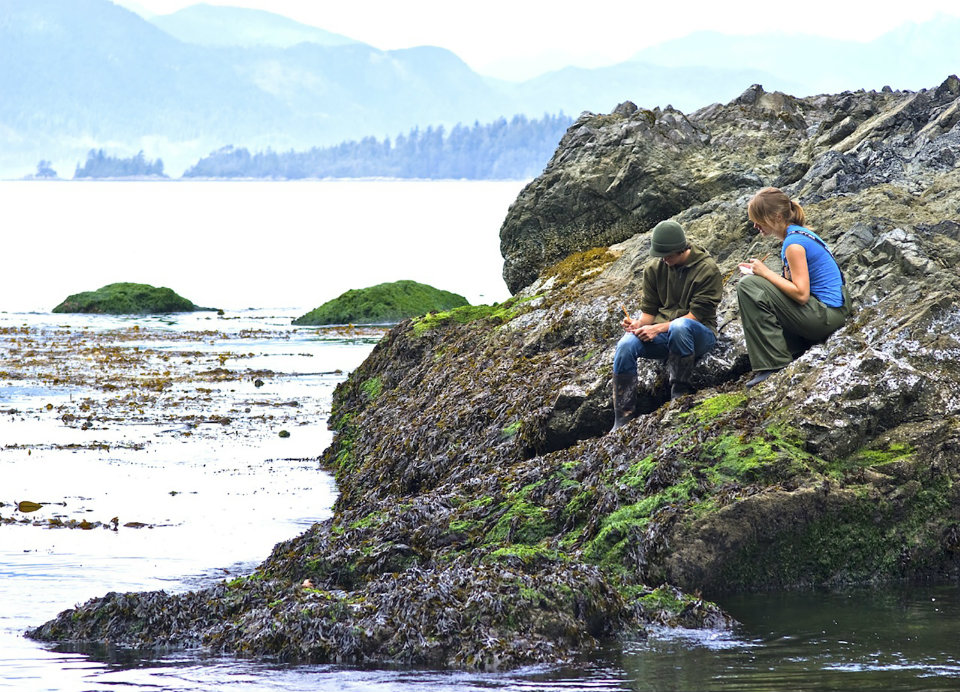 Researchers and students at the University of Victoria will benefit from a combined investment totalling $7 million from the Government of Canada and the university for infrastructure renovation and renewal projects for a new ocean and climate hub.
Also, the Government of Canada and five western universities, led by UVic, are contributing a total of $3 million to enhance facilities at Bamfield Marine Science Centre. The specifics for the two projects are:
UVic ocean and climate hub
The former Queenswood property in Saanich will be upgraded to provide office and research space for UVic's ocean and climate hub. This will provide an interdisciplinary, collaborative space for UVic's world-leading ocean and climate change research and associated technology development.
The 30,000-sq-ft Queenswood building, which was formerly used as a residence by the Sisters of St. Ann, will be refurbished for office and research space, including significant seismic upgrades to the main building. UVic Properties is applying to the District of Saanich to modify existing zoning to accommodate the renovations.
Renovation budget total: $7 million
Federal Strategic Infrastructure Fund contribution: $3.1 million
UVic contribution: $3.9 million
The first occupant is UVic's Ocean Networks Canada (ONC). ONC pioneers ocean observatories that stream live data 24/7 to researchers across Canada and around the world to study everything from ocean change and fish abundance to plate tectonics and tsunamis, deep-sea ecosystems and ocean engineering.
UVic recently received a $46.6-million grant from the Canada Foundation for Innovation for ONC's continuing world-leading work in ocean observatory science and technology. More information.
Bamfield Marine Sciences Centre
The Bamfield Marine Sciences Centre (BMSC) has been operating on the west coast of Vancouver Island since 1972 for collaborative international research and education in ocean science and marine life. The universities of Victoria, Simon Fraser, British Columbia, Alberta and Calgary jointly own and operate BMSC through the Western Canadian Universities Marine Sciences Society.
Renovation budget total: $3 million
Federal Strategic Infrastructure Fund contribution: $1.5 million
Member universities contribution total: $1.5 million
Bamfield's electrical system and information technology network will be upgraded and improved to provide better reliability, distribution and improvements to back-up systems. Seawater exchange systems, pumps and animal care and holding facilities will also be refurbished.
BMSC conducts more than 8,000 researcher user days every year, with researchers ranging from global scientists, domestic and international undergraduate and graduate students, to high-school students conducting field investigations on a wide variety of projects. These range from the biochemistry of fish digestion to intensive studies of rockfish populations. BMSC fosters an interdisciplinary, collaborative approach in coastal sciences related to ecology, evolution and conservation; climate change; fish physiology; fluid dynamics and mechanics; invasive species; and aquaculture.
"We're very pleased and grateful for the Government of Canada's support for the creation of our ocean and climate hub," says UVic President Jamie Cassels. "This hub will foster innovative collaborations and enable ONC to build on the success of its world-leading ocean observatories. The renovation of infrastructure at the Bamfield Marine Sciences Centre will strengthen the facility as the foremost marine and coastal research and training centre on the west coast. Together, these projects enhance UVic's capacity to build knowledge of the ocean and climate for the benefit of all Canadians."
"A dedicated ocean and climate change research space at UVic is unique in Canada," says Kate Moran, president and CEO of ONC. "The Queenswood location will enhance collaboration and allow for the advancement of research that links the ocean's crucial role in understanding and adapting to climate change."
"This funding will make our infrastructure more safe, reliable and efficient. It will allow us to better serve the growing group of researchers that use the Bamfield centre to study BC's coastal waters," says Brad Anholt, director of BMSC.
A backgrounder is also available.
For photos and video, visit Dropbox.
-- 30 --
Photos
Media contacts
Gayle Gorrill (Vice-President Finance and Operations) at 250-721-7018 or vpfo@uvic.ca
Leslie Elliott (Communications, Ocean Networks Canada) at 250-472-5357 or elliottl@uvic.ca
Heather Alexander (Communications, Bamfield Marine Sciences Centre) at 250-728-3301 ex 359 or happening@bamfieldmsc.com
Paul Marck (University Communications + Marketing) at 250-721-6246 or pcmarck@uvic.ca
View the backgrounder.
In this story
Keywords: oceans, climate, government, funding, queenswood, research, Ocean Networks Canada