Day in the life: Alana Sayers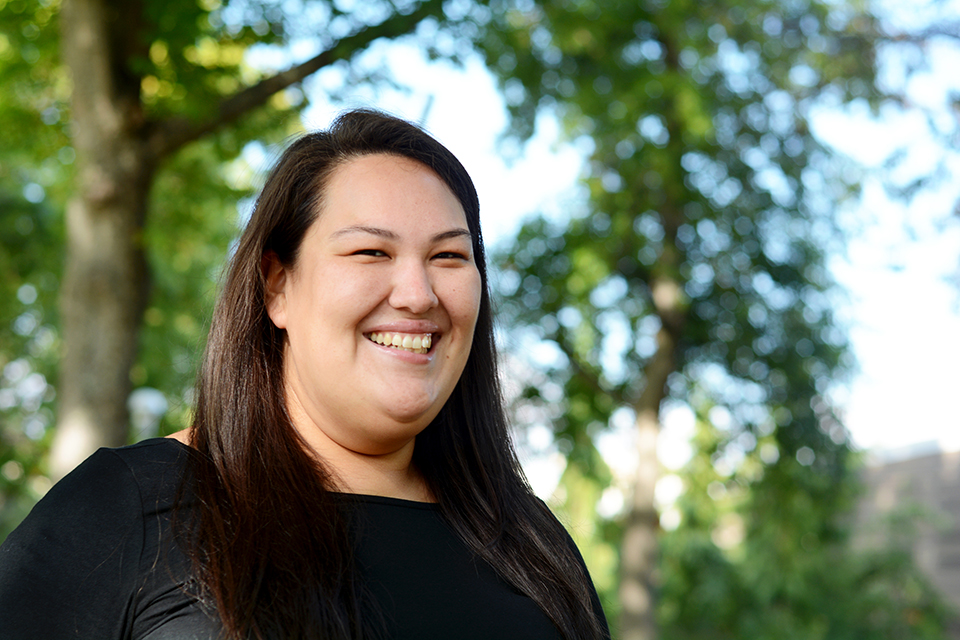 Fierce, smart and motivated, English PhD student Alana Sayers isn't afraid to create space for herself and other Indigenous students.
Sayers is the Department of English's first Indigenous support officer and teaching assistant in Indigenous literature. Her role is to provide a safe and welcoming space for Indigenous and non-Indigenous students, faculty and staff to receive support and information on Indigenous-related matters.
"I'm trying to support Indigenous students, build relationships and bring understanding about colonialism and decolonization to my role and the classes I lecture," she says. "I'm trying to create space."
Sayers is from the Hupacasath (Nuu-chah-nulth) and Kipohtakaw (Cree, Treaty 6) First Nations. She grew up on the Hupacasath reserve in Port Alberni where she attended Haa Huu Payak School. Her mother, Judith Sayers, was elected in September as the new president of the Nuu-chah-nulth Tribal Council. Sayers' brother Cole also attends UVic.
As part of her role, Sayers is lecturing in undergraduate and graduate English classes on colonialism, decolonization and Indigenous methodologies. The Social Sciences and Humanities Research Council scholarship recipient transferred directly into the English PhD program from her master's.
English department graduate advisor Alison Chapman says that the unprecedented move is a "marker of her brilliance as a scholar" and says Sayers played a fundamental role in crafting the new position.
"We hope to make it into a legacy position to support Indigenous students on campus and promote the study of Indigenous literature, as well as start more discussion and awareness about colonialism and decolonization in the classroom and beyond," Chapman says.
Sayers, who also writes fiction and poetry, hasn't always excelled at her studies. Although she loved literature as a child, Sayers found the transition to university difficult, and says she failed the academic writing requirement three times in her undergraduate degree.
"Indigenous understanding of the English language is different than the typical Canadian understanding," she says. "I want to help bridge that gap to make English literature relatable to people so they can be passionate about it and excel at it."
Sayers plans to become an English professor, something she said wasn't her original path but one she's looking forward to. She sees herself as part of an ongoing process to make universities more welcoming places for Indigenous students.
"It doesn't mean changing to fit something, but opening more space so different ways can exist."
Photos
In this story
Keywords: Day in the Life, Indigenous, English, student life, staff
People: Alana Sayers