Business grad beats the odds with tenacity, generosity—and big plans
Peter B. Gustavson School of Business
- Sasha Milam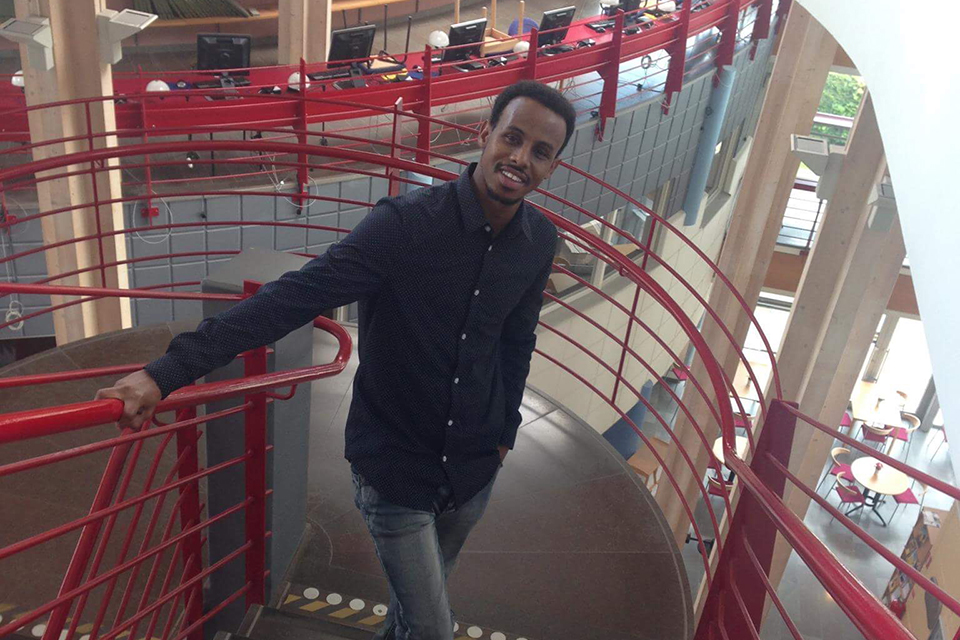 Siyad Jama's journey to a BCom degree at UVic's Gustavson School of Business began when he stepped off the plane in Victoria for the first time in 2011.
"I had no idea what to expect," he recalls. "It was all new to me—Canada, Victoria, UVic. I knew it was the warmest place in Canada, but coming from Kenya, even that meant something different."
Jama is familiar with adapting to the unexpected, however. Before he won one of three annual scholarships from the World University Service of Canada (WUSC), enabling him to move to Victoria and enrol at UVic, he was a resident of the Dadaab refugee camp in Kenya. He'd lived there with his family from age one to 20.
Despite these circumstances, Jama took advantage of every opportunity. He was one of the few students lucky enough to attend the only school in the camp. He took what he learned and redistributed it to other teenagers at the camp who were less fortunate. But all along, he had big plans. "Physically, I was in the camp, but my mind was all over the world."
His chance to see that world in person came with the WUSC scholarship. Once at UVic, he took a few introductory courses and decided business was the degree that matched his aspirations.
Physically, I was in the camp, but my mind was all over the world.
"Business is the backbone of economic, political and social processes all around the world," says Jama. "And at the same time, the curriculum at Gustavson is very practical. It made sense to major in something that prepared me with real-world experience that I could use in a lot of different industries and types of jobs."
Over the years, he's made good use of this practical knowledge. In addition to completing the BCom degree's mandatory co-ops, Jama consistently worked part-time to supplement his scholarship. But his eye toward financial success did not diminish the empathy that had led him to share his knowledge with the other children in Dadaab.
One chapter of his student career highlights this balance particularly well. Jama spent eight months fulfilling a co-op work term and then continuing full-time at the Multicultural Association of Wood Buffalo in Fort McMurray, Alberta. There, he helped the non-profit's efforts to build a supportive, multi-cultural community by working on the front line at events and meetings, while also balancing their books and discovering an interest in accounting.
"That position was a great opportunity," says Jama. "I improved my communication skills, I tapped into the strong multicultural community in the city.
I trained in practical skills like software for accounting and non-profits. And I also found that I enjoyed the accounting responsibilities, which I hadn't expected."
This discovery opened a new door for Jama. After graduating this month, he'd like to pursue additional courses in accounting, possibly a CPA or MBA—while working full-time. He also plans to bring his wife and young son to meet his family in Kenya.
"It's important to me to put people first in business," says Jama.
"I know everyone says it, but I value social responsibility. I hope I can combine that with a job I like, one that will allow me to support my young family."
With his unique experience, exceptional adaptability and strength of purpose, Jama will doubtless achieve this and more.
Photos
In this story
Keywords: convocation, graduation, student life, business, economics
People: Siyad Jama