Award-winning athlete sprints her way to graduation
- Ali Baggott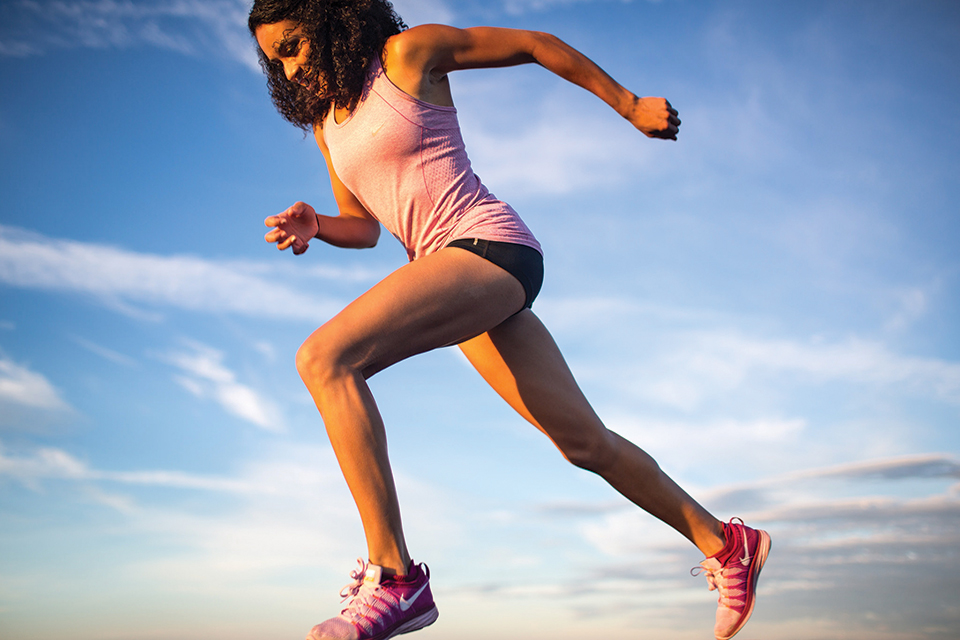 In January, 2011, the Vikes announced that a track runner from St. Albert, Alberta, had committed to run for the cross country and track program at the University of Victoria.
Little did head coach Brent Fougner or the Vikes community know then that it would be the start of one of the most prolific athletic careers in UVic history and bring a key contributor to student life to campus.
"Throughout my undergrad, I found it challenging to balance being a 'normal' student and being a varsity athlete," said Rachel Francois, who graduates this month with a major in history and a minor in professional writing and journalism.
It didn't take long for Francois to make her mark at UVic. In her first year she was named both Canadian Interuniversity Sport (CIS) and UVic female Rookie of the Year after breaking the school record in the 600-metre and winning gold in the 600-metre and 4 x 800-metre CIS events.
Fast forward four seasons later and Francois has logged four straight 600-metre CIS gold medals and finished her university athletic career with 20 total conference and national medals, 11 of which were gold, along with six Canada West allstar nods and four CIS All-Canadian team honours. She was also named UVic's female Athlete of the Year in both 2014 and 2015.
It was a learning curve to live the "lifestyle" of an elite athlete, she says. "I have many friends who aren't athletes, so it was tough to separate myself and learn that weekends were for resting, all-nighters for studying were not an option, and I would have to miss many events and functions that my friends went to because I was always on the road.
"It wasn't a sacrifice by any means—it was certainly a choice—but I had to learn how to fully commit to the life of a varsity athlete to see the success that I was working so hard to achieve."
Outside of her university training, Francois was continually working hard to qualify for the Olympics. She ran her first Olympic Trials in 2012, was a gritty competitor at the annual Vikes International Track Classic in Victoria year after year and was a close contender for the Canadian contingent that went to the 2016 Rio Olympic Games.
An eight-foot rendering of Francois in action is plastered to the wall of the RBC Blue and Gold Room in the Centre for Athletics, Recreation and Special Abilities (CARSA), joining a collage of notable Vikes national champions including basketball's Eli Pasquale and swimmer and 19-time Paralympic medal winner Stephanie Dixon.
Francois says juggling sports and academic work helped her manage her time well. "I do feel that having the balance of both helped me, as studying was a way to be mentally stimulated, and my training was a fun break from school."
Somewhere in that hectic schedule she also found time to contribute to the campus community. In 2013 and 2014, she was a key face for the communications campaign leading up to the construction and opening of CARSA. She was also a go-to keynote speaker for multiple events, where she enjoyed describing life as a student-athlete and her pride at being a Vike.
In 2015, Francois was one of the inaugural writers for the MyUVic Life blog and served as a front desk staff worker for CARSA membership services. She was often the first to volunteer for events happening on- or off-campus involving UVic or the Vikes.
Although it's now time to move on to other challenges, Francois she'll miss her Vikes family. "I'll miss the team aspect the most," she says. "The team becomes your family, they see you at your best and worst, and the insane workouts that you get through together certainly bring you closer."
What's on the career horizon? Francois says she's interested in communications, event coordination, connecting people and being in leadership roles. "I'm diving into different professional areas to see what I like the best. I'm excited to make my career one that is authentic to who I am, and is very dynamic, always changing. I want to work with people."
Photos
In this story
Keywords: Vikes, athletics, convocation, graduation, history, student life, alumni
People: Rachel Francois