Winning co-ops contribute to vital research
Co-op, Engineering, Science, Peter B. Gustavson School of Business
2016 Co-op Students of the Year
Innovative, aspiring and motivated to make a positive impact—these are the qualities shared by three extraordinary students who were recognized for their outstanding work ethic, initiative and engagement by being named as the 2016 Co-op Students of the Year.
Each year, UVic's Co-operative Education Program and Career Services recognize co-op students who have made outstanding achievements in their academic achievement, workplace performance and community involvement. One student is selected from each of three major co-op program groups.
The 2016 Co-op Students of the Year are:
PAUL KIM (biochemistry)
Co-op Student of the Year—Optional and Professional Programs
Paul Junhyuck Kim has always been motivated to better the world around him. Inspired to contribute to the field of public health by a family member's battle with cancer, the fourth-year biochemistry student has channelled his energy into contributing to the field of public health, and has proven himself to be a dedicated student, disciplined researcher and inspiring leader during his time at UVic.
Kim secured his first co-op work term performing research at the Centre for Microbial Diseases and Immunity Research (funded by the Centre for Blood Research). After receiving a Science Undergraduate Research Award from UVic, he was offered the chance to work alongside Dr. Julian Lum at the BC Cancer Agency Deeley Research Centre, where he conducted research involving lymphocyte infiltration in tumour microenvironments—research that could contribute to streamlining cancer treatments in the future.
"My work term at the Deeley Research Centre was one of the first opportunities I had to create an impact in a field that I'm truly passionate about," he says. Having watched people close to him struggle with the disease, he jumped on the chance to make a difference in leading cancer research.
Kim's work not only added a great deal of understanding on basic lymphocyte biology, but also provided Lum's lab with a strong backbone for future research grants. "Paul's performance and work were nothing short of outstanding, and his contributions to the lab have been enormous," says Lum. "He's demonstrated outstanding passion, drive, commitment and integrity."
For Kim, experiential learning has been a crucial aspect of his university education.  "Through co-op, I learned that the only way to bridge the gap between my university education and the fast-paced environment of a research lab was to work in that setting," he says. "Applying my university education to groundbreaking research helped me to see the bigger picture of my degree."
As a vocal proponent of co-op on and off campus, Kim is eager to continue building strong relationships and working on collaborative projects in future work terms. "Working with inspiring researchers has developed me into a lifelong learner," he says. "I am looking forward to creating synergies through co-op that will ultimately generate large-scale impact in the medical field."
Kim is also a recipient of the prestigious Schulich Leader Scholarship, awarded to outstanding students in STEM (science, technology, engineering and math), and a 3M National Student Fellow.
NICHOLAS PINEAU (business)
Co-op Student of the Year—Business Co-op Program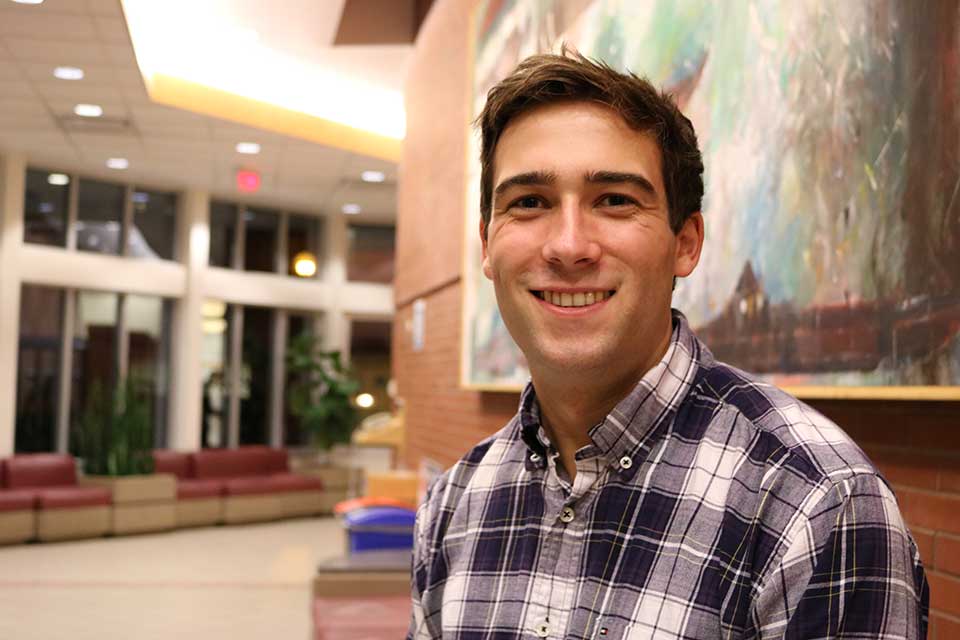 Driven by an appetite for knowledge, fourth-year business entrepreneurship student Nick Pineau has proven himself an outstanding example of a Gustavson student both in and outside the classroom. Motivated to study at UVic because of the co-op program, he was quick to prime himself as a competitive candidate for the positions he was interested in.
Pineau spent his first work term performing treasury and risk management with Elbow River Marketing in Calgary, where he completed credit reviews and daily financial statement analyses. Last summer, he secured a position with Nexen working in accounting and finance, where he focused on variance analysis, budgeting and cost allocation in the oil and gas industry.
Demonstrating strength in analytical thinking and working within a team, Pineau impressed his colleagues with his high level of professionalism and his eagerness to engage with staff across the whole organization.
The co-op program has given Pineau hands-on experience in his chosen field, allowing him to start cultivating his career long before graduation. Moving from the oil and gas industry to the tech sector for his current co-op term with Redbrick, he's had the valuable opportunity to diversify his experience—an opportunity that will give him an edge when applying for future work. "Working in diverse business environments throughout my co-ops has helped me build a network to rely on post-graduation," he says. " I feel infinitely more prepared for my future career."
Outside the workplace, Pineau has dedicated himself to student engagement by helping fellow classmates with their job searches, organizing workshops to contribute to students' professional development, coordinating speaker series and assisting in business co-op events.  
"Overall, co-operative education has been extremely beneficial for my future career prospects and for my university education," says Pineau. "I'm thankful that I've been given the opportunity to demonstrate the skills I've learned in class in real-world settings."
ANIKA BELL (mechanical engineering)
Co-op Student of the Year—Engineering and Computer Science/Math Co-op Programs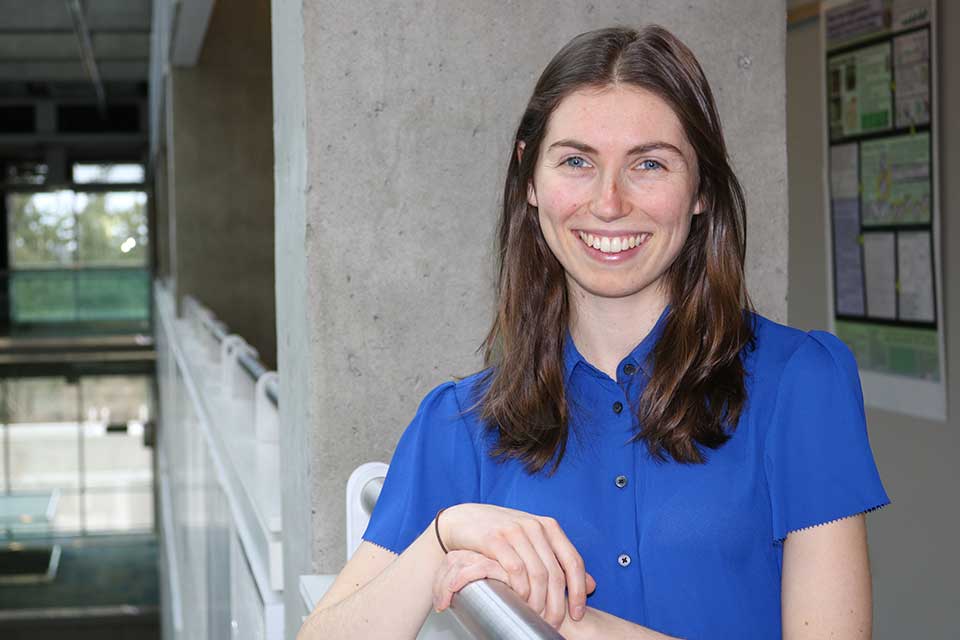 A passion for environmental sustainability and renewable energy has led fourth-year student Anika Bell to new heights while studying mechanical engineering at UVic.
From completing a work term with the UVic ECOSat team—where she helped design a first-place satellite for the Canadian Satellite Design Challenge—to working on renewable energy projects with the Environment Department of the Vancouver Airport Authority, Bell's co-op placements have offered diverse and enriching opportunities for hands-on learning.
At her most recent work term with the BC Ministry of Environment Climate Action Secretariat, Bell stepped into the role of Climate-Resilient Buildings Intern. Tasked to complete a climate risk and resilience assessment of a public sector building in BC, Bell far exceeded the expectations set out for her. Developing a novel assessment method, she completed assessments for not one, but three buildings and building sites over the course of her four-month term.
"Anika's impeccable work ethic, keen attention to detail and ability to produce quality under pressure, all while maintaining a positive and humble attitude, made her an invaluable member of the team," says Bell's supervisor Suzanne Spence, Executive Director of CAS.  "Her contributions are of lasting value to CAS, the owners of assessed buildings and more generally to BC public sector organizations interested in climate resilience in buildings."
Bell credits co-op with enriching her academic experience, as it's allowed her to diversify her studies in a way that wouldn't have been possible without venturing outside the classroom. "The co-op program has allowed me to expand and personalize my education," she says. "It's provided me with a pathway to pursue my interests and demonstrated how I can interlace the field of mechanical engineering with my passion for climate action."
Bell's outstanding accomplishments have led to her being sought out for a fourth work term with BC Housing, where she is working to create a tool to assess their buildings for climate change resilience.
"Designing for climate change resilience is a developing field, and one which I have been fortunate enough to work in," she says. "Working amongst other environmentally-minded individuals has been incredibly empowering and inspiring—my experiences in co-op have encouraged my aspirations of finding an engineering career in climate action."
Photos
In this story
Keywords: co-op, employment, student life, biochemistry, business, engineering
People: Paul Kim, Nick Pineau, Anika Bell