Reaching higher, thinking bigger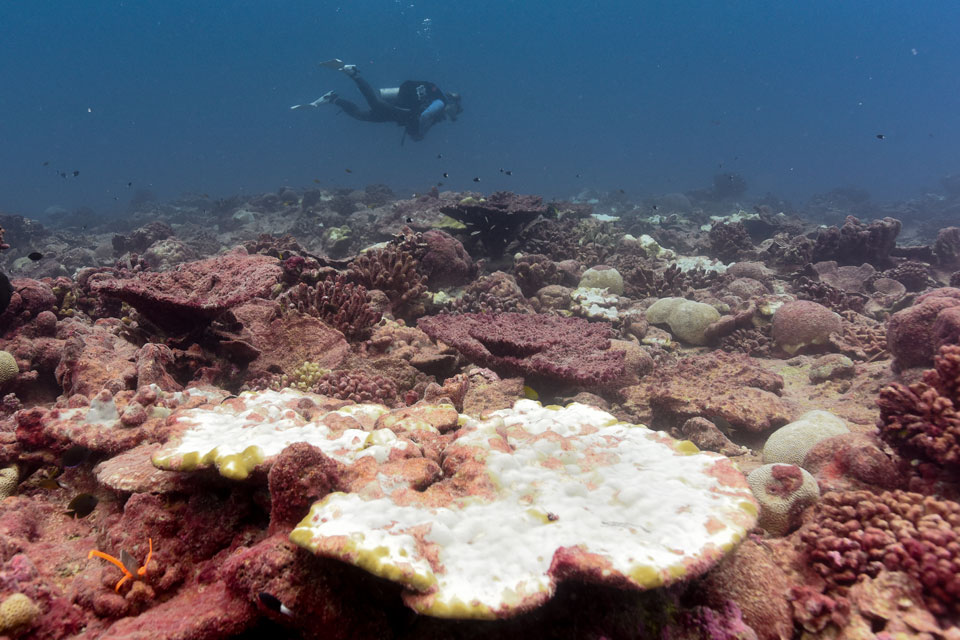 Over two decades, CFI funding has had a profound impact on research at UVic
Twenty years ago, the Canada Foundation for Innovation (CFI) was created to provide funding for the tools—the labs, facilities and equipment—that Canadian researchers need to move ideas, discoveries and inventions forward for the benefit of society and the world around us.
It was a transformative moment for Canadian research—and one that has helped shape the direction, depth and global impact of research here at the University of Victoria.
"Over the past two decades, CFI has been an essential component of the research landscape in Canada," says David Castle, UVic's vice-president research. "CFI has been critical in the development of Canadian research intensity and has made our universities internationally competitive. This is certainly true of UVic."
To date, CFI has awarded almost $123 million to 187 projects at UVic, in addition to more than $138 million for operations and maintenance of major research facilities, such as Ocean Networks Canada and ARIEL at TRIUMF in Vancouver.
As CFI prepares to celebrate its 20th anniversary on Feb. 18, here are a few examples of the impact that its investments have had—and continue to have—on research at UVic.
Life and death of coral reefs
In work that dates back to 2007, marine biologist Julia Baum has been studying the resilience of coral reefs on Kiritimati Island in the middle of the equatorial Pacific Ocean. The study—which recently reported a massive coral die-off during a protracted El Nino warm water event—is providing fresh insights into the effects of climate change and rising ocean temperatures on marine ecosystems.
"CFI funding has been extremely critical to our research program, allowing us to purchase essential scientific equipment and safety gear for our remote field work," says Kristina Tietjen, project manager in Baum's lab. "Without that support we would have had to dramatically reduce our field research program."
Aiming for the stars
For mechanical engineer Colin Bradley, CFI funding has been essential to the development of a state-of-the-art astrophysical instrumentation laboratory, allowing it to participate in major international astronomy instrumentation programs, such as the Thirty Meter Telescope and the European Southern Observatory Extremely Large Telescope project.
In one project—a partnership with the National Research Council and Japanese researchers—Bradley's team has developed a unique optical instrument capable of imaging multiple distant stars and galaxies in exquisite detail by removing the effect of the Earth's turbulent atmosphere. "The results of this program will assist in the design of future instrumentation for the next generation of ground-based, extremely large-diameter optical telescopes," he says.
Coastal connections
CFI support has kept geographer Chris Darimont's research afloat—literally. Boats purchased with CFI funds allow his team to collect data on bear-salmon systems in a 25,000 sq km area on BC's remote central and north coast—an area roughly the size of El Salvador.
"These investments have transformed not only our understanding of predator-prey systems but also the way in which we conduct research with communities," says Darimont.
Outside research season, the team plans to use the boats to engage with long-term partners in Indigenous communities along the coast, for example, taking school children on science field trips and transporting elders to significant cultural areas. "Sharing knowledge, and cultivating and maintaining these relationships, is an important element of our research," he says.
Protein power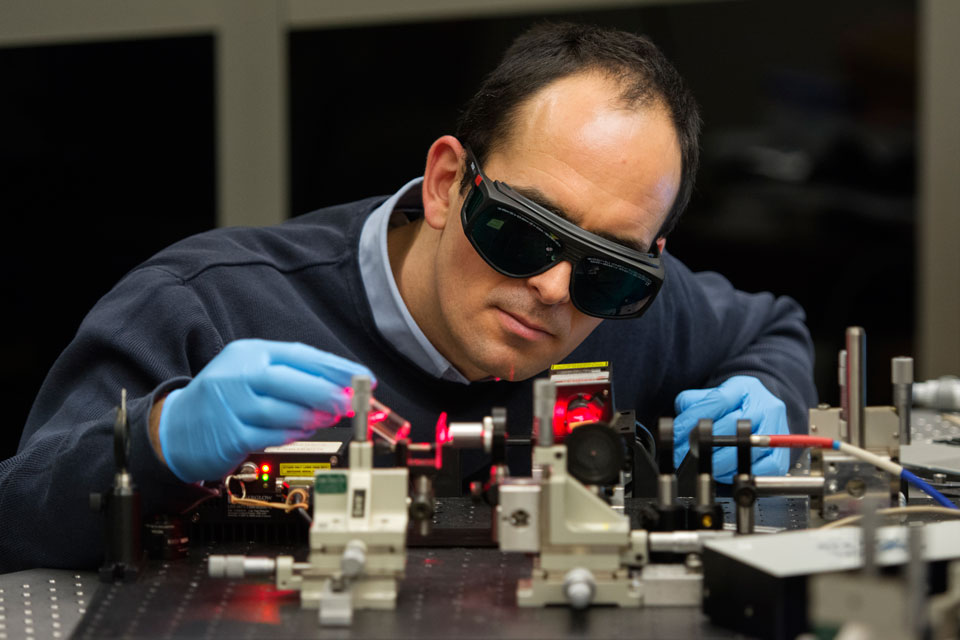 Back in the labs, electrical and computer engineer Reuven Gordon uses CFI funding to develop a new technique for manipulating and analyzing proteins one by one—a key step to discovering cures for protein-related diseases. Although the technique is still in the early stages, it has attracted keen interest from scientists and industry around the world.
"Our research is critically dependent on funding for equipment," says Gordon. "Almost every research finding that's come out of my group has used CFI-funded equipment, either in my own lab or using other facilities at UVic."
Molecular mysteries
Chemist Fraser Hof looks back to 2005 when he moved from Switzerland to Canada to start his studies of "methyl"—the smallest possible change that can happen to a protein—which is responsible for powerful changes in cell behaviour. "CFI funded the purchase of start-up equipment for my lab and was the only way my research program could get started," says Hof.
Since then Hof's CFI-funded equipment has trained more than 100 students and allowed him to significantly advance his research. "We've learned about how methyl pathways drive things as diverse as stem cell behaviour, growth of aggressive prostate cancer, and even how it controls the yeast used in commercial beer brewing."
21st-century exploration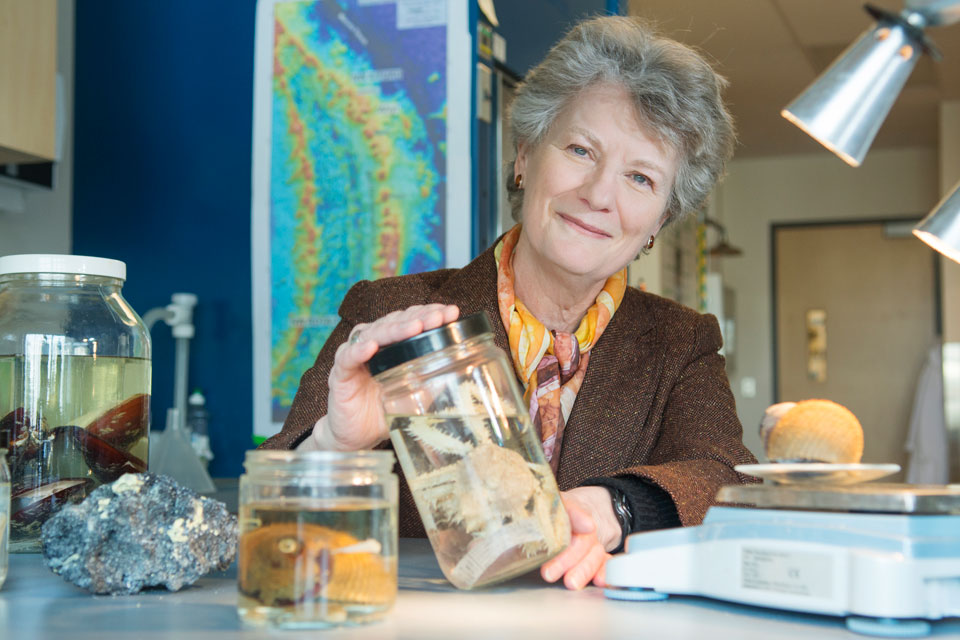 For marine biologist Verena Tunnicliffe, a world-renowned expert on deep-sea ecosystems, CFI funding has fueled her career in ocean exploration. "CFI grants have allowed us to lead new types of research and, most importantly, foster the research of other students and scientists across the nation and internationally."
Tunnicliffe credits CFI funding for helping to upgrade ROPOS—a Canadian submersible used primarily for science and research—into a world-class resource. In 2004, ROPOS was used on a Mariana volcanic arc expedition where Tunnicliffe and others were the first to observe a deep-sea eruption, molten ponds of subsea sulphur, and liquid carbon dioxide amid a vast field of mussels.
"Observations using ROPOS have helped us to interpret dynamic Earth processes, the delivery of gases through the water to the atmosphere, and how animals survive in the acid conditions predicted for our future oceans," she says.
Mind matters
Getting a better handle on the connection between brain activity and our thought processes and behaviour is the focus of psychologist Jim Tanaka, who with CFI support built UVic's Brain and Cognition Laboratory to study human brain electrophysiology.
"In this lab we're able to see millisecond-by-millisecond changes in neural activity as measured by electrical voltages on the scalp as a human participant learns a new task," says Tanaka, whose more recent work focuses on the brain activity of individuals on the autism spectrum.
"The CFI funding has been essential for helping us understand the mind-brain connection in human learning, and has opened up exciting new avenues of research."
Physics of the future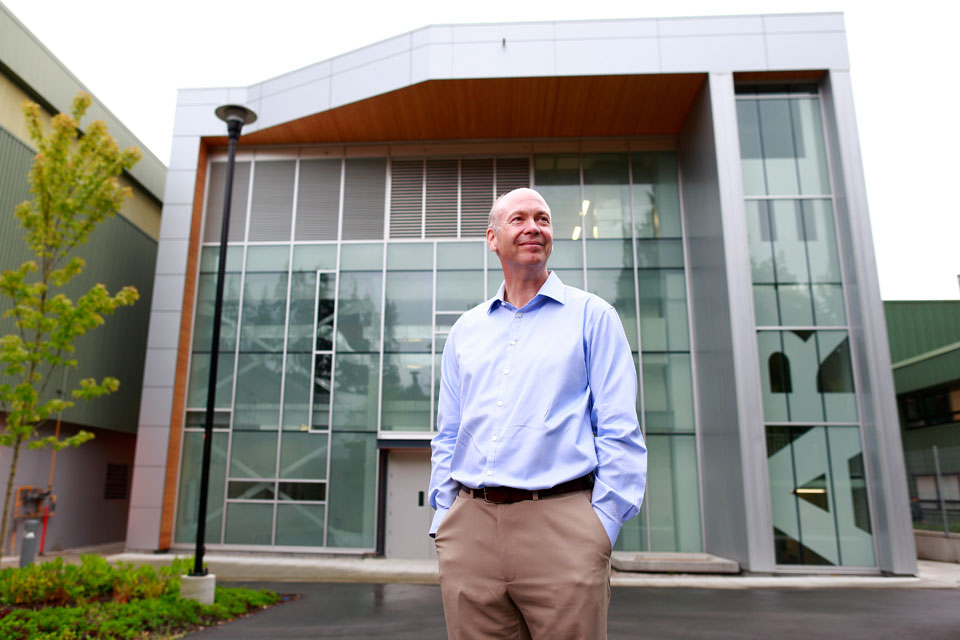 In the world of subatomic physics, CFI's role in keeping Canada competitive has been pivotal—investments of more than $180 million over the last 15 years on scientific instrumentation and national research facilities. One of these facilities is ARIEL, a major expansion at TRIUMF, Canada's national laboratory for particle and nuclear physics.
"CFI funding for ARIEL ensures that Canada remains a global leader in the production of rare isotopes for discovery and applications in the physical and health sciences," says UVic physicist Dean Karlen, the lead scientist for ARIEL. "The scientific demand for rare isotope beams far outstrips current capacity. With ARIEL, TRIUMF will be able to deliver three simultaneous beams instead of one, and will have the unique capability to produce neutron-rich species."
CFI programs play an essential role in Canada for funding large research infrastructure like ARIEL, adds Karlen. "Without CFI funding, I don't believe ARIEL would have been possible."
Photos
In this story
Keywords: cfi, canada foundation for innovation, funding, support, industry partnerships, oceans, research, engineering, astronomy, salmon, chemistry, psychology, physics, biomedical
People: Julia Baum, Colin Bradley, Chris Darimont, Reuven Gordon, Fraser Hof, Verena Tunnicliffe, Jim Tanaka, Dean Karlen