UVic Chair in Transgender Studies nationally recognized for exceptional contributions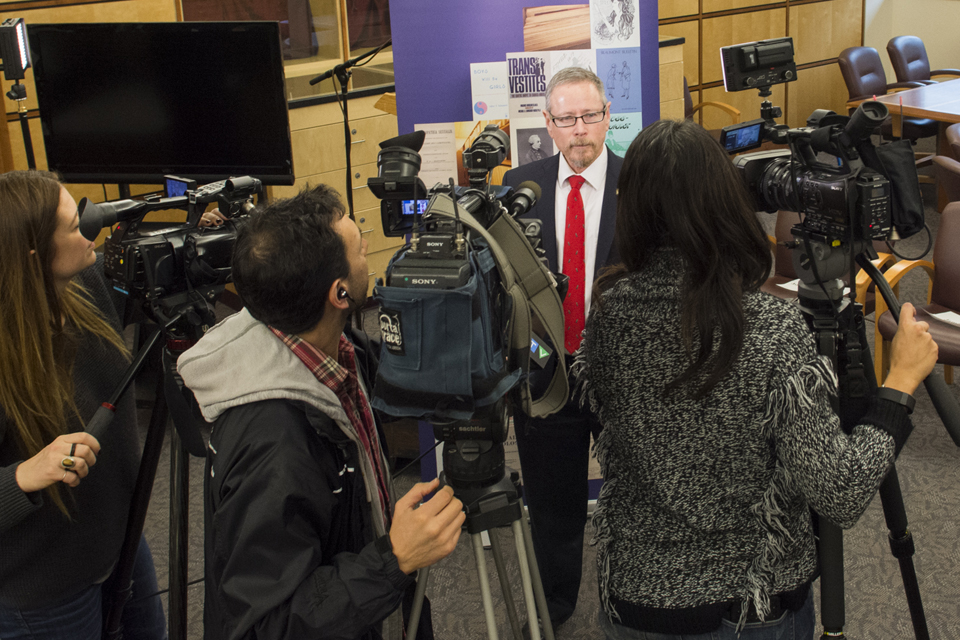 Aaron Devor, the Chair in Transgender Studies at the University of Victoria and a globally recognized leader in transgender research, has received national acclaim for his exceptional contributions to inclusivity and social change.
The Canadian Association of University Teachers (CAUT), the national voice for academic staff at universities and colleges across the country, presented Devor with a 2017 CAUT Equity Award in Ottawa last week. The award, established in 2010, recognizes those "who have demonstrated an outstanding commitment to challenging exclusionary behaviours and practices such as racism and homophobia and by so doing have made post-secondary education in Canada more inclusive."
As Chair in Transgender Studies (announced January 2016), Devor works with some of the world's top researchers, scholars, thought leaders, transgender community activists and students to increase knowledge about a broad range of topics concerned with the lives and circumstances of trans, gender nonbinary and two-spirit people.
The CAUT award reaffirms the university's ongoing commitment to nurturing a welcoming environment at UVic as home to students, faculty and staff who continually inspire bold action and positive impact and directly support healthy people, places and communities in Canada.
Devor is the founder and academic director of the Transgender Archives, launched in Sept. 2011 in UVic Libraries and representing 18 countries on five continents, more than a century of research and over 50 years of activism. Devor is also an elected member of the elite International Academy of Sex Research, an elected Fellow of the Society for the Scientific Study of Sexuality and a national award-winning teacher. He is a professor in UVic's Department of Sociology and a former dean of UVic's Faculty of Graduate Studies.
The biennial series—the Moving Trans History Forward conference, among the largest of its kind—takes place again at UVic from March 22 to 25, 2018.  More info
A press kit containing photos of Dr. Devor is available on Dropbox.
-- 30 --
Photos
Media contacts
Dr. Aaron H. Devor (Chair in Transgender Archives, Dept. of Sociology) at ahdevor@uvic.ca
Anne MacLaurin (Social Sciences Communications) at 250-217-4259 or sosccomm@uvic.ca
Tara Sharpe (University Communications + Marketing) at tksharpe@uvic.ca
In this story
Keywords: gender, inclusivity, transgender studies, transgender research
People: Aaron Devor