Clean energy projects at UVic get a $2.4M boost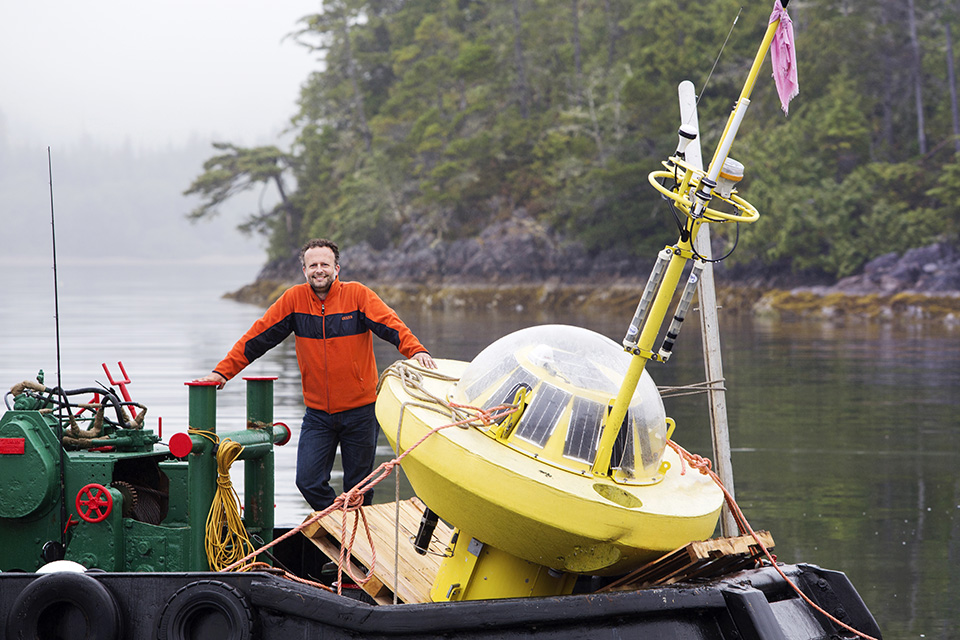 Today, off-the-grid coastal communities seeking renewable energy alternatives, and heavy-duty transportation companies working to reduce fossil fuel dependence, are a big step closer to achieving their goals.
With $2.4 million in new funding announced today, researchers at the University of Victoria will be able to accelerate the kinds of solutions-focused, clean energy projects that are making a difference at a local, national and international level.
The funding from the Government of Canada, and from the Dennis and Phyllis Washington Foundation in conjunction with Seaspan, was announced at UVic by Jonathan Wilkinson, Member of Parliament for North Vancouver and Parliamentary Secretary to the Minister of Environment and Climate Change, on behalf of Navdeep Bains, Minister of Innovation, Science and Economic Development and Minister responsible for Western Economic Diversification Canada (WD).
An investment of $1.4 million from WD will establish the Pacific Regional Institute for Marine Energy Discovery (PRIMED) at UVic. The institute, led by mechanical engineer Brad Buckham, will help develop and commercialize wind, wave and tidal energy technologies and help support the adoption of alternative technologies in remote coastal communities, including Indigenous communities, which are currently heavily dependent on diesel fuel generators to produce electricity.
A $1 million investment by the Washington Foundation in conjunction with Seaspan will significantly advance the work of the green transportation research team led by mechanical engineer Zuomin Dong working with UVic's Institute for Integrated Energy Systems. The funding will move forward solutions for heavy-duty marine, mining and transportation sectors working to meet their greenhouse gas reduction targets and climate change mitigation goals.
Dennis Washington, founder of the Washington Companies, was awarded a Distinguished Entrepreneur of the Year Award by UVic's Peter B. Gustavson School of Business in 2014.
"As we tackle the many challenges posed by climate change, our researchers are leading the way in sustainable energy research, working closely with governments, industry and community groups to foster clean growth and low-carbon economic development," says UVic President Jamie Cassels. "We're very grateful to the Government of Canada, as well as the Dennis and Phyllis Washington Foundation and Seaspan for their investments in this vital work, which responds to one of our most significant national and global challenges."
Please see backgrounder for more info.
A media kit containing photos and video clips is available on Dropbox.
Audio clips from announcement:
Brad Buckham, PRIMED co-director and West Coast Wave Initiative director
Jonathan Wilkinson, MP for North Vancouver and Parliamentary Secretary to the Minister of Science and Climate Change
-- 30 --
Photos
Media contacts
Brad Buckham (Mechanical Engineering) at 250-721-6035 or bbuckham@uvic.ca
Zuomin Dong (Mechanical Engineering) at 250-721-8693 or zdong@uvic.ca
Suzanne Ahearne (University Communications + Marketing) at 250-721-6139 or sahearne@uvic.ca
Click here for the backgrounder.
In this story
Keywords: Clean energy, Mechanical Engineering, West Coast Wave Initiative
People: Zuomin Dong, Brad Buckham