A growing appreciation for Indigenous knowledge
- Anne MacLaurin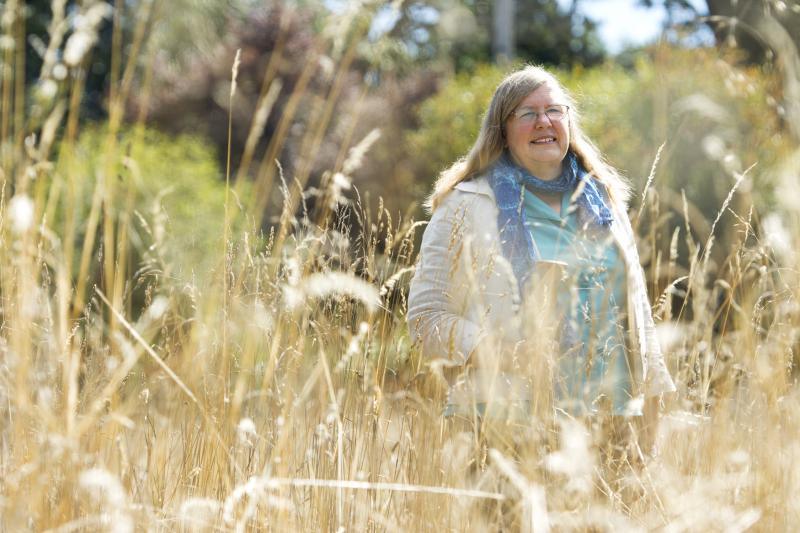 Trudeau Foundation award supports Nancy Turner's lifelong study of traditional plant use    
A long-time champion of Indigenous knowledge, UVic ethnobotanist and ethnoecologist Nancy Turner has devoted her career to understanding and communicating the crucial role that plants play in Indigenous cultures and languages, especially with respect to land use, rights and title. To support this important work the Pierre Elliot Trudeau Foundation has awarded Turner a $225,000 fellowship over the next three years.
"I am very excited to be joining such an interesting and dynamic group as represented by the Pierre Elliott Trudeau Fellows," says Turner. "Already, we have been able to share ideas and perspectives about many pressing policy issues that cross-cut several disciplines. I feel deeply honoured to be chosen to be a part of this wonderful team of scholars."
Turner, environmental studies professor and the Hakai Research Chair in Ethnoecology, is one of the most respected ethnobotanists in the world, specializing in ethnoecological studies with Western Canadian Indigenous peoples—particularly on BC's central coast.
Ethnoecology is the study of how people understand their environment and relationship to ecosystems. Turner began collaborating with First Nations people more than 45 years ago to document and promote their traditional knowledge of plants, including foods and medicines. Her research and teaching about the relationship between Indigenous peoples and plants, and how that relationship influences the landscapes and habitats of Western Canada, helped establish UVic as a national and international leader of ethnoecology and traditional knowledge studies.
"Dr. Turner is a person of deep integrity, social commitment, and eloquence, who has combined scholarship at the highest level with public education, far-reaching contributions to the policy process, and the promotion of dialogue among governments, the public and First Nations peoples," says UVic President Jamie Cassels.
As part of her fellowship project, Turner has proposed a two- to three-day symposium (planned for early 2017) for interested Indigenous leaders and knowledge holders, legal scholars, ethnobotanists, ethnoecologists and students to discuss the roles of ethnobotany and ethnoecology in policy and legal decision-making in Aboriginal land title. She hopes the symposium will have the potential to assist in deliberations around land rights and title for Indigenous peoples.
"Dr. Nancy Turner has made and continues to make huge contributions to the international understanding of ethnobotany—to the study of how peoples, especially Indigenous peoples, interact with and draw upon their environments," says UVic Dean of Law Jeremy Webber (a Trudeau Fellow himself). "She will be an ideal Trudeau Fellow, bringing to the role her deep and respectful collaborations with Indigenous peoples, her amazingly generous support for students and their research, her knowledge, and her wisdom."
"My research legacy has been to weave together ethnographic descriptions of human plant relationships within a broader framework of Indigenous cultural landscapes and resource management systems that reflect the deep and enduring relationships between First Nations and their territories," adds Turner.
She is the fourth UVic professor to be honoured with a Pierre Elliott Trudeau Fellowship. The awards are made by an independent jury of researchers and intellectuals and support the winners as they pursue the next stages of their academic research.
The Pierre Elliott Trudeau Foundation fellowships were established in 2003 to support scholars who have demonstrated the capacity to propose creative solutions to important issues and to encourage initiatives and projects that might not necessarily receive support through traditional funding mechanisms.
For more information, visit www.trudeaufoundation.ca.
Photos
In this story
Keywords: award, Indigenous, research, environmental studies
People: Nancy Turner