Top 10 of 2016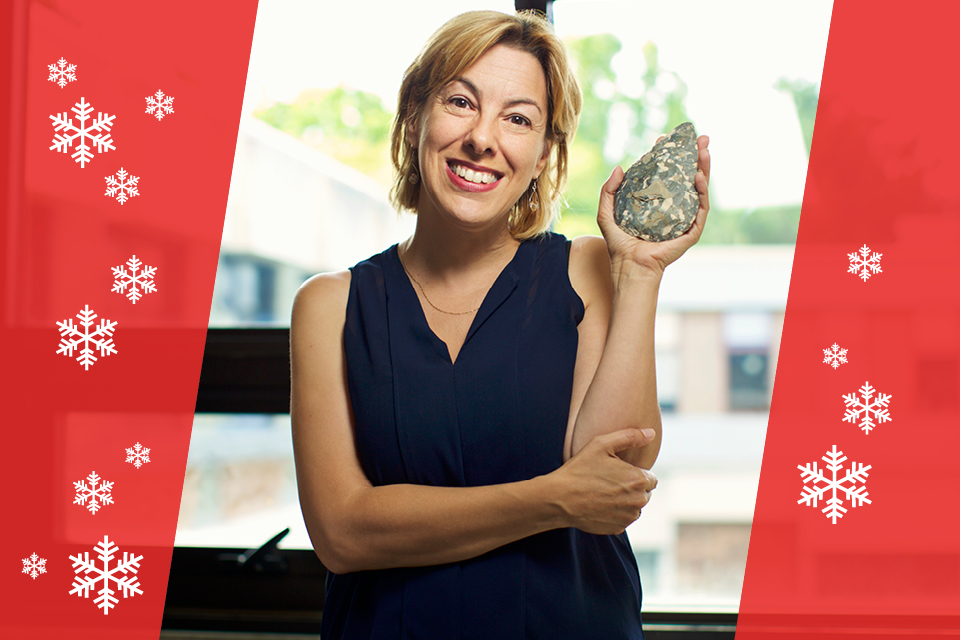 2016 at UVic was another great year of memorable moments and compelling news about people, projects, ideas, creativity and research.
A world-first discovery about Stone Age tools, vital hints for the future of coral reefs in warming oceans and a dwarf planet that transfixed media across our globe are just some of the many captivating UVic stories over the past 12 months. They're the kind of breakthroughs that happen when you're working at the edge of what's next!
Here are 10 of our favourites from 2016.
How smart were human-like species of the Stone Age? A team led by UVic paleoanthropologist April Nowell revealed surprisingly sophisticated adaptations by early humans living 250,000 years ago in a former oasis near Azraq, Jordan.
---
Research by biologist Julia Baum on coral reefs damaged by an extreme El Niño around Kiritimati Island could help us understand why some coral is resilient despite the deadly conditions of thermal stress. Baum's research will help scientists anticipate the future for reefs around the world as oceans warm and inform efforts to help them survive.
---
Two UVic-based researchers were part of an international team of astronomers to discover a dwarf planet orbiting in the disk of small icy worlds beyond Neptune that will help researchers piece together the history of the solar system. "Almost all of these icy worlds are painfully small and faint, so it's exciting to find one that's large and bright enough to study in detail," said Michele Bannister, an astronomer doing postdoctoral research at UVic.
---
The Mentor-Apprentice Program (MAP) brings fluent Indigenous language speakers and adult learners together for immersive language mentoring experiences on the land and in the home. Initiated in BC in 2008, it was understudied—until now. Onowa McIvor (education) and Peter Jacobs (linguistics) recently wrapped up a MAP study on 33 adult learners and their mentors.
Read the story in The Ring
A story by the Canadian Press was picked up widely including by CBC News, The Province and in the front section of the Vancouver Sun
---
Growing up in his native Brazil, UVic chemist Alexandre Brolo saw the ravages of dengue fever and the constant struggle by authorities to control its spread. Now, Brolo is putting his expertise to use against the Zika virus by using nanotechnology, gold and smartphones to detect the virus and the mosquitoes that carry it.
---
Aaron Devor is the world's only Chair in Transgender Studies, focusing on research into a broad range of topics concerned with the lives of trans and gender nonconforming people and to explore crucial issues such as healthcare, poverty, discrimination and suicide.
---
The NW-ACE program, a partnership between Tribal Resources Investment Corporation and UVic's Gustavson School of Business, was awarded the top spot at the Gold Global Best Awards in Oslo, Norway in September. The prestigious international honour recognized the partnership's success in providing leading business education, upon invitation, to Indigenous communities in BC.
---
Six banker boxes full of heirlooms including diaries, photos and precious textile items will now help restore a stolen history as part of one of the biggest research projects in the field of humanities in Canada–the UVic-led Landscapes of Injustice on the dispossession of Japanese Canadians in the 1940s.
---
After hearing stories from outreach workers about people dying in the streets, Kelli Stajduhar, nurse and affiliate of UVic's Institute on Aging and Lifelong Health, launched a study looking at palliative care options for the homeless.
---
A powerful educational tool for learning faces and recognizing emotions of the important people in the lives of children on the autism spectrum "Let's Face It 2.0 app" was developed by UVic's Centre for Autism Research Technology Education (CARTE), led by psychologist Jim Tanaka. The app is free and available on iTunes.
---
Read more about UVic in The Ring and stay tuned to @uvic and our news page for new stories as they happen.
And see some of what's in store for 2017 at uvic.ca/partners.
Photos
In this story
Keywords: top stories, research