UVic faculty bask in Royal Society of Canada spotlight
Humanities, Science, Fine Arts, Education
- Valerie Shore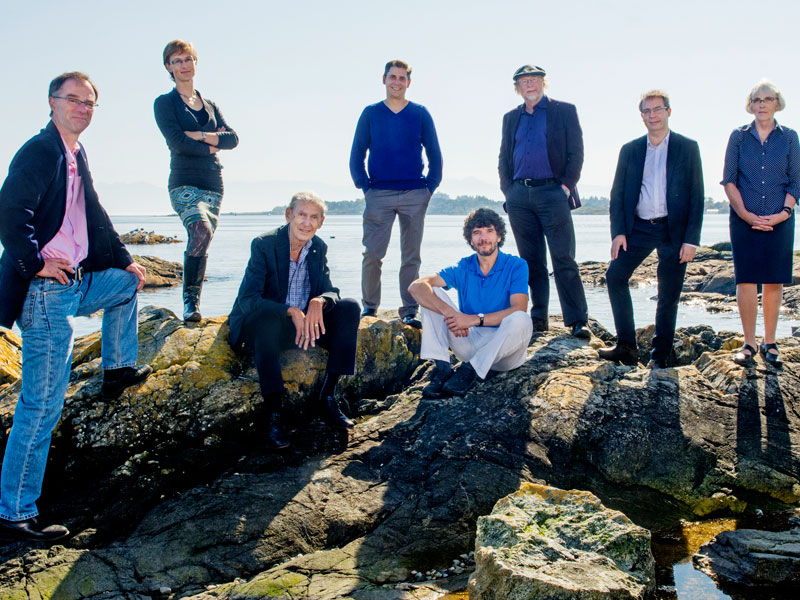 Canada's academic stars to converge on Victoria
Hey Victoria, get ready to host almost 400 distinguished academic guests-the Royal Society of Canada is coming to town!
The Royal Society (RSC) is Canada's national academy dedicated to promoting learning and research in three main streams: the arts and humanities; the social sciences; and the sciences.
Every year, the RSC holds its annual general meeting in a different Canadian city. This year, RSC fellows and college members from across the country will converge on the Victoria Conference Centre/Fairmont Empress Hotel on Nov. 26-28. The University of Victoria is the sponsor institution.
"We're very pleased to be the presenting sponsor for this event," says UVic President Jamie Cassels. "This is an opportunity for UVic to welcome Canada's eminent scholars, to witness the induction of UVic's fellows and medal winners in our own city and to celebrate our long-time relationship with the society."
The AGM includes several events open to the public, kicking off with a symposium on Canadian marine biodiversity on Thursday, Nov. 26. UVic geographer Phil Dearden and Kate Moran, president and CEO of Ocean Networks Canada, will co-chair the symposium. UVic marine biologist Julia Baum is one of several experts slated to speak.
Pre-registration is required for the symposium-$33 for students and $78 for the public. The registration deadline is Nov. 20. Details bit.ly/CVENT1
On Saturday, Nov. 28, a selection of new fellows and college members from across the country will discuss their research in a series of snappy seven-minute presentations. Among the UVic presenters-composer Dániel P&e#180;ter Bir&o#180;, chemist Frank van Veggel and playwright Joan MacLeod.
Cost for attending the caf&e#180; events is $35/students and $60/public and the registration deadline is Nov. 13. For a full list of presenters and to register visit bit.ly/RSC-cafe.
"This is a golden opportunity for everyone-including faculty, students, staff and the general public-to hear from and interact with some of the sharpest minds in the country," says David Castle, UVic's vice-president research. "We encourage everyone to attend if they can."
For general information on the AGM visit bit.ly/RSC-AGM.
UVic faculty in the spotlight
Whether they're improving cancer treatments, motivating us to get off the couch to exercise, exploring the cosmos, or helping us better understand ourselves through theatre, music, creative writing and philosophical discourse, the eight UVic faculty members in the Royal Society of Canada (RSC) spotlight this month exemplify vital impact.
The eight-three new fellows, three new college members and three award-winners-will be formally acknowledged at RSC ceremonies on Nov. 27. (Sara Ellison is both an award winner and a new college member, which is why 3+3+3 does, in this case, equal 8.)
"We congratulate our new fellows, college members and medal winners from the faculties of humanities, fine arts, science and education," says David Castle, UVic's vice-president research. "This incredible breadth of expertise and impact really speaks to UVic's research strength as a whole." The three new fellows join an elite club of more than 2,000 scholars elected over the years by their peers for remarkable lifetime contributions to their discipline and public life. Fellowship in the RSC is Canada's highest academic distinction.
The new fellows are:
Joan MacLeod
Celebrated playwright Joan MacLeod (writing) has 10 plays under her belt, all of them rooted in issues revolving around social justice, and often inspired by current events.
Her first play, Jewel, was about the 1982 sinking of the Ocean Ranger oil rig off Newfoundland. Another focused on the death of Victoria teenager Reena Virk. And her current play looks at policing and mental illness.
MacLeod's style is consistently praised for its clarity, humour, emotional honesty and a steadfast dedication to the empathies that transform us. Among her many national achievements are the Governor General's Award in Drama (1990) for Amigo's Blue Guitar and the Siminovitch Prize in Theatre (2011).
Frank van Veggel
Frank van Veggel (chemistry) is an international leader in the design and study of new photonic nanomaterials- extremely small materials that interact with light. The research has applications in health, computing and telecommunications.
Van Veggel's current research focuses on ways of using optical and magnetic nanoparticles to enhance diagnostics for prostate, breast and brain cancer. "Finding cancers early is important to increase the success of therapy," he says. "And getting better information about the size and location of a tumour helps a surgeon do a more effective job."
James Young
James Young (philosophy) is a leading authority on the philosophy of language, art and ethical issues in the arts, such as those raised by cultural appropriation-the practice of borrowing from other cultures.
Young has authored five books, edited two more and written over 50 articles in refereed journals in fields as varied as philosophy, literature, archaeology, musicology and psychology.
"Who wouldn't want to be a philosopher?" he asks. "I can't think of a better life than one that involves reflection on the fundamental questions. Everyone has a little philosopher in him or her. I have the privilege of being paid to be one."
Three other UVic faculty members have joined the ranks of RSC's College of New Scholars, Artists and Scientists, which represents "the emerging generation of scholarly, scientific and artistic leadership in Canada."
The new college members are:
Dániel P&e#180;ter Bir&o#180;
Dániel P&e#180;ter Bir&o#180; (music) is a composer and music theorist who has earned national and international acclaim for his compositions, which integrate elements of ancient chant traditions with cutting-edge technology.
During his career, Bir&o#180; has explored a wide range of ethnic musical traditions. He has won major awards from several countries in Europe and North America and his compositions have been commissioned by major festivals and ensembles in Canada and around the world.
"Composing music is not only creating something new, but also discovering the past," he says. "It's almost like we're conservationists of culture."
Ryan Rhodes
Ryan Rhodes (exercise science, physical and health education) is an internationally renowned exercise psychologist who studies the psychology of physical activity and sedentary behaviour.
"We look at how to promote physical activity and strategies to reduce the amount of time we spend sitting," says Rhodes, noting that physical inactivity is associated with at least 25 chronic conditions including the big killers such as cancer, heart disease and diabetes.
Over the past 13 years, Rhodes has published more than 200 peer-reviewed papers and 20 book chapters, and has contributed to key reports including the BC Physical Activity Strategy, which outlines the province's plan got physical activity promotion.
Sara Ellison
Described as "one of the most energetic and productive researchers in astronomy and astrophysics in Canada with major worldwide impact," Sara Ellison (physics and astronomy) couples observations from powerful telescopes with computer simulations to understand how galaxies form and evolve over time.
"Astronomy is one of those very exciting sciences that appeals to many people because it allows us to understand the important questions of who we are and where we came from, and where the universe is ultimately going," says Ellison.
Ellison ranks highly in terms of productivity and global impact. She has published more than 100 peer-reviewed papers since 2000, and these studies have been cited more than 5,000 times.
The medal winners are:
At the AGM, Ellison will also be presented with the 2014 Rutherford Medal, which recognizes outstanding achievement in any branch of physics.
Two other UVic faculty members will also receive awards.
Emeritus Professor Jack Hodgins (writing) wins the 2014 Pierce Medal for his achievements in imaginative literature. His fiction, for which he has received the Governor General's Award, a BC Book Prize and the Commonwealth Writers Prize, explores the history, people and places of the coast of BC.
And Julio Navarro (physics and astronomy), one of the world's leading cosmologists, wins the 2015 Tory Medal for outstanding research. Navarro has made groundbreaking contributions to our understanding of the formation of structure and galaxies in the universe.
Photos
In this story
Keywords: Royal Society of Canada, writing, chemistry, philosophy, exercise science, physics and astronomy
People: Joan MacLeod, Frank van Veggel, James Young, Dániel Péter Biró, Ryan Rhodes, Sara Ellison, Jack Hodgins, Julio Navarro