Reclaiming a banned Saanich fishery
- Suzanne Ahearne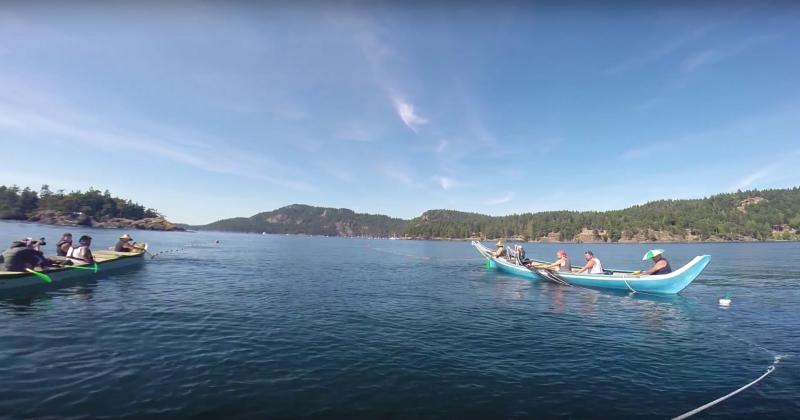 Almost a decade ago, XEMŦOLTW̱ Nick Claxton told his family he wanted to revitalize the reef net fishery, a fishing practice unique to the Straits Salish people and banned by the colonial government 100 years ago.
His uncle advised: "You can't just go fishing. You must first build a ceremonial net." And so began the spiritual, cultural and educational journey that Claxton considers his life's work. It also became his PhD dissertation in curriculum and instruction at the University of Victoria—a research study designed to revitalize the knowledge, ceremony and practice that was nearly lost.
Last week, he defended his thesis in front of a panel of academic supervisors and family in the gym of the Gathering Strength community centre in Tsawout—on Saanich Peninsula, where it all began. 
Claxton, who's been UVic's Indigenous Education advisor for five years, started this project by enlisting the help of his W̱SÁNEĆ (Saanich) Nation elders and later, his Lummi Nation relatives in Washington, who traditionally shared this distinctive reef net technology as well as the fishing grounds. They built a model of two ocean-going canoes with a long net suspended between them, designed to direct migrating salmon into the belly of the net.
The net became a focal point of the ȽÁU,WEL,ṈEW̱ Tribal School curriculum. Social studies and science teachers taught their subjects around the project, incorporating the beliefs and philosophies associated with the fishery, which Claxton says distinguished his people as a nation. 
"The reef net fishery formed the core of our society at one time. It was the way we governed ourselves. It was the core of our spiritual society, our economic system and our social system. It was the backbone of our people," he says. 
Last summer, for the first time in a century, ocean-going canoes dropped a full-size reef net into the Salish Sea. Despite two trips so far, they've yet to catch any fish. "It took a lot of knowledge about how and where the salmon migrated as well as knowledge of the flow of the tides," Claxton says, acknowledging that it'll take some time to build up these skills again. "It's my vision that we can be reef net fishing people again," says Claxton, 42, who's planning his next cross-border fishing trip soon after his defence. 
Photos
In this story
Keywords: Indigenous, fisheries, community, student life, graduate research, research, alumni, teaching, curriculum and instruction
People: Nick Claxton