New funding boosts two UVic proteomics research projects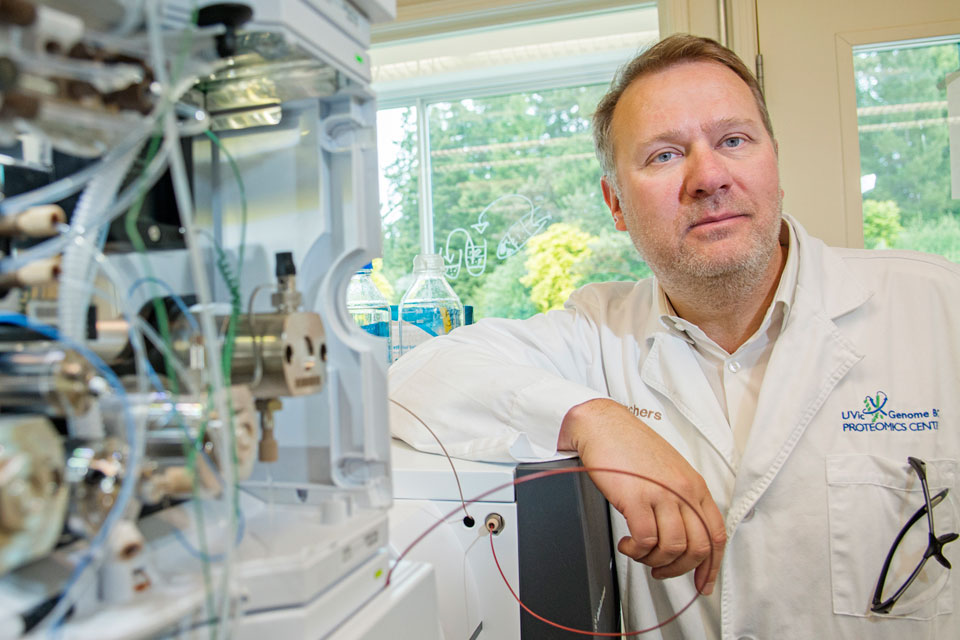 A project co-led by University of Victoria biochemist Christoph Borchers will use more than $3.8 million in new funding from Genome Canada to make mouse models more powerful and meaningful to the study of health and disease.
The project, conducted in partnership with researcher Albert Sickmann at the Leibniz Institute of Analytical Sciences in Germany, will develop a prototype proteomics-based process for rapid analysis of 3,000 mouse proteins in 20 different tissues. The new technology, to be commercialized by Victoria-based MRM Proteomics Inc., will be provided as a service or an easy-to-use kit to researchers around the world.
The funding, announced on Dec. 9, comes from Genome Canada's Disruptive Innovation in Genomics (DIG) program, which refers to transformative technologies that have the potential to replace an existing technology, disrupt an existing market or create a new market.
Also funded is UVic chemist Fraser Hof, who receives $238,800 to investigate "methylation"—the smallest form of biochemical control switch that has huge implications for how our cells function, especially in diseases such as cancer. The project will further advance a tool developed by Hof and his team that could transform diagnostics, therapies and research related to aggressive forms of cancer.     
For more information see the Dec. 9
Genome BC news release
and the Dec. 9
Genome Canada news release
.
-- 30 --
Photos
In this story
Keywords: proteomics, chemistry, biochemistry, genetics, research, funding, biomedical
People: Christoph Borchers, Fraser Hof