Digital Humanities at UVic: From Book of Kells to the e-book
- Tara Sharpe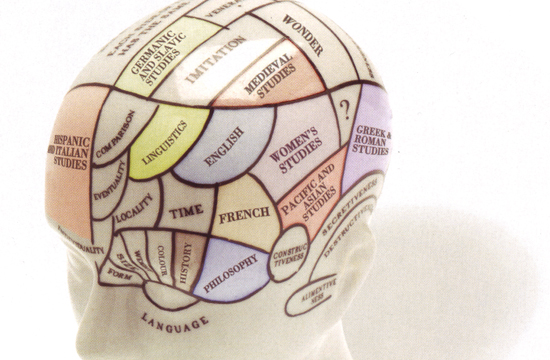 From ancient cave markings and handmade books to Facebook and Tumblr, people have been reading and storytelling in various forms for thousands of years. But what does the future hold? Digital humanities can help contribute to answers to questions like, is the book dead?
Dr. Ray Siemens, UVic's Canada Research Chair in Humanities Computing and a professor in UVic's Dept. of English, has been quoted saying digital humanities is "where humanities meets computing." The field is well-represented here.

Digital humanities at UVic stretches across a curriculum that incorporates computing at both undergraduate and graduate levels, through research of international significance and across a range of activities. Projects receive support from UVic's Humanities Computing and Media Centre.
(Updated list: April 2016) The HCMC has assisted with, to name only a few:
The latter, led by researcher Dr. Claire Carlin (French) with HCMC lead programmer Martin Holmes, is a virtual anthology of images and texts including satires, fictional works and medical documents about marriage in 16th and 17th century France.

Dr. Elizabeth Grove-White (English), chief editor of the Graves diary project, adds that digital humanist projects are helping "change our ideas about books. This is an exciting time-turning the page from the Book of Kells to the ebook and practically reinventing the printing press in digital form."

Siemens is director of UVic's Electronic Textual Cultures Lab (ETCL), is involved in the Implementing New Knowledge Environments (INKE) based at UVic and is the founder of the annual Digital Humanities Summer Institute which brings scholars from around the world to UVic. The DHSI took place on campus in early June. (National high-ed magazine University Affairs published an article earlier this year on digital humanities, including comment from Siemens and info about DHSI.)
Brief history of digital humanities at UVic
Digital humanities enjoys a long tradition in UVic's Faculty of Humanities. In 1989, the precursor of the HCMC was established to support language teaching and research, then expanded in 2001 to become the present HCMC, which was closely followed in 2004 by the addition of the ETCL and most recently the Digital L2 Learning Lab (2012) and the Maker Lab (2012).
Additional links of interest
Photos
In this story
Keywords: digital humanities, research