Student launch first downtown community garden in Victoria
- Anne MacLaurin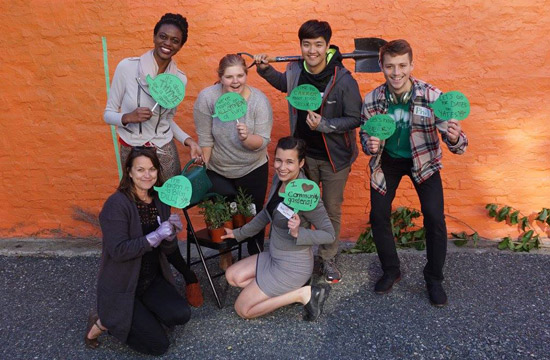 Transforming a vacant city lot into a community garden required vision on behalf of UVic political science students and their instructor, SSHRC post-doctoral fellow and assistant teaching professor Sarah Wiebe (public administration, political science), and concludes this month with a garden party on May 27 in Victoria's first downtown community garden.
Not your typical course, "Growing Community From the Ground Up" (POLI 351), involved a partnership between the City of Victoria, the university and the wider community. This is the second City Studio Victoria course offered by UVic.
"This is an innovative policy course informed by placemaking and policy dialogue," says Wiebe, "and it brings the city, university and wider public into conversation and collaboratively designs a public space for community use."
Building on new City of Victoria policies designed to grow more food in the city, the currently unused property (1012/1014 Yates St.) presents an unique opportunity for city staff, university students and community members to co-create and launch this new community project.
Over the course of an intensive three weeks, students learned about local government and participatory policy development, as well as community engagement, dialogue and sustainability.
For more info, follow @YatesStGarden on Twitter.
---
On Friday, May 27, 2016, from 3 to 6 p.m., UVic students will be at the future Yates Street Community Garden site to share their ideas and research with the wider public as part of the City Studio (http://ow.ly/RLAc300CR4r) program launched by the City of Victoria with UVic, Royal Roads University and Camosun College.
Photos
In this story
Keywords: political science, community, student life, City Studio, partnerships
People: Sarah Wiebe