Citizen science on BC Ferries
- Anne MacLaurin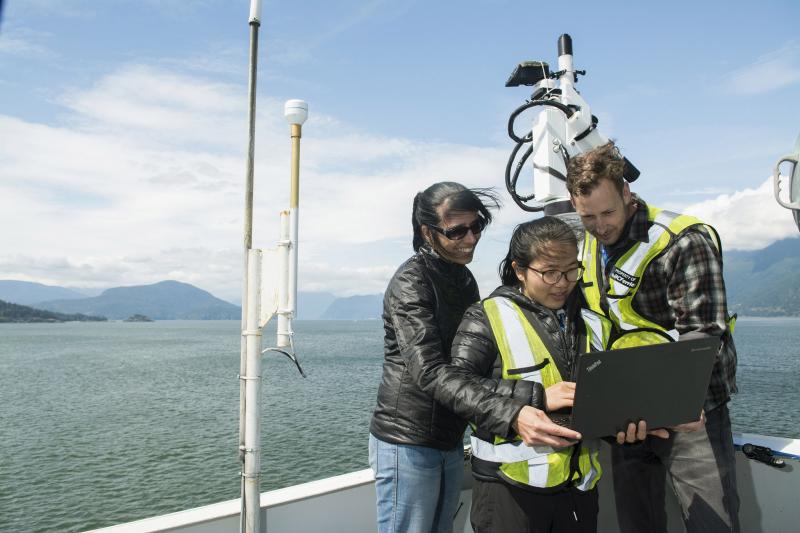 Passengers on BC Ferries this summer have an exciting opportunity to help scientists better understand ocean health and declining salmon populations in the Salish Sea.
Beginning July 1, passengers on select sailings of the Queen of Oak Bay on the Nanaimo–Horseshoe Bay route can participate in the onboard coastal naturalist program and use a tablet and app to collect images of the sea and sky. The images will be used to define and document the colour of the water—the greener the water, the higher the ocean productivity and health.
"This type of crowdsourcing is very useful to scientists," says UVic geographer and FOCOS (ferry ocean colour observation system) project lead Maycira Costa. "The data collected from the tablets will be compared to the data scientists are gathering with precision instruments installed on the ferry and with satellites."
If the citizen science data from this project can be validated, the program will be expanded to tablets used on fishing boats in the Salish Sea. Throughout the summer, the passenger data will be analyzed by UVic geography, computer science, math and statistics students.
The student researchers will compare it with the data collected by satellites and an autonomous hyperspectral sensor—installed by UVic's Ocean Networks Canada (ONC)—on the Queen of Oak Bay last week. The FOCOS project is a collaboration between UVic researchers Costa, Yvonne Cody, Laura Cowen and ONC.
"The hyperspectral sensor is the first in Canada with autonomous capacity," adds Costa. "The solar track technology allows the sensor to find the ideal position for data collection, taking into consideration the position of the ferry and the sun."
For anyone not riding the Queen of Oak Bay who wants to learn more about water colour and ocean health, the HydroColor App is available to download from iTunes and GooglePlay.
The project is funded by the Marine Environmental Observation Prediction and Response (MEOPAR) network and Irving Shipbuilding Inc., as previously announced earlier this year, as well as the Pacific Salmon Foundation, MITACS, the Natural Sciences and Engineering Research Council, the Canada Foundation for Innovation and the BC Knowledge Development Fund.
Photos
In this story
Keywords: oceans, water, ferries, citizen science, community, research, sustainability, industry partnerships