Moving Trans History Forward: Building Communities—Sharing Connections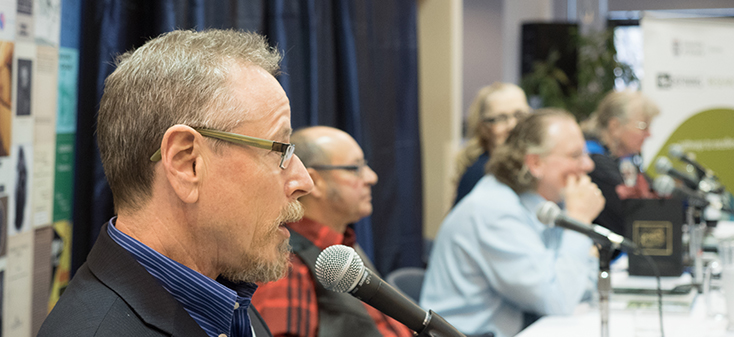 An international conference, led by the new UVic Chair in Transgender Studies Aaron Devor, brought together some of the world's top researchers, opinion leaders, transgender community activists and students this month to explore the history of transgender activism and crucial issues which impact the lives of trans and gender-nonconforming people.
From March 17 to 20, more than 150 community activists, academics, educators, artists and allies from the US, Canada, Mexico, Sweden, Japan and Germany attended Moving Trans History Forward: Building Communities—Sharing Connections at UVic to discuss the lives, medicalization and activism of trans and gender nonconforming people in the past and today—locally, nationally and around the world.
---
"The conference exceeded all expectations in terms of the breadth of attendees—academics, community activists, family members, and allies hailing from three continents and ranging in age from teens to octogenarians," says Devor.
The symposium, spanned four days and included keynote speakers, panel presentations, workshops and a screening of the romantic comedy Two 4 One, as well as art exhibitions. The symposium opened with an address by UVic Chancellor Shelagh Rogers. Highlights include:
Keynote address by Jamison Green, president of the World Professional Association for Transgender Health, about the triumphs and challenges for transgender people around the world, on March 18;
Screening of Two 4 One, a bittersweet comedic drama first launched on iTunes Canada last summer, about a trans man and an unanticipated predicament, by award-winning filmmaker and UVic associate professor Maureen Bradley, on March 18;
Virtual keynote address by US innovator Martine Rothblatt, co-chief executive officer of United Therapeutics Corporation, in a talk called "From Transgender to Transhuman to Virtually Human" based on her books Transgender to Transhuman and Virtually Human: The Promise ‒ and the Peril ‒ of Digital Immortality, on March 19;
Presentation by Maria Sundin, a Swedish sexologist and social worker, entitled "A Different Story ‒ How Sweden became a Pioneer in Trans Politics and Health in the 1960s," on March 19; and
A "Founders Panel" discussion by veteran trans activists, on March 20.  
"The conference Moving Trans History Forward, Building Communities—Sharing Connections, did exactly that, it moved trans history forward. By all accounts, people felt embedded in community while they were at the conference and left feeling that they had made important connections that will help to sustain their work building communities back at home," adds Devor.
UVic is home to the Transgender Archives, which represents 17 countries on five continents, more than a century of research and over 50 years of activism. In January 2016, the university also established the world's only Chair in Transgender Studies.
Photos
In this story
Keywords: transgender, gender, community, inclusion, sociology
People: Aaron Devor