UVic wraps up successful United Way campaign
- Brock Hurley, UVic United Way campaign assistant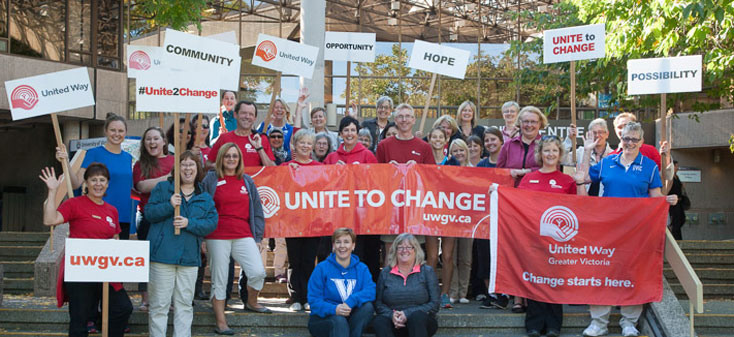 The thermometers are overflowing, and that can only mean one thing. UVic has completed another successful United Way campaign, exceeding our 2014 goal of $262,000. The final tally for money raised during the 2014 campaign, as of January 5, was $268,000. Thanks to more than 425 wonderful UVic United Way supporters, we were able to make a significant contribution to United Way Greater Victoria (UWGV) again this year.
UVic runs the second-largest annual United Way campaign in the region, raising money for UWGV from October to December through a combination of individual pledges from employees, retirees and students, and events organized by members of the campus community.
"I am truly moved by the generosity of the people here at UVic," says 2014 UVic campaign chair Kane Kilbey. "Money given to United Way is used to create so much positive change in the lives of people in the CRD, and I cannot thank everyone enough for the support they have shown for this community. I am proud of the accomplishment UVic has achieved, and of the increased level of support shown by our campus as a whole."
In 2014, the UVic United Way campaign made a significant change to its donation system. As charitable giving modernizes, it is becoming faster and easier to make a charitable gift online, and the 2014 campaign embraced this shift. UVic was fortunate enough to be one of the organizations to successfully pilot the new United Way e-pledge online donation system. Thank you to all of our donors for their patience and feedback as we made these changes.
The 2014 campaign also featured a number of special events, including large, campus-wide events and small events within departments. We would like to extend a special thanks to everyone who supported these activities. This year's major events—including the UVic Libraries Book Sale, Plasma Car Race, Winter Artisans Market, ESS Siege Week, JDC West Chillin' 4 Charity, and ChemSoc That Chemistry Show—raised more than $20,000.
The UVic Retirees Association also runs a fundraising campaign throughout the campaign season, and this year contributed nearly $23,000 to the UVic total.
Even if you haven't already make a gift to the 2014 United Way campaign, you can still do so. A gift to United Way Greater Victoria helps to create positive, measurable change in the Capital Regional District, and you can make a gift online at any time during the year using the online donation system. Visit United Way Greater Victoria's website for more information.
Photos
In this story
Keywords: united way, community