UVic prof wins prestigious national award for transformative teaching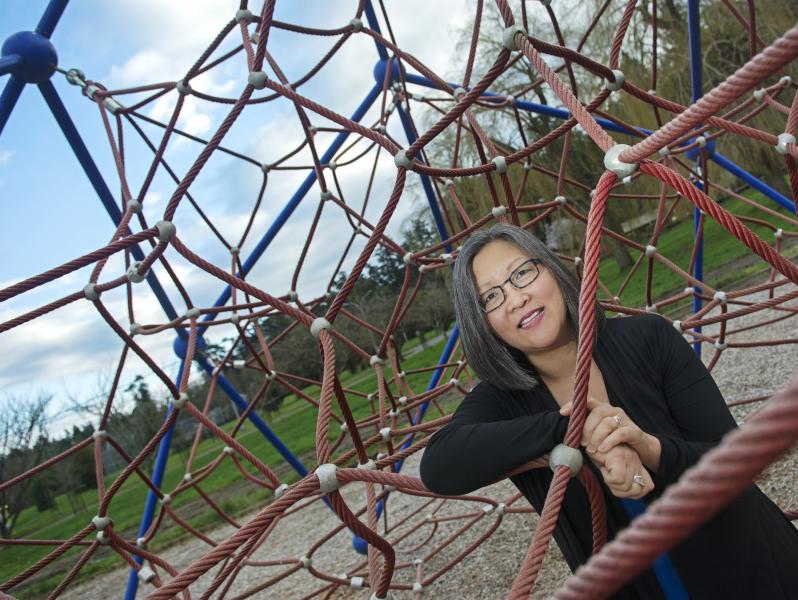 Teaching professor Jin-Sun Yoon in the University of Victoria's School of Child and Youth Care has been recognized for her exceptional teaching and educational leadership with the 2015 3M National Teaching Fellowship.
Yoon's experience as a child of immigrants helped shape her commitment to addressing diversity and equity, resulting in transformative collaborative work with immigrant, refugee, queer/trans* and Indigenous youth and communities. She is also a forceful advocate for change within the university as well as the wider community.
"Professor Yoon is an educational leader whose 'culturally intelligent' course design, adoption of new technologies and integration of civic engagement and teaching prepare students to become caring, engaged practitioners," says UVic president Jamie Cassels, himself a former recipient of the national award.
The school's programs are delivered to a range of students, including mature students, professionals, international and Indigenous students, with many of them being distance learners, some in remote and rural communities. Graduates work in a variety of settings including childcare, schools, mental health and child protection.
Yoon is known for her ability to raise challenging questions about social issues in a respectful way that leads to productive inquiry, discussion and action. She encourages students to use knowledge, skills, critical thinking as well as their cultural backgrounds to understand and help improve the lives of children, youth and families.
"Students know Jin-Sun as a compassionate teacher who models a commitment to social justice and equality that inspires them to have an impact in their communities," says Mary Ellen Purkis, dean of the Faculty of Human and Social Development (HSD). "Her academic peers know that Jin-Sun's contributions to curricula and pedagogy provide the important underpinnings that others in the university and province truly benefit from."
The UVic School of Child and Youth Care is a leader in the field and has one of the oldest undergraduate programs of its kind in North America. UVic is the only institution in Canada to offer a doctoral degree program in child and youth care.
Yoon has received many accolades for teaching including the Faculty of Human and Social Development Teaching Excellence award in 2011 and UVic's Harry Hickman Alumni Award for Excellence in Teaching in 2013.
Yoon joins nine other recipients of the 2015 award, which was established in 1986 through the generosity of 3M Canada and the Society for Teaching and Learning in Higher Education.
Past recipients of 3M Fellowships at UVic include Dr. A.R. "Elango" Elangovan (business/2012); Dr. Gweneth Doane (nursing/2006); Jamie Cassels (law/2002); Dr. Marty Wall (psychology/2001); Aaron Devor (sociology/2000); Dr. David Berry (chemistry/2000); Dr. Tom Cleary (English/1994); Dr. Elizabeth Tumasonis (art history/1992); and Dr. Andy Farquharson (social work/1986).
 
-- 30 --
Photos
Media contacts
Denise Helm (University Communications + Marketing) at 250-721-7656 or dhelm@uvic.ca
In this story
Keywords: child and youth care, teaching, 3M, award
People: Jin-Sun Yoon