Celebrating community resources: UVic Libraries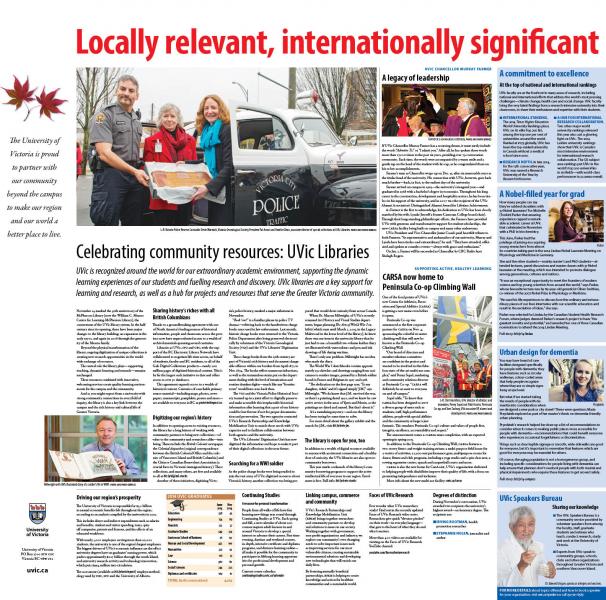 UVic is recognized around the world for our extraordinary academic environment, supporting the dynamic learning experiences of our students and fuelling research and discovery. UVic libraries are a key support for learning and research, as well as a hub for projects and resources that serve the Greater Victoria community.
November 14 marked the 50th anniversary of the McPherson Library (now the William C. Mearns Centre for Learning-McPherson Library), the cornerstone of the UVic library system. In the half-century since its opening, there have been major changes to the library building: an expansion in the early 1970s, and again in 2008 through the generosity of the Mearns family.
Beyond the physical transformation of the library, ongoing digitization of unique collections is creating new research opportunities in the world-wide exchange of resources.
The central role the library plays—supporting teaching, dynamic learning and research—remains unchanged.
These resources combined with innovative, welcoming services create quality learning environments for the campus and the community.
And as you might expect from a university with strong community connections in every field of inquiry, the library is also a key link between the campus and the rich history and cultural life of Greater Victoria.
     (View the print edition—380K PDF file)
Sharing history's riches with all British Columbians
Thanks to a groundbreaking agreement with one of North America's leading sources of historical information, people and classrooms across the province now have unprecedented access to a wealth of archival materials spanning several centuries.
Libraries at UVic, SFU and UBC, with the support of the BC Electronic Library Network have collaborated to negotiate life-time access, on behalf of students, faculty and BC residents, to all of the Gale Digital Collections products—nearly 200 million pages of digitized historical content. This is by far the largest such initiative to date and offers access to over 30 databases.
This agreement expands access to a wealth of historical content. Centuries of searchable primary source material—including maps, photos, newspapers, manuscripts, pamphlets, poems and more—are available to everyone in BC at pointstothepast.ca. (Full Ring article.) 
Digitizing our region's history
In addition to opening access to existing resources, the library has a long history of working with community partners to bring new collections—of value to the community and researchers alike—into being. These include the British Colonist newspaper, the Colonial despatches (original correspondence between the British Colonial Office and the colonies of Vancouver Island and British Columbia) and the Chinese Canadian Benevolent Association (a crucial force in Victoria's immigrant history). These collections, and many others, are free and available to all at bit.ly/digital-stacks.
Another of these initiatives, digitizing Victoria's police history, marked a major milestone in November.
"Book 'em!" is a familiar phrase in police TV dramas—referring back to the handwritten charge books once used in law enforcement. Last month, historic charge books were returned to the Victoria Police Department after being preserved electronically by volunteers of the Victoria Genealogical Society (VGS) and the UVic Libraries' Digitization Unit.
These charge books from the 19th century are part of Victoria's rich history and document chargeable offenses within our borders from April 1873 to Nov. 1874. The books reflect numerous infractions, as well as the tremendous strain put on the department dealing with the level of intoxication and routine drunken fights—much like any "frontier town" would have seen back then.
The VGS and the Victoria Police Historical Society teamed up in a joint effort to digitally preserve and make accessible this irreplaceable historical information after learning that a part of our history could be lost forever if not for proper documentation and preservation. The two agencies contacted UVic's Research Partnership and Knowledge Mobilization Unit to match those needs with UVic expertise and to facilitate collaboration between both agencies and the university.
The UVic Libraries' Digitization Unit has digitized the information, and the nearly 2,000 charge book pages are now available online: uvic.ca/library/featured/collections/victoria/VicPD.php.
Searching for a WWI soldier
As the police charge books were being readied to join the vast array of UVic-digitized resources about Victoria'shistory, another collection was being prepared that would draw curiosity from across Canada.
When Dr. Marcus Milwright, of UVic's recently renamed Art History and Visual Studies department, began planning The Arts of World War I exhibit (which runs until March 2, 2015, in the Legacy Maltwood in the lower level of the library), he knew there was one item in the university library that he just had to use: a beautiful two-volume leather diary set illustrated with watercolours and pen-and-ink drawings of life during wartime.
There's only one problem: Milwright has no idea who made the diary.
The World War I sketchbooks contain approximately 130 sketches and drawings ranging from caricatures to sombre images, penned by a British soldier based in France and Belgium in 1917 and 1918.
"The dedication on the first page says, 'To my daughter, Adele' and it's signed simply 'J.M.'," says Milwright. "We do know that J.M. survived the war, as there's a painting dated 1920, and we know he saw active service in the areas of Ypres and Menin, as the paintings are dated and named. But that's about it."
It's a tantalizing mystery—and one the library has been trying for some time to solve. (Full story about the exhibit and the search for J.M.)
The library is open for you, too
In addition to a wealth of digital resources available to anyone with an internet connection and a healthy dose of curiosity, the UVic libraries are also open to community borrowers.
This year marks a relaunch of the library's community borrowing program to support the active intellectual life of everyone in our region. Enrolment is free. Full info: bit.ly/uvic-stacks.
Additional Community Report content:
Photos
In this story
Keywords: community