The spirit of Shelagh Rogers
- Joanne McGachie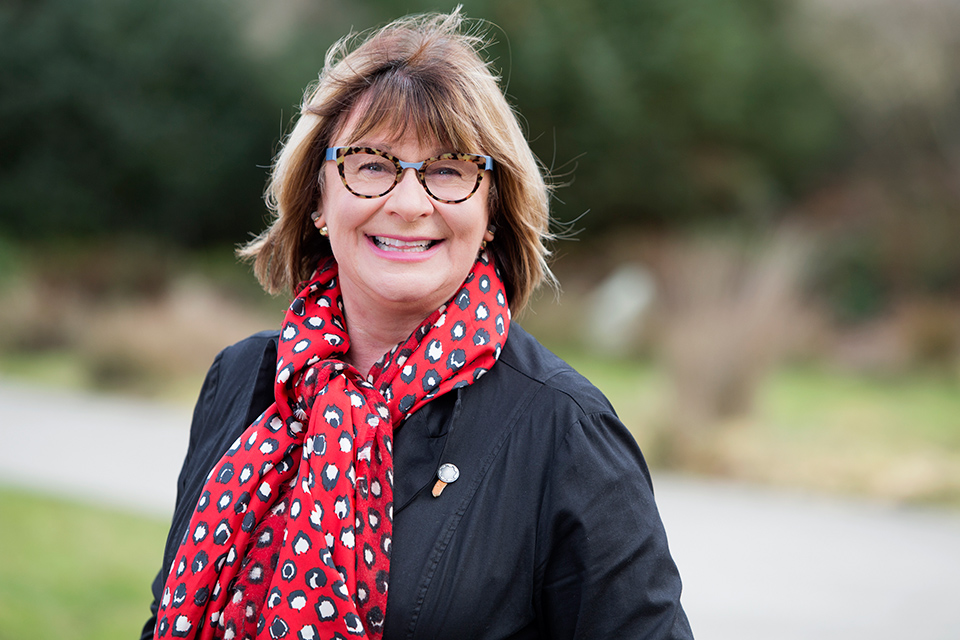 UVic's new Chancellor is certainly no stranger to being in the public eye—or ear, as the case may be. Over her many years as a journalist and CBC Radio host/producer, Shelagh (after speaking to her for a few minutes, you really can't think of her as "Ms. Rogers") has travelled all over the country, gathering and sharing the stories of thousands of Canadians.
She has received many awards for speaking publicly about a private story: a decades-long battle with depression. And in September 2011, Shelagh was named an Officer of the Order of Canada, the country's highest civilian honour, for promoting Canada's rich culture, for her volunteer work in adult literacy, for fighting against the stigma of mental illness, and for pushing for reconciliation. Also in 2011, she was named an Honourary Witness on the Truth and Reconciliation Commission of Canada.
Meeting at an eclectic cafe in Victoria's Chinatown on a Saturday morning, Shelagh and her husband, Charlie Cheffins, sat down for a joint interview with Fine Arts correspondent John Threlfall and me. (Look for John's interview in an upcoming issue of the Torch magazine.)
It took very little coaxing for Shelagh to begin talking openly and enthusiastically about some of the topics she is passionate about: support for Indigenous culture and environment, mental health advocacy, Canadian literature and music and now, UVic.
Prior to being approached for the role of Chancellor, she was familiar with UVic, having hosted events and interviewed faculty here, but since accepting this new challenge, she says she has been "blown away" by UVic's physical beauty, comfortable size, and its commitment to engaging the entire community, both on campus and off.
I asked her how she manages her work with CBC Radio, where she continues to host her weekly program on Canadian writers and writing, The Next Chapter. She credits Charlie, whom she met when he was a technician for her Toronto afternoon show For Your Information, as being "the oil in the machine" that keeps her organized and everything running smoothly.
She hasn't been around the entire campus yet, but she loves what she has seen so far. VP Research David Castle took her on a tour of the Medical Sciences building recently, which gave her an insight into the impressive research environment at UVic. She hopes she'll soon be able to accept some of the many invitations she has received to visit classes.
Shelagh and Charlie have lived on Gabriola Island full time since 2008. "It's our refuge," she says. "I really value community, and community is super important there."
"Charlie built a studio for me in our guest cabin. It's very compact, but it keeps me connected to CBC Toronto, Canada and the rest of the world."
And how does she foresee adding on the additional responsibilities of her new role as Chancellor?
"That's a really good question, I don't know the answer, yet," she laughs. "So far this month, we've managed it, but I couldn't do it without Charlie—he's been fantastic. Yesterday he was introduced as my driver, but I would call him the Chancellor-in-law!"
"I know that other Chancellors' spouses have been very engaged, and I think Charlie will be as well. I'm really happy with how he has been included and welcomed in all of the events so far."
Lots of advanced planning will be critical, she says, when it comes to travelling between Gabriola and UVic. Not to mention double-checking her suitcase, as she admits to already having had some 'wardrobe malfunctions' when she forgot a few things on one of her trips last year. Luckily, she notes, she has a closet in her office on campus that should come in handy.
Pressed on her own goals and values, how they align with campus, and how that will affect her activities as Chancellor, Shelagh is looking ahead.
"I am not coming into this position with an agenda, per se," she says, "and I'm very sensitive to the need to compartmentalize my various roles."
"Having said that, I'm so pleased to see very strong connections between UVic's goals and my own values, especially concerning mental health advocacy and support to Indigenous rights and Indigenous culture."
"I really see UVic's faculty and staff all working towards student success, and a big part of that is the commitment to support students' mental well-being, as much as their academic success."
Shifting to her role as an Honourary Witness with the Truth and Reconciliation Commission, and her voice took on a new level of passion.
On her lapel, Shelagh wore two pins; she pointed to each in turn. The first was the Order of Canada pin.
"I find it very appropriate that the motto of the Order of Canada is: They deserve a better country," she says. "For everybody. That motivates me. I have to work hard to earn that pin every day"
The second was a button from the Truth and Reconciliation Commission, which includes a small strip of moose hide signifying her role as a Witness.
"It has been the seminal role of my life. It has changed all the cells in my body. To be a witness is to attend and tend to the truth; and then to stand for that truth and spread it far and wide."
She's also tied to the inspirational people she has met along the way, including Kwagiulth artist Carey Newman (a UVic grad), who created the Witness Blanket art piece that is touring the country now; and Elders like Joyce and Victor Underwood who have welcomed everyone to several UVic events she has attended. The resiliency of the people she has met never ceases to amaze her.
"I've spoken with many survivors of residential schools, and been humbled by their generosity and willingness to help others, to help them heal."
As a Witness, she soon realized that she couldn't be both an advocate for Indigenous rights and a journalist employed by the public broadcaster, she says, so she left her staff job at the CBC. She later agreed to rejoin CBC Radio, but in the capacity as an independent contractor, so she would have the freedom to be true to herself.
So, has she asked anyone for advice on her new role? "Well, I actually have several friends and colleagues who are Chancellors at other universities," she says, "and they have been very helpful. And I spoke with predecessors here at UVic. (Former Chancellor) Norma Mickelson had a great piece of advice for me: 'just be yourself!' I'll try to remember that."
I asked Shelagh if there were any favourite moments that stood out so far, as UVic's new Chancellor.  She thought for a moment, and then mentioned the formal welcome event at the Phoenix Theatre in January.
"Everyone was so welcoming and friendly. I was touched by Joyce and Victor Underwood's Honour Song and very moved by the students Kayleigh Erickson and Maral Sotoudehnia who introduced me—it was wonderful. And I loved it when Ron Lipson (Dean of Science) and Lynne Van Luven (acting Dean of Fine Arts) stood up and proceeded to create a scientific equation to help me in my new job. It's hanging in my office!"
The equation was the result of a skit where Lipson and Van Luven collaborated to develop an equation defining the properties of a Chancellor.
CH is the integral of C6 + F2 + S20,000 + BoG + S with respect to UVic 

where:
               CH = Chancellor
               C6 = charisma, charm, concision, control, convocation, costume
               F2 = fortitude (squared)
               S20,000 = 20,000 students
               BoG = Board of Governors
               S = Senate
Her final thoughts about her new role as Chancellor?
"It's going to be a stretch for me," she says, "I have felt already the possibility of my mind dancing. It's massively stimulating, like a drug… a really good drug to have in your system!"
"There is a difference here at UVic. I want to get to know it as well as I can, and represent it to the best of my ability."
Photos
In this story
Keywords: chancellor, administrative, staff
People: Shelagh Rogers