The daily lives of 18 UVic students, one blog post at a time
Human and Social Development, Fine Arts, Humanities, Science, Co-op, Peter B. Gustavson School of Business, Social Sciences, Engineering
- Lindsay Gagel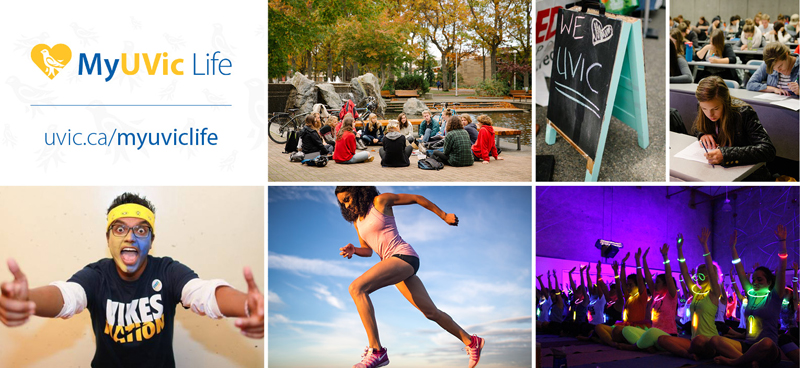 Life for a university student isn't just essays, exams and ramen noodles—although those are a big part of it. There are also yoga raves, nights of uninterrupted Netflix marathons, awkward icebreakers and friendships that will last a lifetime.
Whether you're a high school student wondering what's like to be an undergraduate student at UVic or a current student looking to share in your classmates' experiences, you'll find something new in a blogging project that spotlights student life at UVic.
My UVic Life follows the experiences of 18 UVic students through weekly blog posts. The students share photos, videos and narratives, and visitors to the site are encouraged to ask questions or post comments. It's a blog for students, by students.
The website captures the diversity of the student population, featuring undergraduates from various programs covering seven faculties—and one student who's still deciding her major.
Rachel is a Vikes track star who shows readers what it's like to be a student athlete. Andrea moved to Victoria from Mexico City, a city with nearly 9-million inhabitants, to attend UVic. Malcolm is a co-op student who spent a work term studying the parasitoid wasp. Lindsay just returned from China, where she visited as part of an "International Work Study in China" course offered through the Gustavson School of Business. And Ricky is an Indigenous student who recently moved off-campus and into a house shared by seven other people—quite a bit different than residence life!
So what do these students hope to accomplish with their stories?
"I want to share with you the raw, uninterrupted university student life, in all its messed up beautiful imperfection," say Talen, a student blogger who assures people that although his name sounds like a bird's foot, he's far more interested in marine biology than ornithology.
"I will be posting every week about the nonsensical, the awkward and the straight up abnormal," Talen explains. "I'm talking about the random outbursts of spontaneous creativity. About the late-night jam sessions on a beachside piano. About the struggles and successes that make our university unique. That is what I am here to share."
The project is co-produced by the Student Recruitment and Global Engagement department and University Communications + Marketing. It's hosted on UVic's Online Academic Community (OAC), a university-wide WordPress platform that launched last year and allows students, faculty and staff to create their own blogs and websites. Read more about OAC.
Visit uvic.ca/myuviclife for more information about the project, to meet the students and to engage in My UVic Life.
Photos
In this story
Keywords: writing, student life, co-op