More than just a smile: community dental clinics lead to recognition for social work professor
- Kate Hildebrandt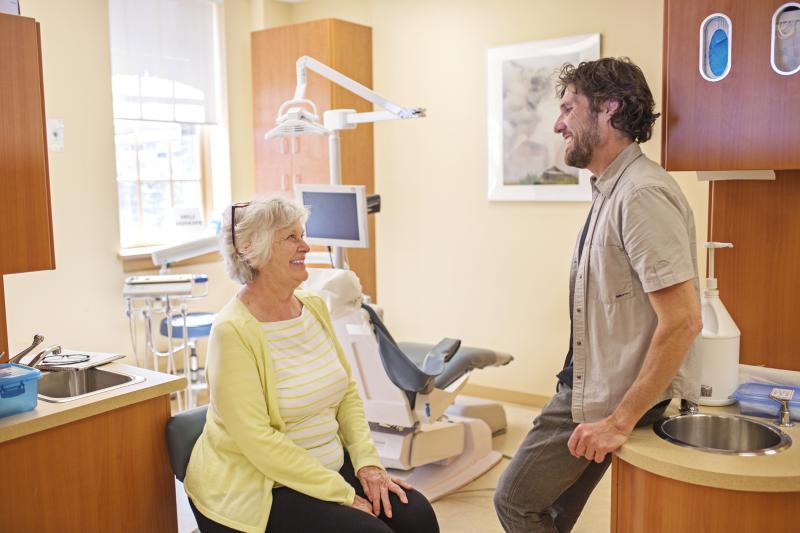 Social work professor Bruce Wallace, with the UVic Faculty of Human and Social Development, is the recent recipient of a BC Dental Association award of merit. Also a researcher and advocate, Wallace has invested the lion's share of his academic career to improving access to dental care for those with low or no incomes. 
Wallace was recognized for work leading to the creation of Cool Aid's community dental clinic in 2002—along with an annual operating subsidy from Island Health. David Baird, association president and a dentist with Cool Aid, presented the award to Wallace at an annual industry event on March 7, 2015.
"It felt unique to be an outsider welcomed in," says Wallace. "I see it as a breakthrough considering I've been critical of the industry, questioning dentists' responsibility to do more."
Cool Aid was one of the original community dental clinics in BC. Today, there are about 20 such clinics across the province. While Wallace is happy to see this progress, he feels the real issue remains unaddressed: dental care is not covered by Canada's healthcare system—so access is based on who can pay versus who needs care.
Wallace says he had no grand plan to focus on dentistry, but that was before he studied the disparity. It was more than 15 years ago when an advocate at Together Against Poverty Society (TAPS) asked for his help investigating barriers to dental treatment for people in need. 
"It is an extreme need," Rev. Al Tysick said in 2001, then leading the Open Door Society. He told Wallace that of the 400 street people he saw daily, about 95 per cent needed dental care. Tysick also emphasized how poor oral health contributed to the spread of disease among the poor. "It also keeps people from getting a job. It's a big impediment."
Dr. Richard Stanwick, Chief Medical Health Officer for Island Health, told the Times Colonist, "there are about 275 diseases that can affect the oral cavity." People with oral health needs, he added, are being denied the opportunity to enjoy the same level of health as others. 
The Cool Aid dental clinic strives to correct that imbalance, booking more than 5,000 visits each year. "No one is turned away without treatment or a plan for care elsewhere," says Sydney Adair, clinic administrator, "but we need more clinics because many people are going without care." With four chairs and two dentists working daily, the clinic is heavily booked with a 10-to-12 week waiting list. 
Wallace has stayed on top of the issue, repeatedly asking government and health care leaders how they can allow this health inequity to continue. He also presses for policy change in his work with community partners, health care activists, as well as his own social work students and faculty colleagues.
"Working with Bruce is a genuine pleasure and always a mutual learning opportunity," says nursing professor Dr. Bernie Pauly, who is also a scientist with the Centre for Addictions Research of BC at UVic. Pauly has worked and co-wrote papers with Wallace for nine years on projects related to housing and homelessness. "He is a very skilled researcher with a strong background in social justice and critical analysis. He is focused on achieving outcomes that matter."  
His students gain terrific insights, says Pauly, because they see firsthand how research can inform and contribute to important changes. "His focus is on what will make things better for people who don't have access to things they need, then to look and study different models that could bridge the gap."
"He lives his values," says student Nicola Walker, 27, of Wallace. "He's fair, smart, and he uses firm teaching practices." She chose to study social work "on a whim" and now cannot imagine doing anything else.  
"He completely changed how I see the world and the type of work I want to do." 
Wallace took an interest in Walker's educational goals then allowed her to adjust assignments to suit her interests while staying within the curriculum. "He's let me go rogue, sort of, with guidance. I was so much more engaged. I felt excited to do this work. He suggested sources, referred me to people I could talk to, all toward me gaining a more practical perspective."
"I think Bruce's whole mantra to the class was to find our voice," says Walker. "He taught me to push back." 
Pauly concurs Wallace has the ability to empower people towards reaching a positive end goal. "In focusing on dental care inequities, for example, he showed decision-makers the injustices around access to services. Then he presented a thoughtful proposal outlining what might be the right approach to take and why."
Irene Haigh-Gidora, manager of Cool Aid's health services program, has worked closely with Wallace not only in developing the dental clinic but also as a fellow community activist. "Bruce and I prepared a cost analysis for a full-service clinic with paid staff and dentists because that's what people need, not just extractions but full preventative services, which meant we would need a subsidy from government each year. Bruce was the catalyst that made this dream happen."
On May 27, Wallace will speak at the Canadian Public Health Association's annual conference in Vancouver on the Cool Aid dental clinic model now in its 13th year of operation.
Photos
In this story
Keywords: health, community, social work, homelessness
People: Bruce Wallace