Grand opening of UVic's Centre for Athletics, Recreation and Special Abilities
- Patty Pitts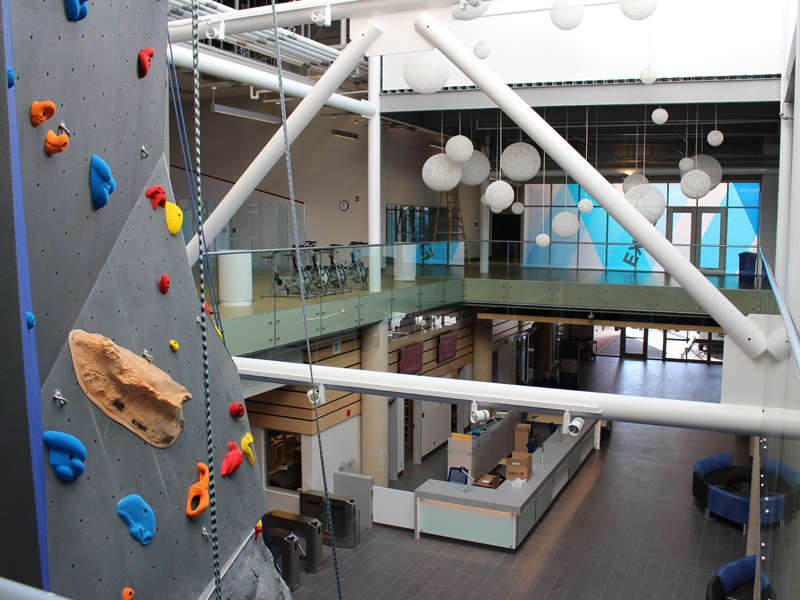 Just hours into the community open house for UVic's new Centre for Athletics, Recreation and Special Abilities (CARSA), every corner of the 190,000 square foot facility was filled with activity.
"It's awesome," said third-year student Kolding Larson, taking a break from his workout in the sprawling fitness and weight training centre, just one of CARSA's features that support athletic excellence and active living for the campus and community. "I thought it would be good, but it's way better than I thought it would be."
During his five-times-a-week visits to the former Ian Stewart Complex (ISC) fitness centre, Larson says he frequently encountered waits to use machines at busy times. "But there are so many of each machine here," he said of the 18,000 square feet devoted to weight and cardio equipment. "I don't think that will be a problem."
A facility for everyone
The same enthusiasm was evident during the May 2-3 open house among community members who tried out the new equipment; dropped in on free sessions, including spin classes, yoga and kids' karate; and smashed a ball around in the squash and racquetball courts.
From vision to reality
At CARSA's official opening on May 1, UVic President Jamie Cassels said the facility started as a vision in 2008.
"It's absolutely critical to the mission of a university to provide recreational opportunities for everyone to engage in active and healthy living," said Cassels, adding that this was "the foundation for academic and life success."
He pointed out that since 2000, UVic's student population has grown by more than 4,500 students—more than 30 percent—and that UVic invested over $300 million in new and renovated academic facilities. At the same time, athletics facilities were showing the wear and tear of over 40 years of use, and also needed to be renewed, upgraded and expanded.
A hub for sports excellence
UVic has a proud tradition of high-performing student athletes and is among the top five Canadian universities for its number of Canadian Interuniversity Sport (CIS) team championships. Varsity athlete and national field hockey team member Kathleen Leahy thinks CARSA will help UVic add to that total.
"We train hard and compete harder. With CARSA the opportunity to raise our game is endless," she said at the opening. Leahy added that CARSA provides "extra recruiting appeal" to students considering which university to attend.
Cassels also expressed his pride in the "inclusive nature" of CARSA, where everyone can find "the resources, inspiration and opportunity to be the best that we can be."
A new home for CanAssist
That inclusive nature is best demonstrated right off CARSA's main lobby in the new facilities for CanAssist, UVic's innovative program that develops technologies, programs and services for people living with disabilities.
During the open house, CanAssist staff proudly showed off some of their current technologies in a light-filled facility easily accessible by clients, staff and the public. Electrical design specialist Paul Green said the new location was already raising awareness about CanAssist.
"About 50 per cent of the people coming through our doors are newcomers who had never heard of CanAssist before, and lots of those are UVic faculty and staff," he said. "So even on campus we're raising our profile."
The Peninsula Co-op Climbing Centre
Just beyond the main foyer of CARSA, the Peninsula Co-op Climbing Centre dominates the building and a steady stream of people lined up to scale the 16-metre wall studded with multi-coloured holds that mark the paths of various climbs.
"UVic has purchased 5,000 holds so we can switch them up and change the routes to keep it interesting for regular users," said Kathleen Wirtanen, a UVic summer camps and program coordinator and one of the many staff conducting building tours.
The dominating wall and its towering enclosure serve a dual purpose. It contributes to CARSA's LEED gold building certification standards by acting as a funnel, venting warm air up and out of the building like a chimney. Other environmental features include a geo-thermal system that will save emissions by 340 tonnes annually, and technologies to reduce water consumption by 40 per cent, making it one of the most water efficient buildings on campus.
Transforming the UVic campus
The $77-million project includes significant renovation to the McKinnon Building, providing much needed teaching and research space for UVic's School of Exercise Science, Physical and Health Education, as well as a new parkade at McKenzie Avenue and Gabriola Road. The project is funded by the university, donor and sponsorship support, membership fees and parking fees.
The open house, in addition to a faculty and staff sneak peek on May 1, provided people with an up-close look at the facilities that includes the enormous field house where semi-transparent screens divide the space into separate sections so badminton and pick-up basketball can exist side-by-side with room for ping pong and tennis games.
Students, faculty and staff get free access to much of CARSA as part of their athletics and recreation fee or employment compensation. Memberships for the weight/fitness area are available for a cost, which is the same arrangement that was used for the fitness facility at ISC. Community members can purchase a full-access membership.
One of the younger visitors, Helena McQuarrie, 7, expressed what many were feeling after an initial visit to CARSA. After tackling the bouldering area next to the climbing wall she admitted, "it looked cool, but it's a little hard." Then she took another look at the brightly coloured holds. "I want to try it again."
---
Additional CARSA photos are available on Flickr.
Photos
In this story
Keywords: athletics, administrative, carsa