FOXY peer leader thrilled by Arctic Inspiration award
- Anne MacLaurin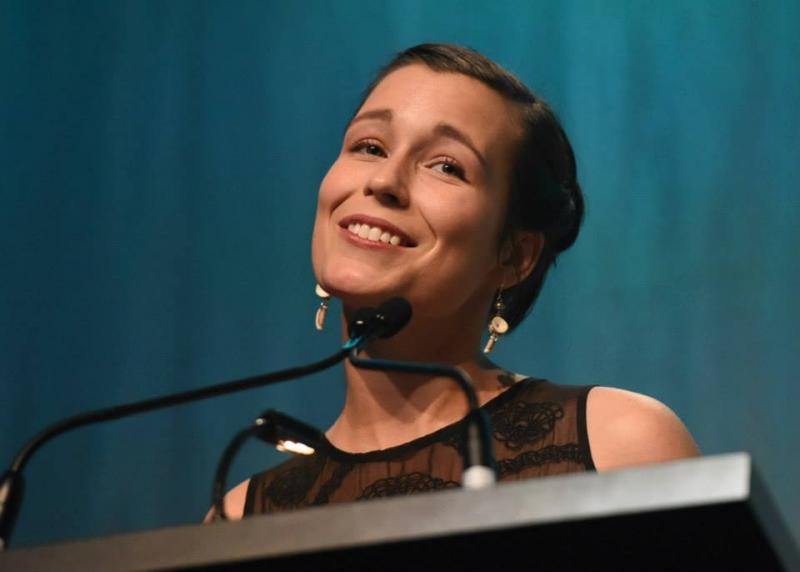 Makenzie Zouboules, third-year UVic honours political science and writing co-op student, is something of a celebrity in her hometown of Yellowknife, NWT. Last month, along with FOXY co-founders Candice Lys and Nancy MacNeill, Zouboules accepted a $1-million Arctic Inspiration Prize for their work with northern youth. Originally part of Lys' PhD dissertation on public health promotion, FOXY (Fostering Open eXpression among Youth) is a participatory research project aimed at talking with young people about sexual health, sexuality and relationships across the three northern Canadian territories.
Zouboules was 17 years old when she became FOXY's first peer leader. "For me, FOXY has been like a lifeline that I somehow managed to catch in a whiteout. When I met FOXY co-founders Nancy and Candice in 2012, my relationship to others, my body, and myself was strenuous at best."
For Zouboules, being a peer leader meant she could have an impact on issues that affected her and other youth in her home community. The rate of sexually transmitted infections and pregnancy is among the highest across the Canadian north, especially in adolescent populations. As Zouboules explains, "There was a lack of education, there were resources but we lacked the skills to access those things." 
Winning the Arctic Inspiration Prize was affirming on so many levels for Zouboules, who is bursting with excitement as she describes the expansion of the program. "We will be offering FOXY workshops to more schools in the Northwest Territories, Yukon and Nunavut; a parallel sexual health education program for young men, to be delivered in schools around the territories; and a Peer Leadership Retreat program for young men from across the North."
Zouboules continues to be involved with FOXY as a research assistant, part of her co-op work term. "I'm looking forward to conducting 57 interviews with LGBTQ+ youth from Hay River and Yellowknife, NWT as part of a research partnership between FOXY and the University of Toronto."
Even though Zouboules at times misses her northern life, she says she's extremely happy at UVic. "I am a director at-large for the student society and am also involved with the political science course union. I love the community here on campus, and it has been one of the best decisions I ever made to come here." 
CBC North interview with Zouboules
Watch the awards ceremony online
The 2014 Arctic Inspiration Prize awards ceremony was hosted by Peter Mansbridge, and featured performances by award-winning northern artists Tanya Tagaq, Celina Kalluk, Sylvia Cloutier, Digawolf and David Serkoak. December's ceremony in Ottawa, held in conjunction with the international Arctic Change 2014 conference, also included former Nunavut Premier Eva Aariak and a statement by the Right Honourable Michaëlle Jean, former Governor General of Canada, who was a member of this year's award selection committee.
A 25-minute awards video—including the committee's decision to grant the entire million-dollar award to FOXY (rather than dividing it up among shortlisted programs), artist performances, and acceptance speeches—is online at the Arctic Inspiration Prize website.
A shorter, five-minute version of the video focusing on FOXY is also available to watch via Vimeo.
Photos
In this story
Keywords: political science, writing, youth, graduate research, health, education, co-op, student life, award
People: Makenzie Zouboules