Thai co-op quenches law grad's thirst for international experience
- Julie Sloan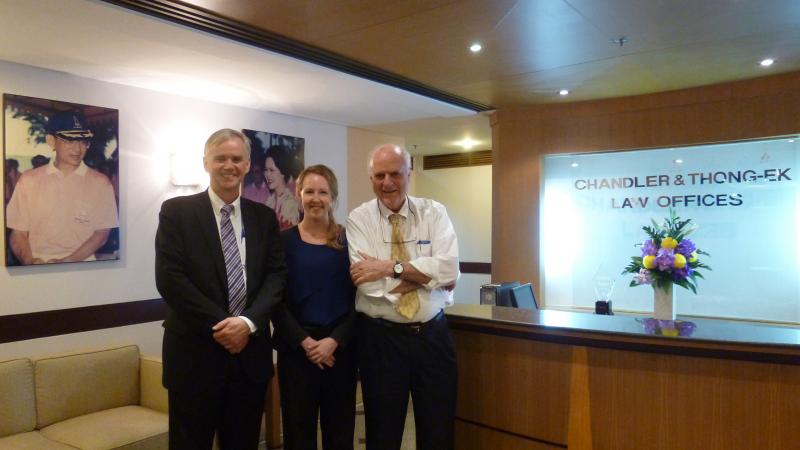 Anna Beatch doesn't like to plan too far ahead, and that feeds her thirst for adventure. She likes a challenge, which is why she chose UVic Law after receiving her undergrad commerce and business law degree from the University of Alberta. "I wanted to challenge myself and push my boundaries," says Beatch. "I also chose UVic Law because of the co-op program."
During her undergraduate degree at U of A, Beatch had the opportunity to study abroad at the Vienna University of Economics and Business Administration in 2008 and as a delegate with an international study tour to China in 2009. Clearly seeking a broad education and experience, the UVic Law co-op program was an easy choice. She stayed close to home for her first three co-op terms—in the BC Office of the Ombudsperson, the BC Ministry of Justice and a local tax law firm—so a fourth work term in Thailand became a perfect opportunity for adventure, and an invaluable education in Asia-Pacific law. Beatch was offered a position with Chandler and Thong-ek, a Bangkok law firm that handles corporate and commercial law, with local and international clients.
Chandler and Thong-ek has hired 62 co-op students from UVic over the past 20 years. The partnership began in 1991 between now-retired Dean of Law Bill Nielson and Al Chandler, the firm's founder and senior partner. The partnership has been providing students with an invaluable experiential learning opportunity, and clearly has an impact on career choices for many of the students who have had the opportunity to complete a co-op placement there. Barry Penner—former BC Attorney General, Minister of Aboriginal Relations & Reconciliation and Minister of Environment—was the first UVic Law co-op student hired by Chandler and Thong-ek. Penner's experience there left such an impression on him that he returned, 20 years later, to expand Chandler & Thong-ek's satellite office in Myanmar, where Beatch also met Penner.
Beatch's experience in Thailand also had a profound impact on her. "Living in Thailand and working at Chandler and Thong-ek was amazing—I grew personally and professionally. I was exposed to a new country and a new culture, and got to teach my colleagues about my country and my culture. I was working at a top-tier law firm and being mentored by brilliant lawyers. I was exposed to conducting due diligence for domestic and international investment projects and project financing in the renewable energy and natural resources sectors. I spent every bit of my time exploring and networking with other young professionals from all over the world. I have memories that will last a lifetime."
Beatch has considered finding her way back to work in Thailand. Al Chandler, who was very fond of Beatch, recommended that she work in corporate law in Canada for four or five years to position herself well for work in the firm back in Bangkok. 
The Saskatchewan-born Beatch, who graduates this June, has just started articling for MacPherson, Leslie and Tyerman, a law firm in Saskatoon. As for the future plans of this adventure-seeker: "I tend not to plan my future too far in advance—this keeps it exciting!"
Photos
In this story
Keywords: co-op, international, Asia, law, convocation, student life
People: Anna Beatch