Law grad puts WSÁNEĆ legal order in the spotlight
- Margaret Suderman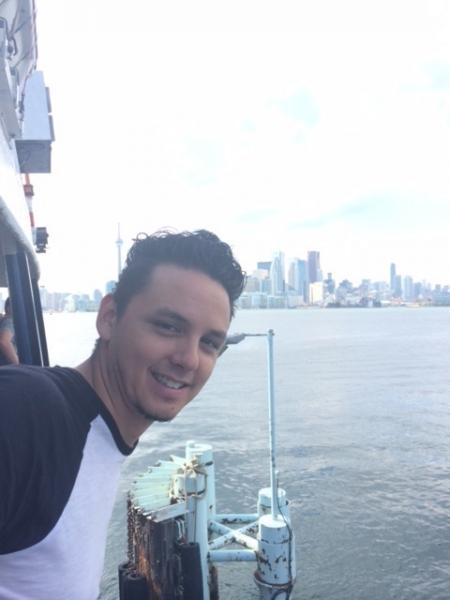 When UVic law graduate student Robert Clifford was called to the bar in the summer of 2012, the celebration at the Victoria Law Courts involved much more than the usual fanfare of family and friends with cameras and congratulatory flowers.
A special ceremony with traditional drumming and singing took place to honour Clifford—a member of the Tsawout First Nation—and the first person of the four Saanich (WSÁNEĆ) Tribes to become a lawyer.
Now, more than two years later, Clifford's family and community are marking yet another of his academic milestones. In November, he is set to graduate with a Master of Laws (LLM) from UVic.
For Clifford, the occasion marks the end of a long era at the university. Originally from Sidney, he chose to attend UVic and major in anthropology for his undergraduate degree. Clifford then went on to obtain both of his law degrees—his Juris Doctor (JD) and his LLM—at UVic's Faculty of Law, in part because of its focus on Indigenous legal traditions.
"When I went into law school it was always with an interest in Aboriginal law and Aboriginal rights and the different ways that I could assist my community and First Nations communities in general," says Clifford.  "UVic was the only school that I applied to – it was my overwhelming interest."
Over the course of his JD degree, Clifford successfully secured work as a summer student at one of Victoria's most preeminent law firms, Devlin Gailus Westaway Barristers & Solicitors. The position eventually led to an articling job upon graduation.
Despite a positive experience working in private practice, Clifford says graduate school represented an opportunity to not just work within the legal system, but to contemplate ways that the law could be changed for the future.
Clifford ultimately chose a topic for his master's thesis that reflected this desire for meaningful change within the legal system. He decided to focus his writing on the potential contribution of Coast Salish traditions and knowledge to legal practices in the coastal regions of BC, particularly in the remediation of oil spills.
His thesis, "WSÁNEĆ Law and the Fuel Spill at Goldstream" examined a large fuel spill that occurred in 2011 after a tanker truck crashed and spilled gasoline into Goldstream River on Vancouver Island.
Clifford says the topic was first inspired by his own childhood memories and the fact that Goldstream Provincial Park is significant to his family.
"I grew up fishing at that location with my uncle and my cousin and I've always spent a lot of time there and it is an important place for me and for my community," says Clifford. "When the fuel spill happened, it was a good chance for me to think about how Saanich law would respond to a situation of that nature."
Although Clifford doesn't formally graduate with his LLM until this November, he wasted no time in pursuing the next step in his academic career. In September, he began his PhD degree at Osgoode Hall Law School.
Clifford says the decision to move across the country was informed by his desire to broaden his network and connect with the different work in Indigenous law that is underway throughout Canada.
If all goes as planned, however, Toronto will only be his home temporarily. After fulfilling one year of class and study group requirements, Clifford says he hopes to carry out the remainder of his PhD research as a visiting scholar at UVic Law.
Once he returns, Clifford may just never leave. One of his main goals for the future is to work at UVic Law as a professor—a position that he says would be "a perfect fit for my work and career objectives and a great opportunity."
Clifford is poised to become a leading authority in the legal academic community and a major player in the protection and advancement of Aboriginal rights. If he does return to UVic in the years to come, no matter in what capacity, he will surely receive an enthusiastic welcome from the faculty and staff who have come to know him and his thoughtful scholarship. 
Photos
In this story
Keywords: Indigenous, law
People: Robert Clifford