History mystery central to First World War exhibit
- John Threlfall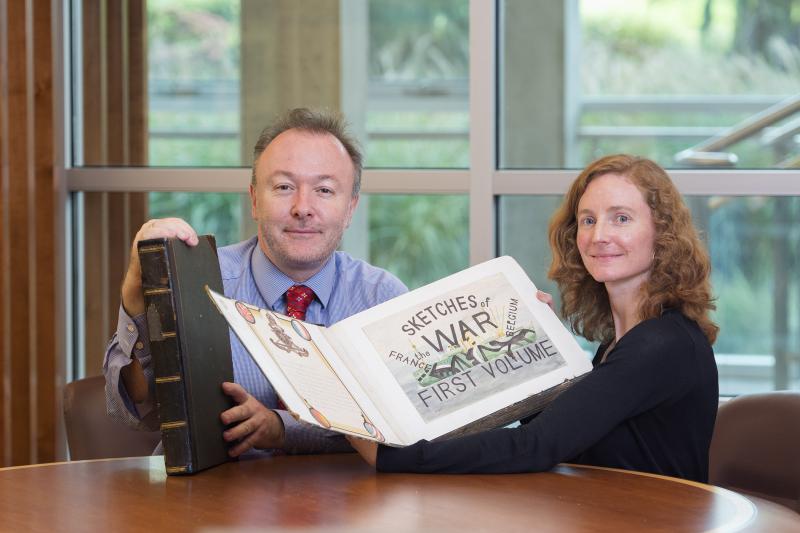 It's a history mystery worthy of its own exhibition.
When Dr. Marcus Milwright, of UVic's recently renamed Art History and Visual Studies department, began planning his upcoming exhibit The Arts of World War I, he knew there was one item in the university library that he just had to use: a beautiful two-volume leather diary set illustrated with watercolours and pen-and-ink drawings of life during wartime. There's only one problem: he has no idea to whom it actually belonged.
JM's World War I sketchbooks, housed within UVic Special Collections and University Archives for more than three decades, contains approximately 130 sketches and drawings ranging from caricatures to sombre images, by a British soldier based in France and Belgium in 1917 and 1918.
Whodunnit of a diary
"The dedication on the first page says, 'To my daughter, Adele' and it's signed simply J.M.," says Milwright. "Other than that, there is only the emblem of the Royal Regiment of Artillery, with whom I assume he served. We do know that J.M. survived the war, as there's a painting dated 1920, and we know he saw active service in the areas of Ypres and Menin, as the paintings are dated and named. But that's about it."

Milwright has attempted to track J.M. down through brigade records—but those require at least one name to search, not just initials—and UVic Libraries has no record of where the diaries came from, just that they were purchased from a private seller in Victoria, likely between the early 1970s and mid-1980s.
The library has been trying for some time to solve this mystery as well and is hoping the centennial of the First World War this year will spark some new leads.

Milwright's theory is that the diary set was sold by a family member, possibly through an estate sale following the death of Adele herself, and he's hoping someone will recognize either the diaries or the artwork and be able to help solve the mystery. "They're fantastic images," he says.
WWI arts exhibit
The diaries and their illustrations will be a central feature of a new exhibition, co-curated by Milwright and opening Nov. 7 in the Legacy Maltwood (at the Mearns Centre - McPherson Library), that will offer examples of books, prints and trench art from Europe and the Middle East drawn from the Legacy Art Galleries, the university's archives and private local collections. Milwright hopes J.M.'s identity will come to light during the exhibition's four-month run.

"There is one preparatory sketch, which indicates these images weren't just spontaneously drawn but actually planned," says Milwright. "They look to me like book illustrations, so it's probable that J.M. was a trained painter or illustrator before going into the army."

If anyone has any information about either J.M., Adele M. or the diaries themselves, please contact Marcus Milwright at mmilwrig@uvic.ca.
———
The Arts of World War I
Nov. 7, 2014 to March 2, 2015
Legacy Maltwood

 
Photos
In this story
People: Marcus Milwright