UVic archive tells Holocaust survivor stories for future generations
- Tara Sharpe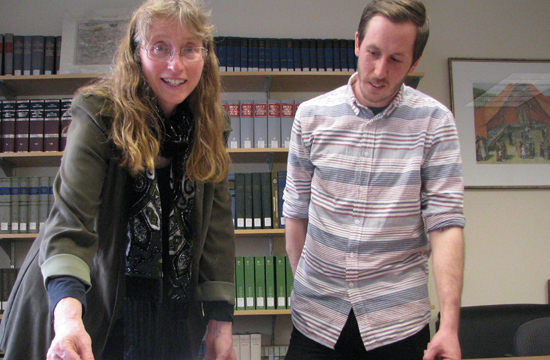 April 15, 2013 is an anniversary date of the liberation of the Bergen-Belsen concentration camp in 1945. Before that milestone, a research team of scholars, students and community members was busy collecting stories and perspectives over the previous 15 months for a unique new archival project now serving as a collection point for local life narratives of individuals who experienced the Holocaust directly.
Building an Archive: Local Stories and Experiences of the Holocaust was initiated in January 2012 by UVic professor Dr. Helga Thorson (Germanic and Slavic studies) as co-founder of the I-witness Holocaust Field School in UVic's Faculty of Humanities, two former field school participants Jason Michaud (Germanic and Slavic studies; history) and Andrea van Noord (English, religious studies), as well as Dr. Richard Kool, former president of the Victoria Holocaust Remembrance and Education Society and a RRU professor. The collection is housed in the UVic Archives and will be accessible to the public.
The project is unique in involving Vancouver Island survivors and their relatives in questions of representation that move beyond the limits of conventional testimony. Most survivors are now more than 85 years old.
"A real inspiration was seeing the work that youth abroad were doing to perpetuate the memory of the Holocaust," says Michaud, a graduate student in the department. "We thought, why can't we do that at home?" 
Original concept
The idea developed in Austria during the first field school in Spring 2011. "Andrea and Jason approached me separately wanting to do something to guarantee that local stories of the Holocaust would not get lost," explains Thorson.
The field school consists of one week of study at UVic followed by three weeks in Central Europe. It explores how the Holocaust is memorialized and encourages a deeper understanding of antisemitism, racism, religious intolerance, homophobia and the stigmatization of those with mental and physical disabilities.
"Is this just distant history?" Thorson asks. She echoes the words of another field school participant: "No, it is not past. It's present." In January 2012, five gravestones were defaced at the 153-year-old Jewish cemetery on Cedar Hill Road in Saanich. The next weekend, approximately 1,000 people gathered to collectively reaffirm a community commitment to combat racism and antisemitism.
Van Noord adds, "Ensuring the archive is dynamic and dialogic is our contribution to the field of Holocaust education. This is a project about conversation across experiences; it is about saying what has already been said, and then thinking about new ways to say it again, so that the Holocaust continues to resonate with future generations. For me, it is about challenging the silence and encouraging students to feel safe speaking about this history, so that they may continue to speak when the survivors have left us."
Ongoing archival collection
In the growing archival collection, the preservation and communication of experiences across generations are represented in various forms including poetry and art. In addition to material like the miniatures (see below, pictured above), Building an Archive already includes commemorative medals, a single glove, personal documents and audio and video recordings.
The archive items are objects that tell stories. Thorson says people have donated what they have on hand—originals or copies of what is housed in museums—or they create their own narratives. She will match interested parties with dialogue partners to facilitate the storytelling process.
From Bergen-Belsen
An early donation to the new archive project is a cluster of full-colour photocopies of miniatures created in the Bergen-Belsen concentration camp in northwestern Germany, which tells yet another evocative story from a local survivor.
The original paintings are housed in the Bergen-Belsen Memorial museum. The painter Bob Boekbinder was able to switch "jobs" at the camp because of his surname: when soldiers at the infamous Nazi death camp called out for a "bookbinder" he stepped forward upon hearing what sounded like his last name. He had made the miniatures as a birthday gift for his mother, who was killed and his brother did not survive beyond liberation either.
I-witness Holocaust Field School
Previous Ring coverage on last year's field school: feature article and field notes, plus photographic essay.
More from the inaugural field school: news story and student blog.
Inquiries about the archive project can be sent to helgat@uvic.ca.
Applications for the 2014 field school are due by Nov. 1.
Photos
In this story
People: Helga Thorson, Jason Michaud, Richard Kool