Getting "smart" under the sea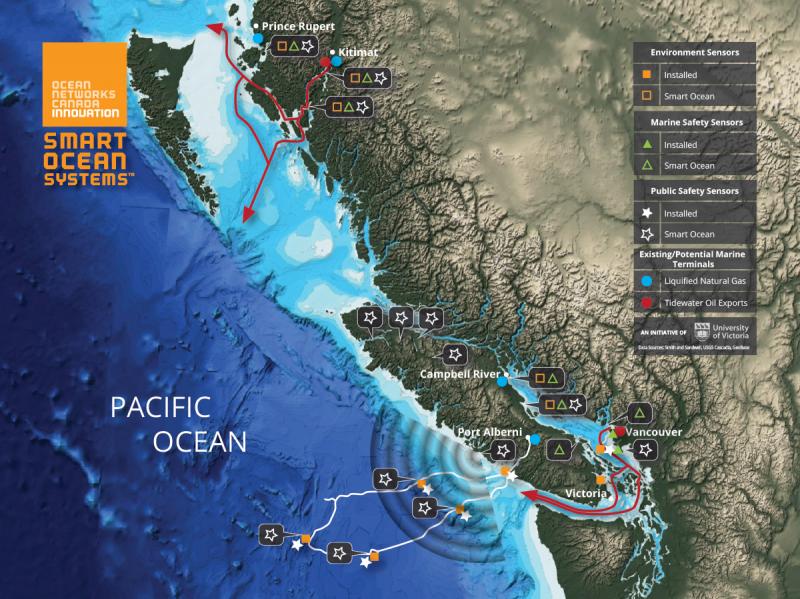 UVic's world-leading Ocean Networks Canada embarks on a bold new phase of ocean monitoring.
The British Columbia coast is about to become the "smartest" on the planet.
Ocean Networks Canada (ONC), an initiative of the University of Victoria, is partnering with Western Economic Diversification Canada and IBM Canada on a three-year multimillion dollar project known as Smart Oceans BC.
Smart Oceans BC builds on the know-how and proven technologies of VENUS and NEPTUNE—the world's most advanced cabled ocean observatories—to develop and install a series of mini-observatories, high-frequency radars, and automated vessel information systems at key points along the BC coast.
"This is an exciting opportunity that will connect people in coastal BC cities and communities to crucial ocean information," says Dr. Kate Moran, president and CEO of ONC. "It will help enhance marine safety, establish critical environmental monitoring, and improve public safety. It's a wide range of deliverables.
Western Economic Diversification (WED) is contributing $9.1 million to the project—the largest single investment in its history. IBM Canada is providing $12 million-worth of technology in the form of cloud computing infrastructure, analytics software, and services and skills training.
Smart Oceans instruments will cover five economically strategic areas of the BC coast: near the port of Vancouver, Campbell River, Kitimat, Douglas Channel and Prince Rupert.
Real-time data collected by the instruments will be used to monitor vessel traffic, waves, currents and water quality in major shipping arteries, and to improve disaster warning systems for earthquakes and tsunamis along the BC coast.
"With our proven technologies and the know-how of this team we're going to be able to provide a 30 to 90-second warning of major earthquake ground-shaking," says Moran. "That has implications for saving lives and for long-term commercialization of this whole system."
The Smart Oceans data will also provide essential benchmark information on the marine environment to assist science-based decision-making on ocean management issues. "The ocean environment can be easily spoiled, so we need to have a baseline on what the environmental conditions are right now," says Moran. "As our marine activities increase, that baseline is just a smart thing to do."
All of the Smart Oceans systems will use ONC's advanced data management and archival system—known as Oceans 2.0—with IBM's high-speed, real-time analytics to monitor the hundreds of sensors. Analytics refers to the processing and analysis of massive amounts of data to generate meaningful information.
"Through IBM's contribution, we'll be able to draw insights from a massive amount of new data that will be critical in the implementation of a world-class marine safety system," says Moran. "The expertise we'll gain will help develop new commercial opportunities, as well as support provincial, federal and First Nations priorities."
Researchers will use IBM visual analytics, data streams processing, machine learning and data exploration software to develop commercially viable systems of interest to marine agencies working in the areas of shipping, pollution monitoring, spill response and other marine industries.
ONC has already pioneered Smart Ocean Systems on its world-leading VENUS and NEPTUNE observatories, and on a mini-observatory in remote Cambridge Bay, Nunavut. "Smart Oceans takes these proven technologies to a whole new level," says Moran.
Through its Innovation Centre, ONC is already successfully marketing Smart Ocean Systems products and services in countries such as Korea, Brazil, China and Europe.
This global market is forecasted to grow from $4 billion to at least $6 billion by 2020.
"ONC was the first in the world to pioneer this technology on a regional scale and leads the international marketplace in capability, experience and technology," says Moran. "With Smart Oceans BC we'll build on this advantage."
The Smart Oceans BC system is expected to be operational by 2017.
ONC operates the world's most advanced cabled ocean observatories for the advancement of science and the benefit of Canada. It is supported through a combination of government, university and industry funding, along with revenues from ONC's Innovation Centre.
For more information visit www.oceannetworks.ca/towards-smarter-bc-coast
Photos
In this story
Keywords: oceans, Ocean Networks Canada, Western Economic Diversification, technology, funding, research
People: Kate Moran