Shelagh Rogers named as UVic's next Chancellor
- Joanne McGachie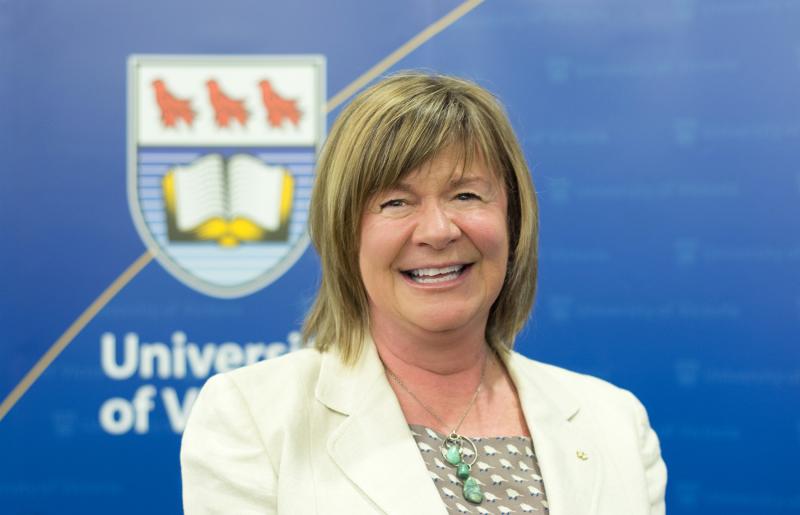 Shared values and aspirations bring celebrated broadcaster to UVic
Nationally recognized broadcaster Shelagh Rogers, OC, was announced today as the next Chancellor of the University of Victoria. The popular national radio host, witness and champion of reconciliation for Aboriginal people, long-time advocate for adult literacy and mental health awareness and an acknowledged "voice" of the country will become the university's 11th Chancellor next year.
UVic News Release (includes accolades and backgrounder)
Rogers' appointment was announced in the William C. Mearns Centre for Learning—McPherson Library. Former UVic presidents and chancellors—along with a crowd of happily surprised and enthusiastic faculty and staff—joined President Jamie Cassels in welcoming Rogers to the position.
In accepting her new role, Rogers' warmth, character and humour were as much a part of the event as her instantly recognizable voice. "I'm thrilled out of my being," Rogers said. "I thank you for making me the Chancellor-designate, and I'm looking forward to serving UVic in whatever way I can."
In choosing to accept the position, Rogers noted the shared values and aspirations that connect her to the university. "I appreciate the values that UVic holds, in particular civic engagement. I really value the Indigenous focus—this is a very powerful thing for me and for the healing of Canada, I believe." 
Rogers also spoke about being named an Honorary Witness for the Truth and Reconciliation Commission in June 2011, and how she saw a correlation with her new role.
"Witnessing is a very, very important thing," she said. "I really believe this is the key part of what a chancellor does: witnessing one of the most important days in the life of a student, that crossroad day, that benchmark day when you turn the corner into your new life and work to build a better country."
Cassels spoke enthusiastically of the experience and qualities that Rogers will bring to the role of chancellor.
"Shelagh Rogers is a distinguished Canadian, an engaged citizen, an outstanding professional and a wonderful communicator," Cassels said.  "She possesses an amazing array of talents and abilities and represents the values that align so well with our university's goals and mission."
"She's recognized across Canada as a communicator par excellence. Dedicated to broadening our understanding of the world and each other and dedicated to the dissemination of knowledge, she's perhaps the country's best listener—and education is a lot about listening."
To enthusiastic applause, Cassels captured the sentiment of the room. "Shelagh, you certainly possess the right stuff to be UVic's next chancellor!"
A veteran broadcast journalist, Rogers is currently the host and a producer of The Next Chapter, a CBC program about Canadian writers and songwriters. She moved to BC in 2003 after 23 years working on CBC news and current affairs radio programs. In 2011, she was named an Officer of the Order of Canada for her contributions as a promoter of Canadian culture, and for her volunteer work in the fields of mental health and literacy. She has committed herself to working toward reconciliation between Aboriginal and non-Aboriginal people from coast to coast to coast.
Rogers will continue as host of The Next Chapter while serving as chancellor.
As the university's titular head, the chancellor confers the university's degrees and is a member of the university senate and board of governors.
Chancellor Murray Farmer, first elected in 2008, completes his second and, by law, final term at the end of 2014. He was unable to attend the announcement of Rogers' appointment, but his wife Lynda spoke in his place, delivering his message of congratulations.  
"I'm delighted to welcome Ms. Rogers to the UVic community," Farmer said. "I look forward to assisting you in any way I can as you make the transition into the role and into the UVic family."
The formal installation of Rogers as university Chancellor will take place during Spring 2015 convocation.
Photos
In this story
Keywords: reconciliation, adult literacy, mental health
People: Shelagh Rogers