Economics grad knows the real value of safe drinking water
Peter B. Gustavson School of Business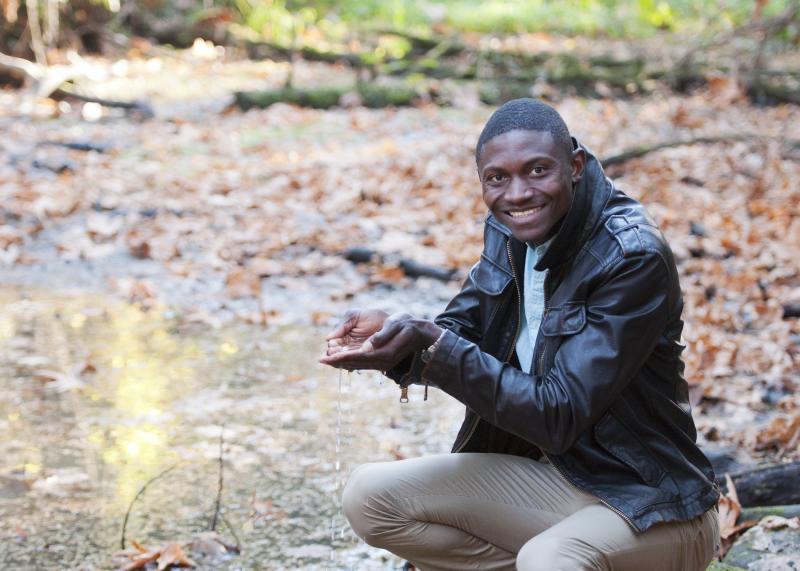 "Water is a natural resource essential for life," says Moussa Traore, an economics student in the Faculty of Social Sciences who receives his BSc from UVic this month.
Traore arrived in Montreal seven years ago-leaving his home in Burkina Faso, Africa, a landlocked country that has endured a series of droughts and military coups over the past few decades.
"When I arrived in Montreal I will never forget what I saw," says Traore, "it was raining and the houses up and down the street had their sprinklers on in the rain, watering the lawns."
That image might be normal for someone who lives in Canada, but for Traore, it was surreal. He had just come from a country where the lack of clean water causes many deaths each year, and where women and children walk 40 miles to the nearest water source.
In his final economics paper, Traore discusses the economics of clean water and the impact on developing countries. He said installing a clean water system in a village would give women and children more time to go to school and be productive.
"My experience in Burkina Faso," writes Traore, "leads me to argue that the lack of access to safe drinking water, sanitation facilities, and water shortages are the leading causes of diseases, poverty and environment degradation throughout developing countries."
Traore was born on the Ivory Coast, in the village of Aboisso. When he was six years old, his parents could not afford to keep him. He was sent away to live with an uncle, a schoolteacher, who lived in the village of Niangoloko in Burkina Faso. Traore was brought up by this uncle and was eventually able to attend a business and marketing school in Burkina Faso-the school for which he received partial credits at UVic.
Once in Canada, Traore worked hard at his studies attending Camosun College and then in UVic's economics program. Traore wanted to focus his degree on finance and on the economics of developing countries.
"I came to Victoria and UVic so I could learn to speak better English," explains Traore. "Being at UVic for three years was a life changing experience. There were so many people from all over the world in my economics classes; we shared our culture and learned many things about each other."
"The professors in the economics department were very encouraging," Traore adds. "They always had office hours for students who needed extra help."
Traore worked hard at his studies and also played intramural soccer during his time as a student at UVic. "I was invited to keep playing soccer, even after I graduate."
Future plans include a trip back to Burkina Faso with his fianc&e#180; one day. Traore's family and his home country are often in his thoughts.
"My parents still have to drink from a river," Traore explains. "I want to change that."
For now, Traore will stay in Victoria and begin his career in the finance industry; he recently accepted a position with TD Bank.
"I have to save up some money first, and then I want to go back home and help my family in Africa."
Photos
In this story
People: Moussa Traore