UVic historian, poet earn national honour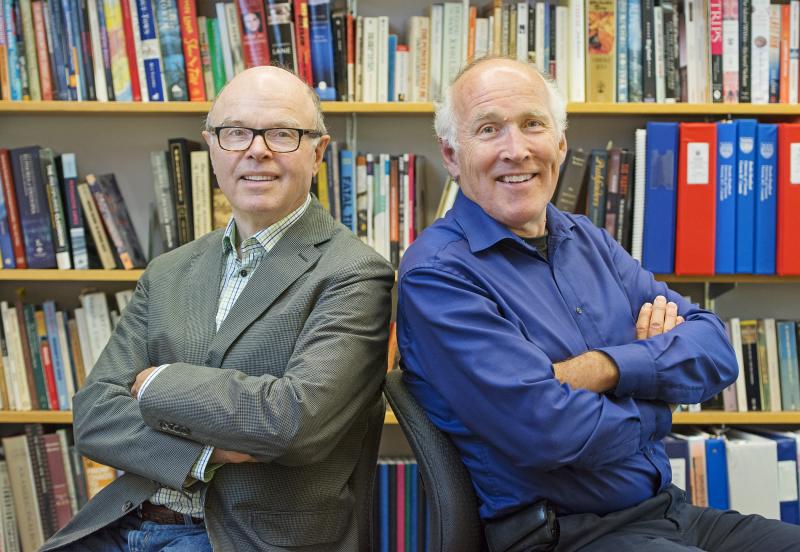 Two University of Victoria scholars have joined the ranks of Canada's academic elite.
Historian Eric Sager and poet Tim Lilburn have been elected by their peers as fellows of the Royal Society of Canada (RSC) for their remarkable contributions to their field and to public life. The distinction is Canada's highest academic honour.
Lilburn is one of the world's leading poets and essayists on poetics. His works—including nine books of poetry—help us interpret our relationship to landscapes and their ecologies, and offer paths forward to living ethically within these relationships.
"Place is a version of one's larger body: where you live shapes you physically, psychically and spiritually," he says. "It certainly affects how you write. If you live in a colonial mindset you tend to forget about this link—and, as a result, you forget about an important part of yourself. Poetry is important because it gives us stillness."
Lilburn's work has been translated into French, Chinese, Siberian, German, Spanish and Polish, and has been widely anthologized. He gives readings and lectures around the world and is a frequent guest on radio and television. His many awards include the Governor General's Award in Literature in 2003 for Kill-site. His most recent book of poetry is Assiniboia (2012).
Sager is one of Canada's pre-eminent historians and a longtime crusader for communicating the relevance of history to daily life. He studies the history of families in Canada—what they looked like in the past and how they survived a century or more ago—and the history of income inequality.
"Our understanding of households, families and income distributions depends on the use of historical census data," says Sager. "The census is an essential source of information for governments and the private sector to make informed decisions and offer advice on public policy. Unless we learn from history, we're steering ourselves in the dark."
Sager is the author of two books on the history of sailing ships in Atlantic Canada, a book on workers on Canadian steamships, and a small book on the history of Darwin, Australia. He also co-authored a book on the history of unemployment and families in Canada.
Sager is the sixth UVic historian in recent years to join the prestigious academy; the others are Harold Coward, Angus McLaren, Pat Roy, Andrew Rippin and Peter Baskerville. "This is a remarkable record for a department," says Sager. "It's deeply gratifying to find myself among such company, and to know that the Royal Society finds my work worthy of this recognition." 
A total of 66 UVic scholars, scientists and artists—including current, former and adjunct faculty members—are fellows of the Royal Society of Canada.
Photos
In this story
Keywords: Royal Society of Canada, academics, history, writing
People: Eric Sager, Tim Lilburn