New HSD centre to support Indigenous student success
- Denise Helm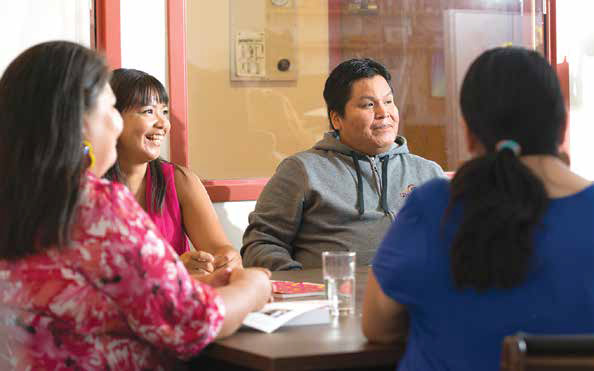 Shauna Underwood remembers all too well what it was like to be an Indigenous student at UVic—trying to do well in her studies while also being a single parent of three children and having cultural responsibilities in her community.
"I felt like I didn't have anyone to go to. There were individual instructors who were great, but they are not always on campus or available," said Underwood, now the Indigenous advisor at the newly opened Indigenous Student Support Centre (ISSC) in the Faculty of Human and Social Development.
The centre opened in September to provide students with a welcoming space where they can receive cultural, emotional and academic support.
As the faculty with one of the largest number of Indigenous students—222, or about one-fifth of all undergraduate and graduate Indigenous students enrolled at UVic—HSD has long understood the importance of providing students culturally appropriate support. It hired the university's first faculty-based Indigenous advisor, Roger John, in the mid-1990s.
"Our students' home communities are usually small, and although the systems they are dealing with at home can be complex, when they come here it can be overwhelming and some leave without finishing their studies," said HSD Dean Mary Ellen Purkis.
"Here, they can talk to someone who understands them."
Having support at the faculty level can help on-campus and distance students in HSD's seven schools—nursing, public administration, child and youth care, social work, health and information science, public health and social policy, and Indigenous governance—with information specific to their programs.
The centre takes the support to a new level by pulling together Indigenous-related resources, being a central contact for prospective students or communities wanting information about HSD programs, providing faculty with advice on Indigenous initiatives as well as being a physical space where students can socialize with peers, debrief after a tough day, have a snack, attend a weekly talking circle or meet with an Elder.
"The students I've been working with are brilliant, they can get really good grades," said Underwood. "Often the barriers are the other things they are dealing with like a death in their community, such as a suicide. That isn't easy while also trying to finish a paper that needs to be in the next day. Helping them succeed is very rewarding."
For faculty members and staff, the centre offers advice and knowledge from a team that includes administrative officer Angela Polifroni, formerly with Indigenous governance, administrative assistant Alana Sayers and faculty lead Jeannine Carriere, an associate professor in the School of Social Work and former director of aboriginal student services at the University of Alberta.
"The centre is a resource for the different schools for what they might require in providing education to Indigenous students. We get all different types of requests," said Carriere.
Working with the School of Public Administration, which has developed the new Diploma in First Nations Government and Administration is one example.
The ISSC works closely with the First Peoples House and other Indigenous services on campus, referring students to other resources as appropriate.
The centre is in the HSD building, room B211, and is open 8:30 a.m. to 4:30 p.m., Monday to Friday. More info: uvic.ca/hsd/issc
Photos
In this story
Keywords: Indigenous, Indigenous Student Support Centre, campus
People: Shauna Underwood, Mary Ellen Purkis, Angela Polifroni, Alana Sayers, Jeannine Carriere