Indigenous economic development consortium announced
Peter B. Gustavson School of Business
- Moira Dann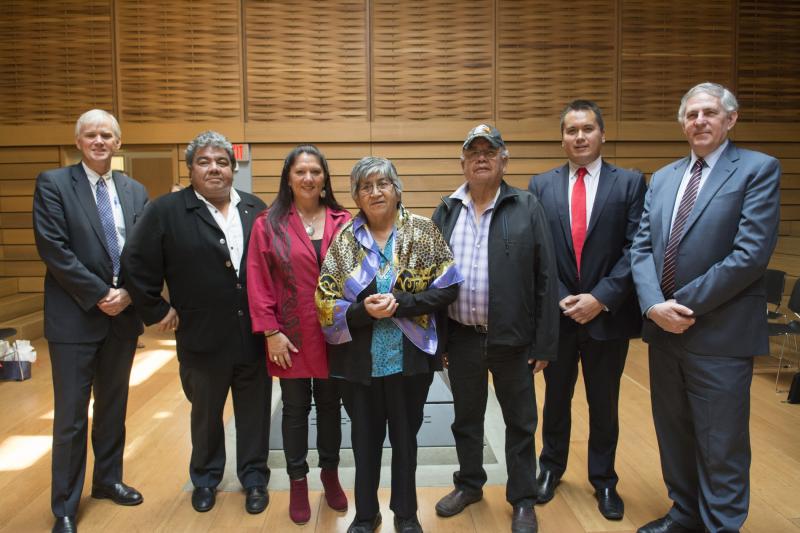 A new consortium to promote Indigenous economic development across Canada was recently announced at UVic.
The National Consortium for Indigenous Economic Development (NCIED) has the Peter B. Gustavson School of Business and the UVic Faculty of Law working together on community-based education and research to drive innovative economic change. The consortium was developed with the collaboration of leaders from Indigenous communities, business and government.
"Canada's future is tied to the well-being of Indigenous peoples and Indigenous communities and their participation in the economy," says Gustavson Dean Saul Klein. "Unlocking the potential for economic development in light of this requires careful consideration and elimination of the structural and behavioural impediments to capital investment and economic growth."
"As Indigenous peoples gain greater control of their lands and governance, they seek to use those powers to secure their economic future. This consortium supports those initiatives," says Professor Jeremy Webber, dean of law. "Indigenous economies interact closely with their neighbouring communities. Strong Indigenous economies make for strong regional economies."
Miles G. Richardson (Haida) is the interim director of NCIED. As interim leader, Richardson (a UVic grad), will oversee the launch of the NCIED and development of its work nationwide. Richardson will be working closely with NCIED Champions, law professor John Borrows and business professor Brent Mainprize.
Richardson is a business adviser, key member of the former British Columbia Claims Task Force, and co-chair of the national Indigenous Advisory Circle for the Institute on Governance. Richardson has also served as BC Treaty Commissioner, is a past President of the Council of the Haida Nation, and was named an Officer of the Order of Canada in 2007.
The NCIED will focus on seven key areas including entrepreneurship, the development of appropriate structures for Indigenous economic activity, and the conditions for effective collaboration between Indigenous and non-Indigenous enterprises.
Photos
In this story
Keywords: Indigenous, community
People: Saul Klein, Miles G. Richardson