Inaugural Engaged Scholar Award recipients announced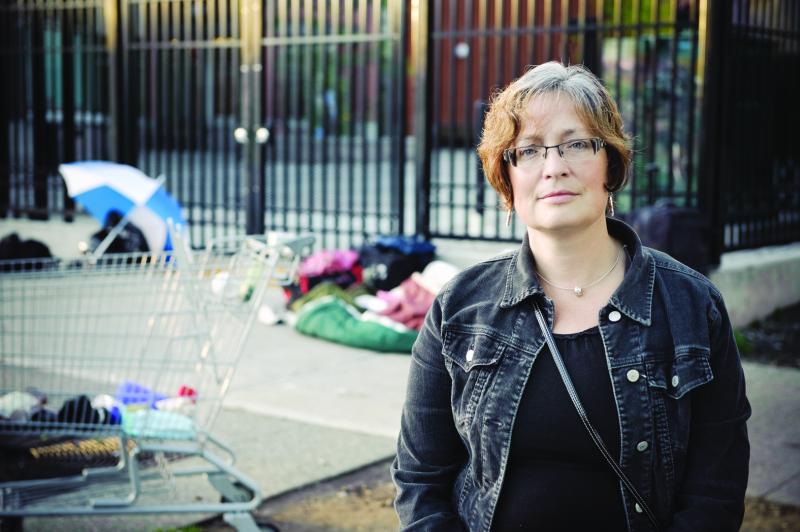 Congratulations to Dr. Bernie Pauly of the School of Nursing and Dr. Val Napoleon of the Faculty of Law, who have been named the inaugural recipients of the Provost's Engaged Scholarship Award.
The newly created awards program is intended to support and enhance UVic's vision for the integration of outstanding scholarship, inspired teaching and real-life, community engagement. It recognizes tenured members of faculty who have achieved great distinction as community engaged scholars.
The two recipients will be conferred the title of Provost's Engaged Scholar, which will be held for a period of 5 years and may be renewed after that time. They will also each receive a one-time award of $10,000 to support their research, teaching and community involvement.
Dr. Reeta Tremblay, VP Academic and Provost, congratulated the first recipients of the award: "Dr. Pauly and Dr. Napoleon both exemplify the attributes of community engaged scholarship at UVic," she said. "They are each, in their own diverse fields, passionate leaders in integrating research and learning with on-the-ground action to bring about positive societal change."
The awards will be formally presented to Pauly and Napoleon at the upcoming CUVIC 2014: Beyond Engagement Conference, being held on campus May 20-22.
Dr. Bernie Pauly
Pauly is an associate professor in the School of Nursing and a scientist at the Centre for Addictions Research of BC. Throughout her career as a professional nurse, researcher and teacher, she has focused on the challenges faced by people marginalized by substance use and homelessness. Her goal has been to generate quality research in partnership with government, community agencies and people who have experienced homelessness and substance use, to inform solutions that prevent the harms of these circumstances.
Over the past eight years, she has established strong research partnerships with local organizations such as the Victoria Cool Aid Society, the Greater Victoria Coalition to End Homelessness, AIDS Vancouver Island, Society of Living Illicit Drug Users (SOLID), as well as health authorities and government. From streets to boardrooms, her research has contributed to improvements in housing, harm reduction and health care services. Throughout her work, she has actively engaged her students with hands-on experiences and practical learning opportunities to increase their awareness and knowledge of the way that social conditions impact health.
Pauly feels that being recognized as a UVic Community Engaged Scholar will contribute to better understanding of the role that research can play in addressing complex social issues, as "students will have more opportunities to be mentored as the next generation of community engaged scholars."
Dr. Val Napoleon
Napoleon is nationally and internationally known for her work with communities to research and rejuvenate Indigenous law. She established the Indigenous Law Research Unit (ILRU) at UVic that, she said, "starts its research and work by taking Indigenous laws seriously as laws."
Napoleon, along with Hadley Friedland of the University of Alberta, developed an Indigenous law research methodology that was used by the national collaborative Accessing Justice and Reconciliation (AJR) project to analyze and synthesize public materials and oral stories within partner communities representing six Indigenous legal orders across Canada. For the AJR project, the ILRU collaborated with the Indigenous Bar Association and the Truth and Reconciliation Commission of Canada, and was funded by the Ontario Law Foundation.
The AJR's research focus was legal responses, in different legal orders, to harms and conflicts—both internally and externally. The resulting legal resources are now being used by the partner communities to develop their own justice or court processes, child welfare initiatives, etc. Napoleon and the ILRU will also continue to draw on these amazing legal resources to develop Indigenous law curricula for the proposed Indigenous Law Degree Program at UVic.
Other ILRU research initiatives and projects include Coast Salish legal protocols, gender issues in Indigenous law, Indigenous legal methodology course development, legal pluralism, a graphic narrative on Cree law, three commissioned papers, a series of academic papers, numerous community workshops, a website, and the creation of non-text expressions of Indigenous law through art, video recordings, posters and other formats.
Receiving the Provost's Engaged Scholar Award is well-deserved recognition for Naploleon's valuable and extensive work in community engaged scholarship.
Faces of UVic Research videos:

Photos
In this story
People: Bernie Pauly, Val Napoleon