Environmental Studies at 40: learning and growing a greener campus
- Anne MacLaurin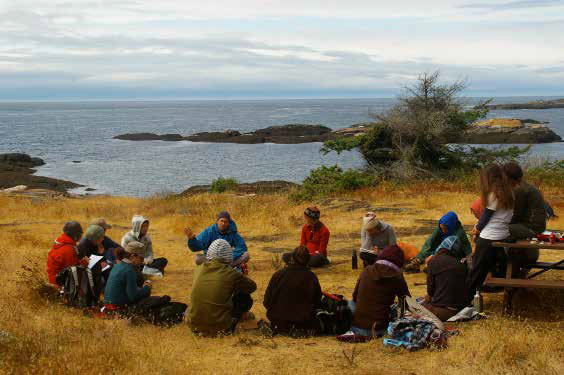 From the very first plans for the Gordon Head campus, natural features have been valued as a defining force in UVic's learning environment. And the Environmental Studies program, starting small with a single course in 1975, has grown substantially — not just alongside, but as a driver of green initiatives that have helped transform the campus into an internationally recognized leader in sustainability.
Many of the practices that helped UVic become the only Canadian university to make the Princeton Review's 2015 Green Honour Roll sprouted from Environmental Studies course projects, student initiatives and partnerships across the institution.
On a wide scale, environmental studies students and faculty have played leadership roles in key organizations such as the UVic Sustainability Project, Common Energy and the Environmental Studies Student Association—as well as contributing to campus planning priorities across the university.
The program's 40 years of dynamic learning, where passionate students and faculty work directly on sustainability initiatives, has also given us some of the most recognizable projects that dot our green campus today—including the Elliott Naturescape, the Alumni Garry Oak Meadow, the Lekwungen Housepost Garden at the SUB and the Campus Community Garden.
According to Rita Fromholt, Sustainability Coordinator, "Environmental Studies has served as an incubator for sustainability initiatives on campus; there is seldom an initiative that is more than one step removed from an ES faculty member or student."
"ES students have made effective contributions to the work of the Office of Campus Planning and Sustainability as summer Co-op students and as members of the campus Sustainability Advisory Committee," says Director Neil Connelly, "along with being enthusiastic initiators and supporters of various campus sustainability projects involving natural area protection and restoration, composting, recycling and local food purchasing."
As Environmental Studies celebrates its 40th anniversary, it also celebrates the wide spectrum of sustainable growth that's made our university community such a green powerhouse—still growing to find creative and practical solutions to sustainability issues on campus and around the world.
Photos
In this story
Keywords: environmental studies, sustainability, Environmental Studies Student Association, Common Energy, restoration, recycling
People: Rita Fromholt, Neil Connelly