Celebration of exceptional staff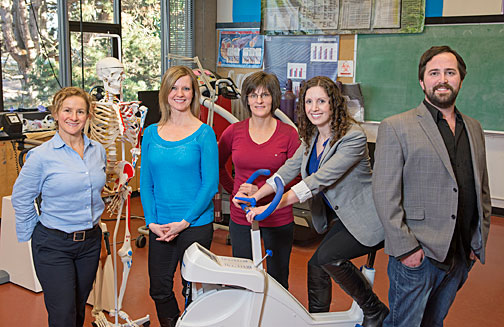 The celebration of this year's President's Distinguished Service Award recipients, hosted by President Jamie Cassels, took place on Feb. 20 at the University Club. Reeta Tremblay, UVic's vice-president academic and provost, and Kane Kilbey, associate vice-president human resources, made presentations before the announcement of this year's recipients.
"I'm delighted to celebrate the 2013 PDSA winners and nominees," said President Cassels. "The university's core strength is its people. All of our employees contribute in important ways to the success of our university, our students and our community and I want to thank the nominees, and all our staff and faculty for your dedication to excellence."
This year, the Team Award for Innovation was presented to the Laboratory Coordination and Instructional Team in the School of Exercise Science, Physical and Health Education. The individual award recipients were: Lois Holizki (Centre on Aging), Award for Excellence in Service; Rossi Marx (Department of Biology), Award for Excellence in Service; and Ying Lui (University of Victoria Libraries), The First Five Years: Outstanding Contribution.
More information on recipients and nominees: www.uvic.ca/hr/services/home/recognition/pdsa/event-info/
Team Award for Innovation
Laboratory Coordination and Instructional Team
School of Exercise Science, Physical and Health Education (EPHE)
Students enrolled in any of the 10 EPHE courses requiring labs have benefited from this year's recipient of the Team Award for Innovation. The members of the Laboratory Coordination and Instructional Team (LCIT)-Melissa Clarke, Janine Drummond, Greg Mulligan, Holly Murray and Veronica Planella- not only assist 1,000 students annually in their own labs but also provide support when students' studies take them into the labs of other departments.
Team members go beyond the traditional style of lab experience to engage students and encourage their input to provide an authentic research experience. Students also praise LCIT's efforts to provide access to cutting-edge technologies, preparing students to meet the challenges of employment.
"The implementation of active participation in these laboratories has opened many opportunities for future success and allowed me to become involved in research projects within the faculty that coincide with my interests and experiences," says kinesiology student Jaymie Elder.
The team members don't just teach students-they mentor them as well, recruiting volunteer learning assistants (LAs) to assist in the labs.
"When I was approached to become an LA I was deeply honoured," says kinesiology student Marie-Claude Magnan. "Now I interact with the material in a different way and truly understand the efforts and passions the team puts into their work."
The LA program was established in the early 1980s and this year's team award recognizes not only the current LCIT members but the legacy of those who went before them.
"This team goes above and beyond the expectations for a laboratory-based course," says Elder, "and ensures that each individual leaves with a unique and enriched experience that enhances overall knowledge and proves beneficial in pursuing future careers."
Award for Excellence in Service
Lois Holizki
Manager, Centre on Aging
Lois Holizki (formerly Edgar) is the backbone of the Centre on Aging and the person everyone turns to for help. As a gifted administrator and multi-tasker Holizki works with all levels of staff, faculty and students to make sure the centre's project goals are met on a daily basis.
Holizki has worked at the Centre on Aging for more than 17 years. She supervises staff supporting 49 faculty research affiliates representing 18 disciplines in over eight faculties, while maintaining relationships with more than 600 individuals and organizations.
"Her candour, strong work ethic and commitment to high standards, building rapport and respect make her a natural mentor to both staff and colleagues, and a most valuable asset to the knowledge gatherers and knowledge users," says research coordinator Vincenza Gruppuso.
Over the years, Holizki has developed a strong affinity for promoting and advocating for activities and research that advance the well-being and interests of the older person. "She can be credited with actively supporting and recruiting for activities such as Caf&e#180; Scientifique, International Day of Older Persons' Lecture and Tea, Masterminds and Ideafest," says Gruppuso.
"Especially important is Lois' ability with communications-always concise and comprehensive -and concern for the dignity and rights of everyone," says Patrick McGowan, professor, School of Public Health and Social Policy.
According to Debra Sheets, associate professor, School of Nursing, "Lois is an inspiration to everyone at the centre and those who know her across the university and the community."
Award for Excellence in Service
Roswitha (Rossi) Marx
Department of Biology
Described as "inspiring" by colleagues and students alike, Senior Laboratory Instructor Rossi Marx has provided personalized, hands-on learning opportunities for more than 5,000 undergraduate biology students since 2007. She is a major contributor to more than nine biology courses, spanning all years of the undergraduate curriculum, and has primary responsibility for the aquatic animals used in a variety of laboratories.
She "makes biological science accessible and appealing to diverse audiences within and beyond the university. Her students love learning from her," says Kerry Delaney, chair of biology. Her innovative initiatives to improve the learning environment and care and management of aquatic animal species help to integrate lecture-based material with experiential, laboratory-based learning.
Marx is also a skilled mentor for new lab instructors and graduate students and a passionate contributor to community outreach activities. She has been the chair of the Vancouver Island Science Fair since 2006, and is involved in Science Venture and Let's Talk Science, amongst other programs.
"She always goes above and beyond; her hard work, her commitment to quality and her compassion lead her to invest many, many extra hours simply because she cares about 'her' kids deeply," says Verena Tunnicliffe, professor and Canada Research Chair in Deep Oceans.
Marx's students speak of the impact of her dedication and enthusiasm, as well as her emphasis on critical thinking and excellence. "She made countless efforts to make the time for all of her students," says former student Fawn Yastremski. "Dr. Marx inspired me to view life in an entirely different way."
Award for First Five Years - Outstanding Contribution
Ying Liu
University of Victoria Libraries
Since Ying Liu joined UVic Libraries as a reference and subject liaison librarian in 2008, she has made several outstanding contributions and improvements to the learning environment at UVic.
Ying's dedication to building a meaningful research environment, and to creating and sustaining international research relationships with a multitude of global partners not only signifies the integrity of her professional dedication as a librarian, but her larger impact as a member of UVic and the local community.
"I can unconditionally state that Ying has been one of the most productive and accomplished librarians I have had the pleasure of welcoming into the libraries' reference and collections areas," says Associate University Librarian, Learning and Research Resources Ken Cooley.
Working with international colleagues, Ying has built bridges between other international libraries and librarians, and contributed to a research culture among librarians at UVic Libraries that is unparalleled.
Words used to describe Ying include enthusiastic, dedicated, conscientious, patient, humble, caring and cooperative. "It is a credit to Ying that her modest and immediate response to my personal congratulations was to recognize the excellent work of her colleagues," says Jonathan Bengtson, university librarian.
Ying's commitment to literacy, lifelong learning and the value of libraries in our society is inspiring.
Photos
In this story
Keywords: award, exercise science, health education, aging, biology, library
People: Jamie Cassels, Reeta Tremblay, Kane Kilbey, Lois Holizki, Rossi Marx, Ying Lui