BFA exhibit an incubator for future artistic success
- John Threlfall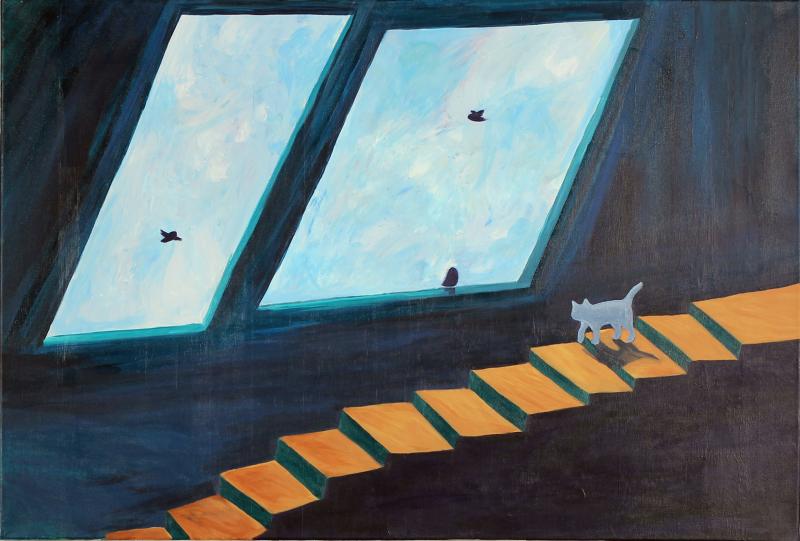 While the MFA show may be the higher profile exhibit on view from the Department of Visual Arts this spring, the BFA exhibit is definitely the larger of the two. Featuring work by 36 graduating BFA students, the annual exhibit—this year titled Split, and running from April 17–26—will feature a tremendous amount of painting, drawing, sculpture, installation, video and media art spread throughout the Visual Arts building.
"For many of the students, the BFA exhibition is an opportunity for them to exhibit their work publicly for the first time," says visual arts professor Jennifer Stillwell, who is coordinating Splitwith fellow professor Robert Youds. "Each graduating student has created a body of work or a major work that speaks to their individual point of view as an artist. The exhibit marks the achievement of their degree and celebrates and highlights the work they have put into it."
More than just displaying their work, however, the students have also organized most aspects of the exhibition itself—from curatorial decisions and building preparation to organizing the opening night event.
"Most BFA students arrive here not really knowing what contemporary art is, then they have to go through the process of figuring it out and engaging with it," says visual arts professor Paul Walde. "Then they have to decide what they want to work on and move forward with that. This final year really is the tipping point where you see massive development in a student's work. That's why UVic is such a great incubator for artists: it gives you time and space, and it has great facilities and a great faculty."
Split runs April 17–26 in the Visual Arts building, with the opening reception beginning at 7 p.m. on Thursday, April 17.
Photos
In this story
Keywords: art, exhibition
People: Jennifer Stillwell, Robert Youds, Paul Walde