Victoria's Commonwealth Games remembered
- Joanne McGachie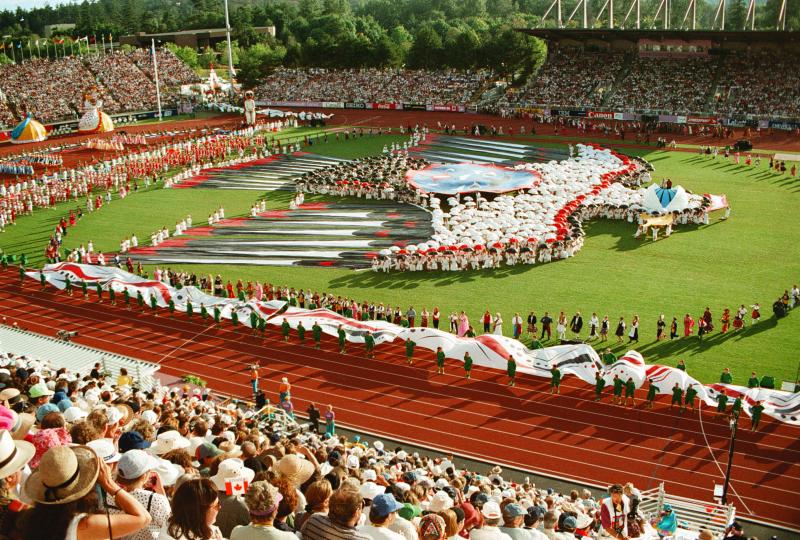 Do you remember what you were doing 20 years ago? If you lived in Victoria, you were likely immersed in city-wide excitement for the XV Commonwealth Games.
It's hard to believe two decades have passed since Victoria – and UVic – welcomed the world for 10 days in August 1994.  From the spectacular opening ceremonies to the joyous closing events, UVic was the centre of activity and celebration for the entire Games.
UVic welcomed royalty as Queen Elizabeth opened the Games on August 18, and her son, Prince Edward, closed them on August 28. In between, life at the university was dominated by the games, with more than a third of the campus used for its activities. 
Student residences were transformed as the Athletes Village housed some 3,700 elite athletes and teams from 67 countries for more than three weeks. Centennial Stadium was expanded to include 34,500 seats (up from the usual 5,000) to accommodate the opening and closing ceremonies, as well as 10 track and field competitions.  As well, UVic played host to 800 members of the world's media at the International Broadcast Centre, built inside the Gordon Head Complex (since renamed the Ian Stewart Complex).
Expanded services were in evidence all across the campus. Bookstore operations included convenience stores in the Athletes Village and broadcast centre. Athletics and Recreation operated a full recreation program for the athletes. Housekeeping, food services and health services all contributed to the well-being of the visitors. The scale of campus participation was enormous.
The spirit of participation at UVic played a huge part in the success of the Games as well, in both professional and volunteer capacities. Hundreds of faculty, staff, students and grads worked in a variety of areas, including performing in the opening and closing ceremonies, accreditation, race marshals, media managers, security, results, and many other roles.
Perhaps most remarkably, the games were mounted during one of the busiest times of year, as the campus prepared for a new school year. Closing ceremonies took place just a few days before thousands of students arrived for their first classes.
Exciting, exhilarating, and yes, even exhausting—the Games left UVic with amazing memories, a huge sense of pride in what was accomplished, and a legacy that continues on, strong in memories and spirit two decades after.
Photos
In this story
People: Queen Elizabeth, Prince Edward