UVic kicks off Vikes song contest
- John Threlfall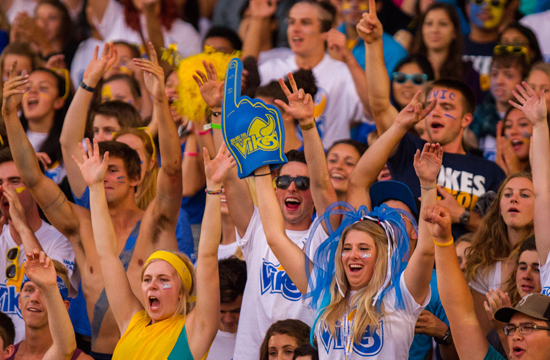 What do most major universities have, that UVic has never had? A rally song to get UVic fans and teams pumped up during Vikes games. But that is about to change, thanks to a new contest launched by Vikes Athletics and UVic's School of Music.

Nothing says school spirit quite like a rally song! (Vikes News Page | Fine Arts Blog)
While the crowd can readily chant "Let's go Vikes, let's go!" at any UVic game, it isn't the same as having a UVic-specific rally song sporting unique and memorable music and lyrics.
Everyone is invited to submit original compositions to the Vikes Rally Song Contest. Songs should be no longer than 20 seconds, and the deadline for submissions has now been extended through Nov. 24, 2013. Lyrics and a YouTube link of the song being performed must be submitted via the faculty's website (https://finearts.uvic.ca/forms/music/rally/) for judging, no later than Nov. 24.
While the song itself cannot exceed 20 seconds, the video can run longer than that (rally songs are often chanted repeatedly), so contestants can entice friends, supporters and members of Vikes Nation to help perform it. Any style of music is welcome, from chants and jazz to rock and hip hop. However, the winning song should be able to be easily sung and performed by game-day crowds with no accompaniment. (Full contest details listed below.)
Shortlist
The judging panel will include UVic President Jamie Cassels, Vikes Athletics Director Clint Hamilton, School of Music Director Susan Lewis Hammond and Kendra Pomfret, captain of the Vikes women's cross country/track team.
Judging will occur in December 2013, with the shortlisted songs being performed live by UVic's School of Music voice professor and singer Benjamin Butterfield and the UVic Jazz Ensemble, at the Vikes Days of Thunder men's basketball game on Jan. 10, 2014.
The crowd at that game will also help decide which song will ultimately win.
Prizes
The winning songwriter will receive a $500 iPad courtesy of PepsiCo Canada, which is proud to partner with Vikes Nation and UVic's School of Music on this school spirit initiative.
Winners will also receive a prize package of CDs and tickets for the school's music performances and Vikes games, and the winning song will be recorded at the school for use in future athletics events.
This academic year will also see greater collaboration between UVic's School of Music and Vikes Athletics, with music students and professors performing at select games throughout the 2013/14 season.
Vikes Rally Song Contest Rules
Songs must include the word "Vikes"
Lyrics and a YouTube link must be submitted online at finearts.uvic.ca/forms/music/rally
Video performances should reflect the spirit of the song
Songs must be no longer than 20 seconds, but submitted performances can be longer
Deadline for submissions is Nov. 24, 2013 (updated)
Shortlisted contestants will be notified in December
Shortlisted songs will be premiered at the Vikes men's basketball game on Jan. 10, 2014
The winner will receive a $500 iPad courtesy PepsiCo Canada, plus tickets & CDs
The winning song will also be recorded at UVic's School of Music.
 
Photos
In this story