Admission partnership clears path from NIC to UVic
- Mitch Wright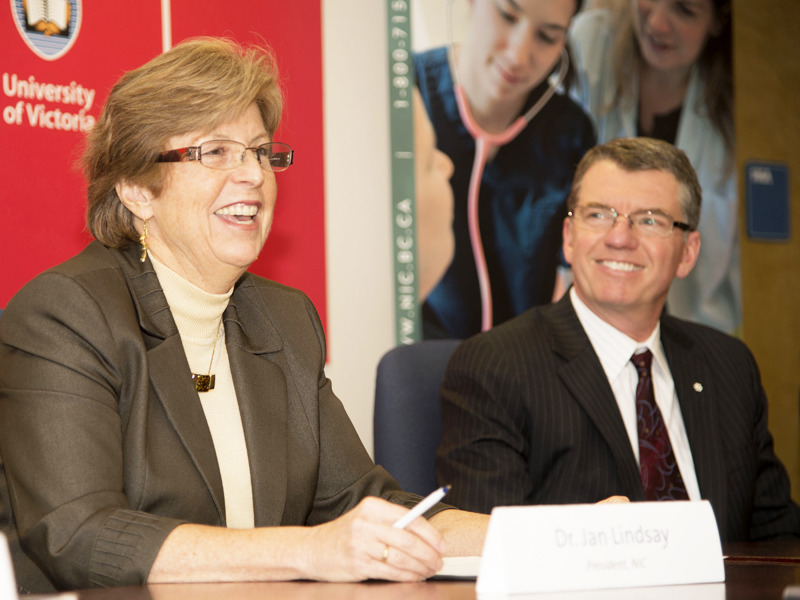 Post-secondary students from up-Island are finding a clear path to the University of Victoria through dual admission and guaranteed admission partnerships with North Island College (NIC). The success of the agreements—signed in 2010 and 2011, respectively, and both implemented in 2011—was celebrated March 6 at NIC's campus in the Comox Valley during a special student reception involving UVic President Dr. David Turpin and NIC President Dr. Jan Lindsay.
The partnership has already seen close to 100 students benefit from the model, which eases some of the challenges that come with moving away from home communities to attend university.
"This program is valuable to students not only in that they may save sizeable amounts of money, but because it allows them to ease into post-secondary with smaller class sizes and remain within a supportive and often more familiar local community," says Emma Dube, who was one of the first students through the process and earned multiple financial awards from both schools. "The Dual Admission Program takes the away the shock factor that many experience when leaving high school, and makes this transition more manageable overall."
The partnership encourages students to study for one or two years at NIC before completing their degree at UVic, strengthening the educational options on Vancouver Island.
"We are fortunate in BC that we have a well-integrated post-secondary system, where students can move seamlessly between colleges and universities," says Turpin. "UVic's collaboration agreement with NIC makes a UVic degree more accessible for North Island students, opening the door for a wide range of educational opportunities and fulfilling careers."
Dual-admission students are admitted to a program at NIC as well as the related program at UVic, enabling them to save money on tuition and living expenses and gain access to a greater number of scholarships and awards from both institutions. Alternatively, students who apply after achieving a C average in eight or more NIC courses (24 credits) are guaranteed admission to competitive UVic programs.
"Together, we're addressing the specific needs of hundreds of students in North Island communities who are looking for a way to achieve a degree from one of the world's top-ranked universities that better suits their personal and economic needs," says Lindsay.
 
Photos
In this story
Keywords: partnership
People: David Turpin, Jan Lindsay