Trustworthy information on energy issues
- Mitch Wright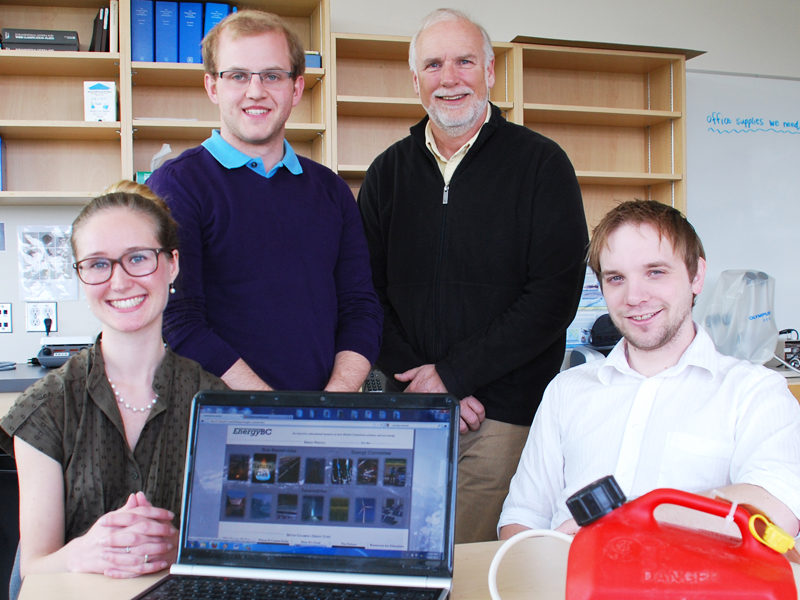 From fuel cells to fracking, tailpipes to pipelines, debates both public and political are raging across the province over energy issues. Recognizing a need for an easily accessible, independent source of information on energy, Dr. Michael Whiticar (earth and ocean sciences) set out to create an extensive, comprehensive assemblage of unbiased information on BC energy sources, types and issues. He believes he's accomplished that with the new website: www.energybc.ca.
The idea germinated about five years ago, while Whiticar was helping inform First Nations groups along the coast regarding offshore oil and gas exploration. Through that work, he says, he realized that much of the information publicly available and presented was coloured by the intentions of the providers and people "were often offered selective information based on various agendas and not the whole objective story."
As a result, Whiticar put exhaustive research—with help from UVic students Andrew Farris, Charlotte Helston and Colin Etienne—into creating a thorough online resource of easily accessible, factual material about the province's energy sources, uses and questions.
The project covers topics including non-renewable and renewable energy sources, looking at the various sides of BC energy options and issues. It's designed with features such as an interactive map to be a resource for people looking for BC energy-related information or pursuing more in-depth data and evidence on specific energy topics.
"Despite there being so much information out there on complex energy issues, many people in BC were still looking for a trustworthy clearinghouse of information that is presented in an understandable manner," says Whiticar. "Our goal is to offer an enjoyable, educational website that gives you the energy facts but is not overly prescriptive or opinionated."
All information at the searchable website is drawn from citable material, with sources intricately referenced, and based on painstaking efforts to be comprehensive while maintaining objectivity.
"The site has been checked by a lot of people looking for accuracy, completeness and tenor, to attain our goal of an independent information broker," Whiticar says.
The site is also aimed at providing useful context for journalists, politicians and academics, and Whiticar hopes to further develop the content into classroom resource modules for BC's K–12 education system.
 
Photos
In this story
Keywords: sustainability, Earth and ocean science
People: Michael Whiticar, Andrew Farris, Charlotte Helston, Colin Etienne